Is the World's killing the pipe band world? Part 2
By Andrew Berthoff
(Continued from Part 1)
Part 2
The pressure to attend every year
In truth, the World Pipe Band Championship is not much different from any other pipe band competition: any band can enter any grade. There are indeed qualifiers and finals so as to deal with the large entry, and two different events in Grade 1, but that's it.
To participate in just about every "World Championship" competition, whether in art or sport or other domains, only national champions are allowed to compete. There is a natural narrowing of the field, and the public is treated to the very best of that particular year.
As it is structured, the World's puts pressure on top-grade bands to return every year so as to improve on their competitive position and gradually work their way up the ladder – or at the very least not slip down. While this yearly pursuit helps to retain and attract players, it also stifles other, perhaps more productive, expansion, and simultaneously does nothing to help regional or national pipe band scenes.
"It seems to me that for the Ontario scene the World's hasn't helped our overall development or forward movement," said Michael Grey, pipe-sergeant of the Toronto Police. "Where once only a few bands would make the commitment to travel and test themselves against a UK standard (and the bands that made the trip were almost always outstanding in their grade) bands of the last five to 10 years, of every level of ability and experience, routinely travel to Glasgow. A lot of our bandspeople know Glasgow like they know their own neighbourhoods."
While non-UK bands strain to get to the contest every year to improve or at least retain their standing on the world scene, UK bands often see it as just another major.
"From my own perspective, and maybe I can speak  for some of our band members, the World's is one of five majors," said Allan Low, pipe-major of the Grade 2 MacKenzie Caledonian Pipe Band of Dundee, Scotland. "I would agree it is the biggest one and the one that we most want to win, but it is not the be-all-and-end-all.  Perhaps in Grade 2 it  doesn't have the same circus around it as Grade 1, with the grandstands and huge  TV screens, so  competing in it feels pretty much like any other  major."
Seemingly the raison d'etre of the World Pipe Band Championship in the eyes of the RSPBA and Glasgow Council is to attract as many competitors as possible, rather than facilitating an event that attracts the best quality, the proven elite, in each grade. It's not a true World Championship; it's a bigger contest named the World Championships.
The demise of small contests and regional scenes
The rising pressure in the last decade to field larger sections has meant that Grade 1 bands must pick and choose where they can compete. They might prefer to compete every weekend, but the reality of a widespread roster is that such a commitment is not realistic.
Nowhere has this been more evident than in Scotland itself. With few exceptions, "minor" competitions that once attracted more than 10 Grade 1 bands are now happy to get two or three. Most Scottish Grade 1 bands compete at the five majors and maybe at most two or three other events. Gone are the 15-competition summers that were expected as recently as the 1980s.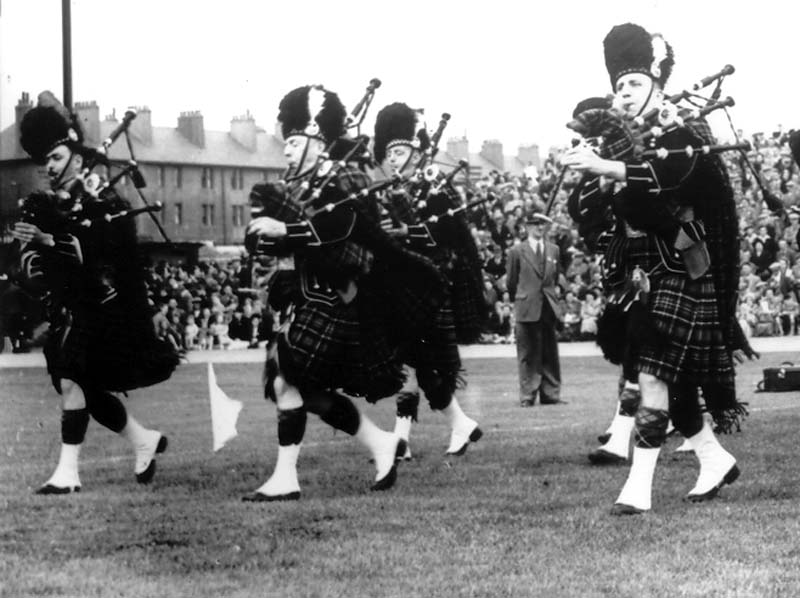 The far-flung membership of today's bands is to the point where even UK bands can't get all of their players in for local contests. The could play with a smaller band, which would not be full-strength, and so potentially weakening their standard, risking losing the event and undermining their "buzz" for – you guessed it – the World's.
"I think we would be a more rounded – if not travelled – band without the World's," said Grey. "It's easier to venture further afield and with projects that require different sorts of planning when the World's doesn't hang over your drones every August."
"The World's impacts our regional scene both positively and negatively," said Duncan Millar, a snare-drummer with six-time World Champions Simon Fraser University of Vancouver. "The overall standard in our area is raised when even a few bands plan to attend the World's as all seem to inflate the perceived standard overseas and prepare to compete against the top bands overseas. This leads to harder practice and more team mobilization and the fact that everyone is paying $3,000-plus to go and compete makes them take the mission seriously."
Top-tier bands will sometimes avoid competing at smaller competitions for fear of being beaten by perceived lesser bands. With judges often splitting hairs between bands at major competitions, any possible benefit-of-the-doubt that can be preserved is good. Why attend small events at less than full strength and jeopardize the positive perception judges at the World's may have for you?
"The focus on an event overseas and the costs of attending it mean that bands sometimes forgo a local event to save money, or do not focus as much on earlier events," Millar added. "Bands tend to focus much more attention on the single day in August at the expense of other performances through the season, not flying in out-of-town players until later in the season. It would be interesting to see what would happen if a more regional event were given pre-qualifying rights, such as Maxville or Seattle Highland Games."
What would non-UK associations look like without a World Pipe Band Championship? Would there be more participation in local events by member bands?
"There is no reason to believe that there would be more competition within our own organization as we already run contests on the day of the World's," said Pipers & pipe Band Society of Ontario President Charlie MacDonald. "However, if there were no World Championships, there would likely be pressure from the best bands within our organization to find opportunities to compete against the best bands in other organizations, and possibly to lead to more competition. In my opinion, the best bands would be more inclined to participate in more contests to reward themselves for the hard work that they put into becoming the best. On dates that [the PPBSO] does not provide sanctioned events, it would be expected that bands would seek contests being offered elsewhere. If such contests are not available, participation in concerts, tattoos and parades may provide an alternative."
"I believe that the World's has been both positive and negative, to our scene," said Graham Davidson, British Columbia Pipers Association president. "As bands improve and get bigger the talent pool can get smaller, making the lower grades fight very hard to keep members. However the flip side can say that because of our competing bands, the solo standard is rising."
"The monetary pressure has made other, more local, events suffer since the travel budget of bands and their members is maxed out on a big overseas trip," said Grey. "The whole thing generally burns out bandspeople and because of that we see band memberships continually change. I think the World's has become hard-wearing on our scene – and our people. New people in bands are wet with excitement to go to the World's while more seasoned people tend to want to try a change – unless the band is firing on all cylinders . . . then go!"
The 2008 occasion of the Spirit of Scotland Pipe Band was perhaps emblematic of that burnout and desire for change. [Disclosure: the author of this article was a member of the band.] Most of the band's members, while being top-flight players, had dropped out of pipe bands making the annual trek to World Pipe Band Championships. The project, which brought together some 40 pipers and drummers from the UK, Canada, Australia and the United States, saw the group get together as a whole for only the five days before the World's. Spirit of Scotland made it through the Qualifier and finished eleventh overall in the Final, and hasn't played together since.
Regardless, the so far one-time experiment proved that a top-grade band can succeed at the World's on the day without having to put in a full year, much less the decades that other bands commit, to do well. It's the far flung phenomenon taken to an extreme. While its members, to a person, loved the experience, and the experiment worked, is it really what pipe bands are all about?
The stifling of creativity
While pipe band medleys from bands competing at the World's can be imaginative and clever, bands more or less avoid rocking the judges' boat. Non-UK bands investing tens, even hundreds, of thousands of dollars to compete in Scotland aren't about to jeopardize their chances by being substantially creatively different. Conservatism is the name of the game, and creativity in Grade 1 comes in microscopic increments.
"Bands tend to cram toward the end of the summer instead of being consistent all year and band members are agreeing to all spend a lot of money on going to the World's," said Millar. "This causes stress and, because of the expenditures, bands may try to do what will be competitively successful rather than musically enjoyable."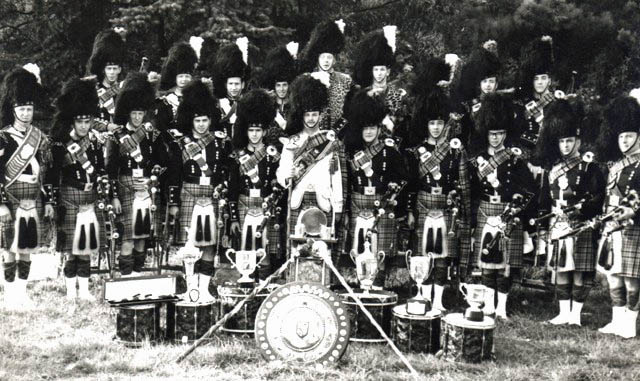 Probably the most musically adventurous and risk-taking top-grade band is the Toronto Police. The group has not competed at the World's since 2008, and will miss it again in 2011. In 2010 the band chose to compete at the Cowal Championships, the last RSPBA major of the year, mainly because it didn't have to qualify so was assured of performing one of its musically different medleys. The result? Last in Grade 1 with a hammering from piping judges especially on the musical content of its selection.
"Say what you like about their medley content, but many of the bands that were placed ahead of them were surely not within their league in terms of tone, stability, playing skill, and integration," said Bill Livingstone, the former pipe-major of the 78th Fraser Highlanders, who joined the Toronto Police early in 2011. "That's the punishment for making an effort to be fresh. And frankly, I suspect the intention is 'let that be a lesson to all' – play by our rules or go home. So the problem with the World's is that it stifles imagination, new approaches, creativity, and any of the things that music (read: art) are supposed to celebrate. And the mentality permeates the entire pipe band scene because of the power of this contest – power that we, the musicians have given it, and have no control over now.
"What the World's has done is create among bands, an atmosphere of caution, if not downright fear of offending and thereby taking themselves out of any consideration for a prize. The top bands in Grade 1 have all come very close to perfection of the art of tuning, stability, general sound quality, integration and all of the other fundamentals. The result is a fairly tedious display of uniformity. There is clearly no stomach for innovation at the top level, and the problem is that this trickles its way down to the lower grades. Year after year we hear the lower grade bands giving laldy to the stuff that the Grade 1 winners recently played. So the stagnation is perpetuated. Does anyone need to hear yet another medley opener  employing a hornpipe played on the nauseating repetition of E to low A followed by the 'matching phrase' on D to low G?"
Livingstone is no stranger to pushing the boundaries of pipe band music at the World's. In 1992 his 78th Fraser Highlanders opened its medley at Glasgow with a Gaelic waulking song, marching in to the circle at a relative slow-march pace.
"I thought it was terrific," Livingstone said. "Some fellow with a swagger stick came marching up to me before the march-past at the World's to tell me that I would be pleased to hear that my band had not been disqualified. Indeed I was  not pleased at all. Better to have been DQ'd rather than spanked in the results. Disqualification would have drawn attention to the mentality rampant at that contest then, and now, too. And that would have forced an open debate. How refreshing such a thing would have been."
The band placed seventh – "spanked" by Livingstone's expectations then – and such an outrageous attempt at creativity, despite it being derived from one of the oldest traditions of truly native Scottish music, was shut down by those in power.
"Perhaps there's hope in the Toronto Police's Don Quixote approach," Livingstone said. "Perhaps the guys from Brittany will open the door. Or perhaps, even better and game-changing forever, the top six bands will get together and agree to throw caution to the wind and play whatever the hell good music they want. Let's see them disqualify St. Laurence O'Toole for opening with a piobaireachd variation, or SFU for deciding that the concert formation is perfect for a contest -and, yes, for an audience. The six best defying these stultifying 'rules.' Those rules would  be gone in a heartbeat."
Because of the obsession with the World's, even if the non-RSPBA pipe band associations wanted to trial a new competition format, they can't. The outcry from their best bands preparing for the World's would be so great that such progress would never be permitted by the members who ultimately determine the rules. Associations are thus hamstrung to go along with whatever the RSPBA decides is competition pipe band music.
Culture clash
True enough, "traditional" music works fine in Scotland because it's not ethnic, it's folk. The major championships attract enough competitors that, even if no enthusiasts turned out to listen, the events would be self-sustaining, with a near guarantee of success. Pipe band competitions in Scotland are a part of the indigenous culture of Scotland. Unlike in non-Scottish countries, pipe band competitions and Highland games are not unusual ethic events. They are as culturally accepted as baseball games in the USA or cricket matches in Australia.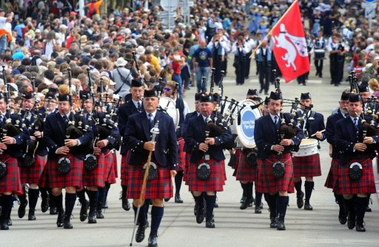 Outside of Scotland, Scottish Highland games are ethnic events. Where Highland games in Canada, the US, Australia and New Zealand once more easily catered to first-generation Scottish immigrants, today they have to work hard to attract curiosity seekers, and have to compete with any number of other curious events on the same day. It's increasingly harder for them to attract a paying crowd. The closed-ranks circle of pipers and drummers playing their arcane, esoteric competition music is of little interest to most people not directly involved.
There is increasing pressure to provide more than just the usual backs-to-the-crowd circle of MSR players. Where once first-generation Scottish immigrants would attend the Highland games, successive generations look to be entertained with more visual and exciting displays, without feeling ostracized by feeling that they are unwanted guests at a closed-door ethnic club.
Pipe band competitions and Scottish festivals are on divergent paths. Our competition act is less and less attractive, and increasingly Highland games are looking for more than the traditional pipe band contests. Games organizers float concepts of pipe band "shows" to associations, and associations have a difficult or impossible time offering anything but what the bands desire, and that desire often comes down to preparing for the World's.
"This overriding commitment to the World's has, among other things, made RSPBA music rules the de facto standard for Ontario," Grey said.
Because of the fascination with the World Pipe Band Championships, the world's associations are more or less beholden to toeing the RSPBA's line, thus stifling the growth of the music. As pipe band events are woven into the Scottish culture, there is no pressing need in Scotland to change the competition format.
We can see the consequences creeping into pipe band scenes outside of the UK. With bands and associations essentially aping what goes on in the RSPBA, the opportunity to be different to attract new audiences requires buy-in from competitors. It's a stalemate, seen most substantially in the eroding Highland games circuit in Ontario, which is down to six outdoor events.
Solutions
What hope, then? On the one hand, solutions perhaps aren't necessary. The pipe band world can progress as-is, placing undue pressure on bands to field large numbers, playing relatively safe, familiar and formulaic music with the all-consuming passion for doing well at the World's.
But there is a way to maintain the World's while restoring some of the lost long-term pleasures and traditions that pipe bands once had that go beyond one day of success. Here are a few suggestions that, if incorporated by associations worldwide – starting, by necessity, with the RSPBA – will stop the erosion of pipe bands while fostering the art.
1. Restrict roster sizes. Cap the number of pipers and drummers a band may have on its roster at reasonable numbers. Perhaps 20 pipers and 10 snare-drummers for Grade 1; 18 and eight for Grade 2; 14 and 6 for Grade 3; 12 and 5 for Grade 4.  The band can compete with those maximums, if it prefers, or with a smaller number. Roster maximums for sections ensure the spread of talent, and ultimately more bands will be created, stimulating a more competitive and healthier scene overall. Such caps will eliminate the more common practice of padding rosters with excess need, leaving many on the sidelines at competition time. The playing field will not only be leveled, but as players filter into other bands, band playing standards will rise across the board. Roster maximums can be increased gradually over the years.
2. Set a travel radius. Make it a rule that members must live within 300 miles of the band's stated home-base. Pipers and drummers not within that 600-mile circle must either relocate to stay with the band or look elsewhere for a more local gig. This may sound draconian, but ultimately it will restore the local community camaraderie and pride so often missing from today's top bands. It will also encourage bands to develop their own training systems and feeder bands, cultivating talent from the area, rather than casting a massive driftnet to catch outsiders. Such an approach will actually foster teaching, creating more well trained pipers and drummers worldwide.
3. Set a roster deadline. Once a certain date has passed, bands cannot add members to its roster. A reasonable time would be one month before the first competition of the band's home association's season. Such a rule would be implemented by all associations around the world, thus eliminating the practice of padding rosters with talent two weeks before the World's.
4. Nine-month memberships. Once a piper or drummer formally joins a band's roster, he/she cannot join another band for at least nine months. If the player quits, then he/she must wait out the term. If the member is dismissed after a few weeks, well, tough; we all make bad choices sometimes. By placing a minimum term on members, stability will be fostered by further cultivating the local scene and developing regional talent.
5. Create new events and reward creativity. The World's needs to set new requirements each year, the RSPBA working with other associations and the bands themselves to understand what could work. Sure, keep the MSR and/or the five-to-seven-minute medley, but introduce a completely new event that demands innovation and daring so that pipe band music can thrive and evolve. The RSPBA and Glasgow Council will soon realize that expanding the product it presents will generate even more interest.
6. Cater competitions to non-players, too. Eliminate the huddled mass circle of pipers and drummers, and have them face the audience, like any self-respecting performer should do. Let the listeners (and judges) see and hear the performance more clearly. Preserve and promote musical excellence, yes, but engage the general public better. While pipe band competition and Highland games are part of Scottish culture, elsewhere they are ethnic curiosities with a declining ethnic audience.
7. Make it a true World Championship. Allow only the bands that have won their grade in their national championship (including the Scottish) in the current and previous years, and perhaps the runners-up as well, to compete. Not only will this eliminate the need for tedious qualifier rounds for bands that have no hope of winning, but it fosters the world's pipe band scenes outside of Scotland. More bands will travel to compete at their own national championship each year, rather than putting all of their funds into that expensive, solitary and, often, hopeless trip to the World's.
To be sure, the World Pipe Band Championships are a wonderful spectacle for pipers and drummers. The RSPBA deserves massive credit for building the contest into what it is, remembering also that it is the involvement of non-UK bands that elevates this major to a completely different plateau. But the World's is an intrinsically traditional and Scottish event. Non-Scottish bands will always be "overseas." They have always been and will probably always be outsiders, saddled with the "overseas" pejorative.
The world's pipers and drummers' fixation on the World's is not by any means the RSPBA's fault. The RSPBA can't be blamed for reaping the rewards of their popular event, but they should understand the trickle-down negative effects that it has on piping and drumming worldwide. While they have taken advantage of the ever increasing interest in the competition, it is the will and drive of non-UK bands that have resulted in today's macro problems.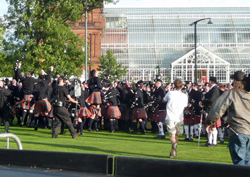 While the World's thrives, much of the rest of the pipe band world, it must be said, is suffering by degrees. As it happens, the erosion is only barely detectable, but in more mature pipe band areas like Ontario the ground is noticeably shaky. It may feel like problems have occurred overnight, but in truth they started back in the 1960s and progressed with an unhealthy obsession with – even an addiction to – the World Pipe Band Championships.
Ultimately the response from the RSPBA and others could well be, "If you don't like it, don't go." But the reality is that everyone likes the World's. It's a great event, and, with a few alterations could be just as good while at the same time looking out for "the promotion and development of pipe band music internationally" – the essential mandate of the organization.
It's up to everyone to learn from success and failures, for the pipe band "world" to respect and appreciate the pressures it has placed upon itself and understand that what we do is no longer a safe, ethnic product, but a thriving art form that needs to take a bold new approach.
While almost 50 years ago Clan MacFarlane, City of Toronto and Worcester Kiltie sought a new challenge when they ventured to the World Pipe Band Championships, little did they know that it may have started a new era that would come to where it is today.
For the long-term good of world piping and drumming, the next much needed golden age of pipe bands must now begin.
Editor's note: Bill Livingstone commented to pipes|drums on September 23, 2010, following his departure from the 78th Fraser Highlanders and four months before joining the Toronto Police Pipe Band.