MacIsaac wins 2019 Glengarry Cup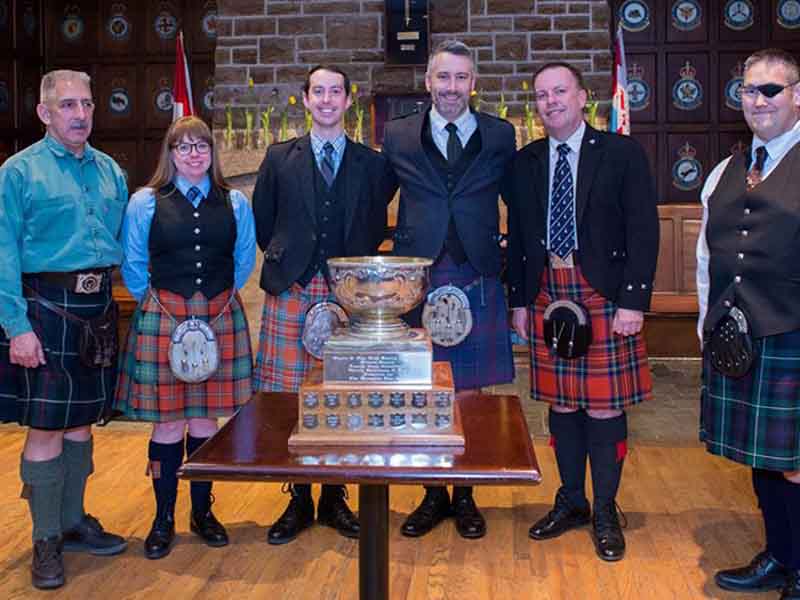 Ottawa – April 13, 2019 – Matt MacIsaac of Stayner, Ontario, was the winner of the 2019 Glengarry Cup solo piping competition held at the Royal Canadian Air Force Officers' Mess in downtown Ottawa. The Glengarry Cup is an invitational own-choice March, Strathspey & Reel contest organized by the Ottawa Branch of the Pipers & Pipe Band Society of Ontario. The trophy was donated to the Branch in 1987 by the Glengarry Pipe Band of Maxville, Ontario. The event resumed after a hiatus in 2018 due to a spring ice storm. MacIsaac was the winner of the last Glengarry Cup in 2017.
2019 Glengarry Cup
1st Matt MacIsaac, "John MacDonald's Welcome to South Uist," "Tulloch Gorm, "Broadford Bay"
2nd Jacob Dicker, Hammond, Ontario, "Invergordon's Welcome to Queen Elizabeth II," "Caledonian Society of London," "Thomson's Dirk"
3rd Andrea Boyd, Toronto, "David Ross," "Lady MacKenzie of Gairloch," "Fiona MacLeod"
4th Tyler Bridge, Guelph, Ontario, "Pipe-Major Tyrone Heade," "Blair Drummond," "The Sheepwife"
5th Kaitlin Kimove, Dartmouth, Nova Scotia,  "The Edinburgh City Police Pipe Band," "Catlodge," "Miss Proud"
Also competing but not in the prizes: Ed Bush, Cardinal, Ontario; Alan Clark, Finch, Ontario; Brendan Culver, Barrie, Ontario.
The competition was judged by Michael Grey, who led a "Making Pipe Band Music with Impact" workshop earlier in the day, and performed a recital after the competition.
---
Related articles

2017 Glengarry Cup goes to Matt MacIsaac
April 10, 2017
---

Boyd wins Glengarry Cup
April 10, 2016
---

Boyd snaps up another Glengarry Cup
April 12, 2015
---

2014 Glengarry Cup win for Andrew Hayes
March 31, 2014