MacLellan Memorial moves to Caley Hotel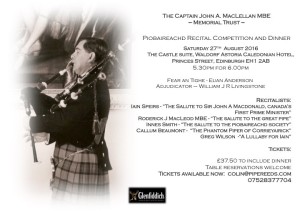 Elegance and grace are hallmarks of the late Captain John MacLellan's music, and those tenets will be to the fore at this year's Captain John A. MacLellan MBE Memorial Trust Dinner/Recital on August 27th at a new venue of the Castle Suite of the famous Waldorf Astoria Caledonian Hotel, Princes Street, Edinburgh, one of the highest-rated in the world.
The 2016 MacLellan Trust Memorial will feature 2015 winner Iain Speirs, Edinburgh, "Salute to John A. MacDonald, Canada's First Prime Minister"; Callum Beaumont, Linlithgow, Scotland, "The Phantom Piper of Corrieyairick"; Roddy MacLeod, Glasgow, "Salute to the Great Pipe"; Innes Smith, Bridge of Allan, Scotland, "Salute to the Piobaireachd Society"; and Greg Wilson, New Zealand, "A Lullaby for Iain."
Each piobaireachd performed is composed by the late, great MacLellan, except for "Salute to Sir John A. MacDonald, Canada's First Prime Minister," which was written by MacLellan's son, Colin. Bill Livingstone of Whitby, Ontario, Canada, will judge the event.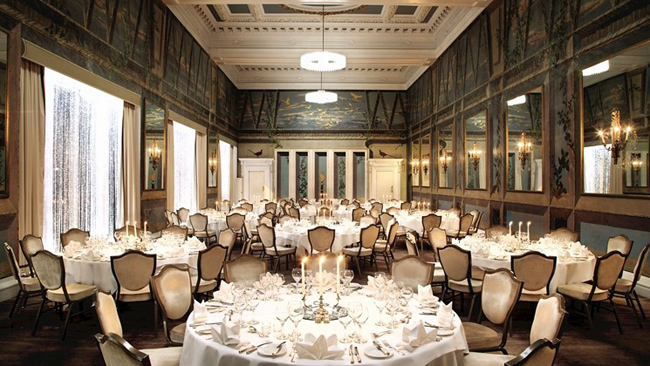 "I am happy to report that this change in venue is because of the growth of support and interest in the event," said Colin MacLellan. "The hotel is one of the finest in Scotland, and the Castle Suite will provide a luxurious setting for this year's recital."
The event has gained sponsorship from Glenfiddich, probably the world's greatest financial supporter of piping events.
Tickets for the dinner are priced at £37.50 and available in advance from the organizers.
The event started in 2011 and until this year has been held at the Royal Scots Club in Edinburgh's Haymarket region.
The date of the event was moved to late-August in part to enable pipers visiting Scotland for the Argyllshire Gathering and Northern Meeting to attend the event.