Making a rest: NZ Police skipping Scotland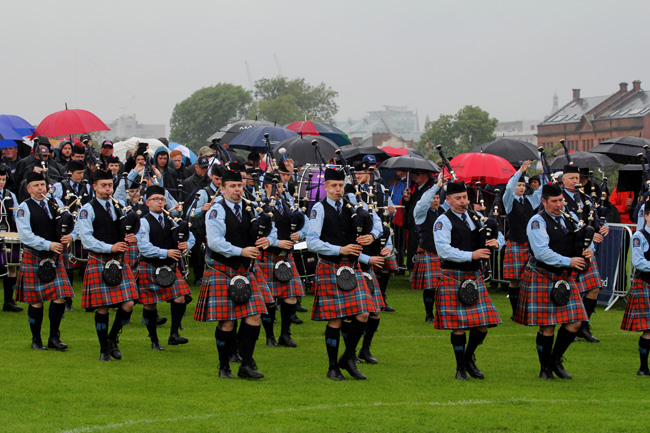 The Grade 1 New Zealand Police Pipe Band won't be travelling to Scotland to compete in the 2017 World Championships "to allow the band and its members a chance to rest and refresh." It will be the first time in three years that the band won't make the massive trek.
"Even though we have healthy numbers for a World's trip in 2017 there are other factors at play that makes it strategically more sound for the band to take this year out before returning in 2018," Pipe-Major Emmett Conway said. "[It] is a huge commitment for both the organization and the individual members."
Band members have to fund the trip on their own and its southern hemisphere base means that there is virtually no break in the competition season.
"We want to balance long term sustainability and allowing our members to have some down time with their friends and loved ones this year before it becomes potentially unsustainable for them to continue."
The band qualified for the Grade 1 Final in 2016, finishing twelfth of 12 overall.
The band said that it plans to make the trip, which collectively costs well over $100,000, in 2018, and that they will do "a deep dive review of everything that we currently do to make sure we are getting the best value and set us up for success moving forward."
Also from New Zealand, the Grade 1 Canterbury Caledonian dropped out of the 2016 World's, but Manawatu Scottish returned after a year's hiatus, qualifying and finishing eleventh. Manawatu generally attends every two years and is apparently on track to return in 2018. The band enjoyed a fifth and sixth in piping in the MSR event in the Grade 1 Final.
Canterbury Caledonian announced in December that it would be making a change at its leadership positions, with Pipe-Major Richard Hawke and Lead-Drummer James Laughlin both stepping down. The band has not yet said who its new leaders will be or if the band will be travelling to the 2017 World Championships.
+ Hawke, Laughlin to leave Canterbury leadership