Married with pipe bands: Hilders say We Do to ScottishPower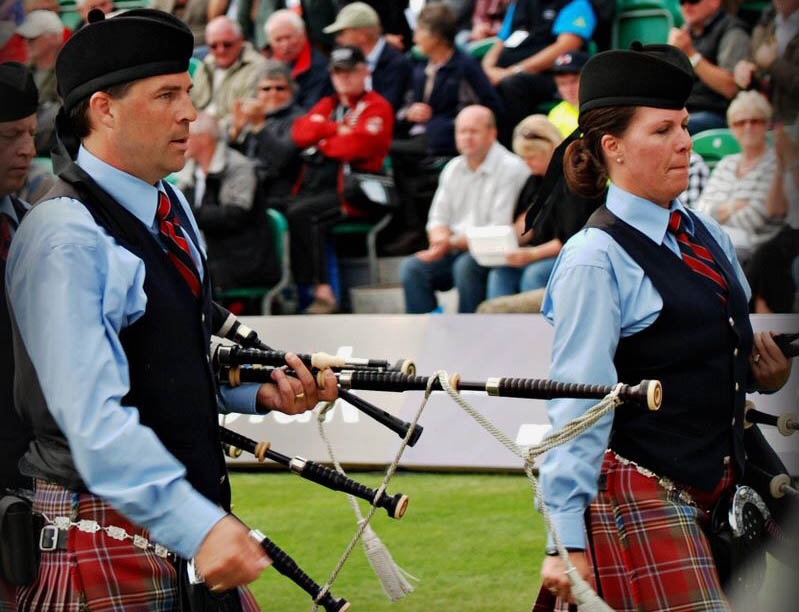 History repeatedly proves that the misfortune of one band is the good fortune of others, as one band folds or, in the case of Vancouver's Grade 1 Triumph Street, "ceases competitive operations," members join other groups.
Husband and wife pipers David and Shaunna Hilder, pipe-major and pipe-sergeant, respectively, of Triumph Street, have hitched up with the Grade 1 ScottishPower for at least the 2019 UK season, starting with the band's appearance at the Gourock Highland Games in Scotland on May 12, staying on for the British Championships at Paisley on May 18, and making at least three more 14,000-kilometre round-trips over the summer.
Veterans of several significant concerts with Triumph Street and the Grade 1 Simon Fraser University, the Hilders will also be part of ScottishPower's "SP+R" pre-World's concert on August 14.
"Shaunna and I were over in Scotland for 10 days in March to attend several rehearsals with ScottishPower," David Hilder said. "We also spent two full days one-to-one with [ScottishPower Pipe-Major] Chris Armstrong going over the material for what is to be an exciting season."
With decades of top-grade experience and leadership, the Hilders are good enough to play with pretty much any band on earth. With that in mind, why ScottishPower?
"Chris and I formed a bond over the years, and I have always admired ScottishPower's prowess on the field," he continued. "Chris is a masterful piper and composer and has a leadership style that aligns very much with Shaunna and my principles. ScottishPower is led by a superb leadership team with Pipe-Sergeant Donald MacKay, Lead-Drummer Jake Jørgensen and, of course, Chris who has done a masterful job of accumulating a superb team of musicians all around the circle. It was a thrill to step into the circle with such a well-oiled machine."
Many other Grade 1 bands over the years have featured spouses within the ranks, but the Hilders are without doubt history's greatest examples of a husband-wife leadership team at that level. Their son, Liam, is also an accomplished piper, and their tenor drummer daughter, Andrena, also played with Triumph Street.
Under Shaunna and David Hilder's leadership, the band qualified for the Grade 1 Final at the World's every time that the band competed in the last eight years, maintaining a high standard in the relatively small piping and drumming Pacific Northwest community in the shadow of the powerhouse Simon Fraser University organization.
David Hilder did not respond to the repeated question of whether Triumph Street is on hiatus or has folded for good, perhaps leaving the door ajar for a future reformation of the band.
The Hiders' trans-continental ScottishPower membership is part of a continuing global trend of experienced pipers and drummers offering their services from afar. Last week, 2018 World Pipe Band Champions Field Marshal Montgomery revealed that Grade 1 Toronto Police former pipe-major Ian K. MacDonald and current pipe-major Sean McKeown would be competing with them, following the latter band's decision to go on competitive hiatus for 2019.
ScottishPower's Armstrong allowed the Hilders to speak for themselves, but added that he and the band are exceptionally busy prepping for the looming competition season and polishing two hours of material for the August show, which is already apparently heading for another sellout crowd for the promoters, the Grade 1 Glasgow Skye Association.
Ultimately, David Hilder said it's all about camaraderie and having  a great time.
"Shaunna and I have spent a lifetime of making great friends in the global pipe band community, and are looking forward to seeing everyone on the grass this summer."
---
Related articles

ScottishPower concert intensifies focus for band
March 6, 2019
---

Field Marshal Montgomery bolsters ranks with new personnel, including top-tier pipe-majors
April 25, 2019
---

Dowco Triumph Street "ceases competitive operations"
September 16, 2018
---

ScottishPower: 2018 British Champions
May 19, 2018