New Queen's Own Camerons Canada collection coming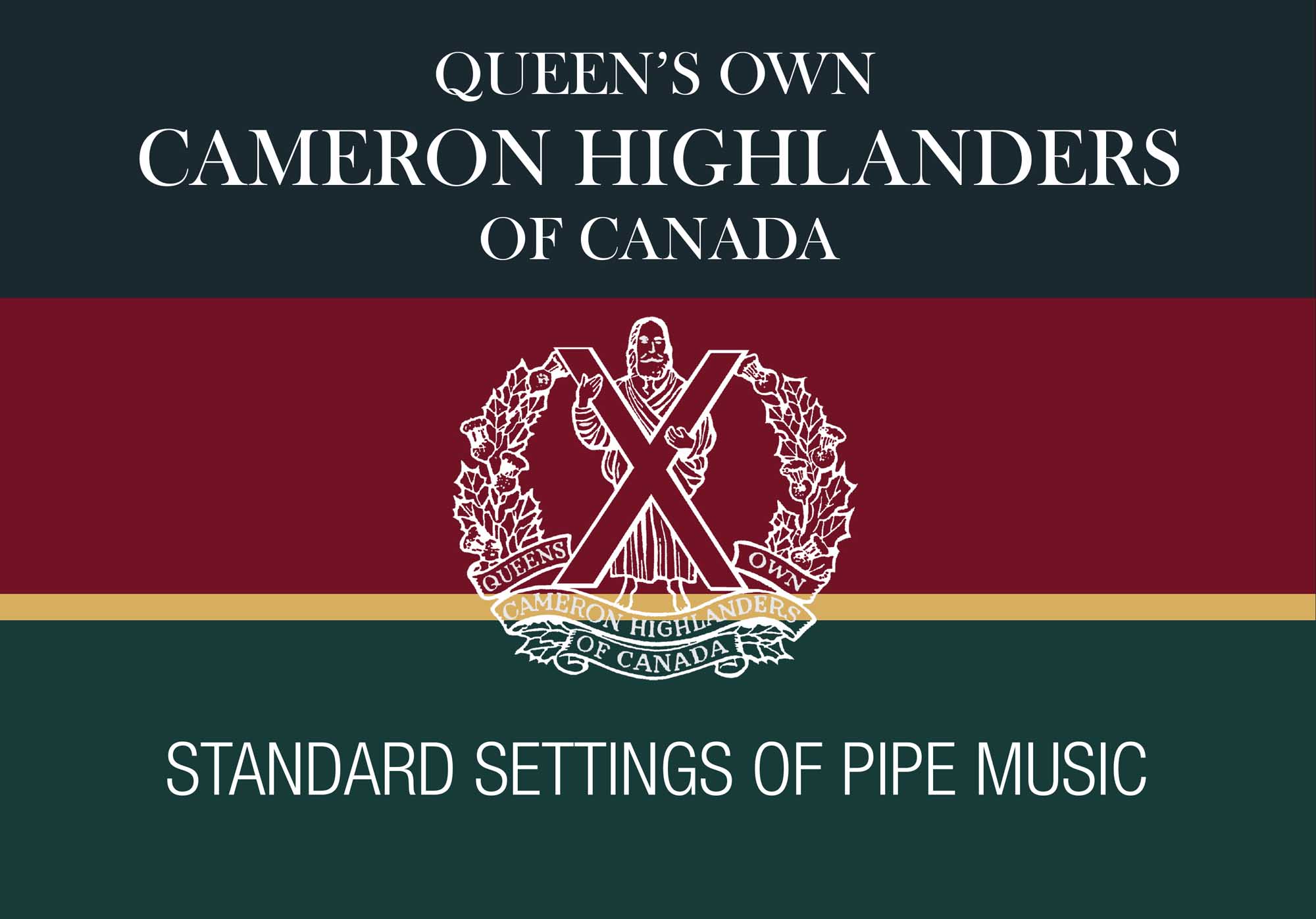 What is believed to the the first substantial collection of pipe music from a Canadian Scottish military regiment is on the brink of distribution with more than 200 compositions from a variety of composers, with all proceeds going to charity.
The Queen's Own Cameron Highlanders of Canada Standard Settings of Pipe Music takes on the familiar format that started with the Scots Guards Standard Settings of Pipe Music in the 1940s, and which continued with various other substantial books, including those from the Royal Scots, Gordon Highlanders, Seaforth Highlanders, Royal Irish Rangers, two more from Scots guards and, in 2017, the Argyll & Sutherland Highlanders.
"We believe it to be the first of its kind from a Canadian Highland regiment," said co-compiler and editor Pipe-Major Dan Locke, who put together The Queen's Own Cameron Highlanders of Canada collection with Captain Josh Fordham.
He said that the book contains both new unpublished works and traditional tunes associated with the regiment in every category of Highland bagpipe music, including piobaireachd. Numerous composers are represented, including Stuart Samson, Pipe-Major Michael Gray, Andrew Venters, Iain Morrison, Donald MacKay, John Cairns and Ed Neigh, and some tunes were written especially for the collection.
"All proceeds from the sale of this book will be donated to charities supporting Canadian military veterans, including the Deer Lodge Foundation," Locke added. "The Deer Lodge Hospital in Winnipeg, Canada operated for many years as a Veterans Affairs facility and is still home to a number of retired soldiers, sailors, and aviators."
He said that the original idea was Fordham's: "Josh was a piper in the army for many years before commissioning as an infantry officer and, as a keen student of history, he's always been dedicated to preserving and strengthening the Scottish heritage of the Canadian Army. Josh was the one who first suggested that a Canadian regiment should produce a book of music to stand alongside the iconic British Army collections."
The two have worked on the collection for more than three years, and the book will finally be available in July. Over that time, some excitement developed within the regiment.
"Word had spread throughout the Camerons that we were working on this project and the regiment's charitable arm, the Queen's Own Cameron Highlanders of Canada Regimental Foundation, came forward with an offer to lend us the funds required for publishing and printing.
"We're happy to have a book of great music donated by some very generous and talented composers that pipers all over the world can enjoy, but we hope it will also help to commemorate the importance of piping and drumming in the Canadian Army and to recognize the contributions of those who founded and continue to support many of the regiments whose actions have helped to shape the history of Canada."
Headquartered in Winnipeg, the Queen's Own Cameron Highlanders of Canada is the oldest Highland regiment in western Canada. It is a Primary Reserve infantry regiment of the Canadian Army, and part of the 3rd Canadian Division's 38 Canadian Brigade Group.
Scottish regiments established themselves in other Commonwealth countries. The 48th Highlanders, Argyll & Sutherland Highlanders and Queen's Own Highlanders continue today in Canada, outliving their Scottish counterparts that have been gradually amalgamated. Each regiment trained pipers and drummers in Commonwealth countries, contributing to a solid infrastructure for those arts.
---
Related articles

Forget not
August 21, 2017
---

Guarded enthusiasm
November 30, 2012