Newly discovered six-parted 2/4 march by G.S. McLennan published first on pipes|drums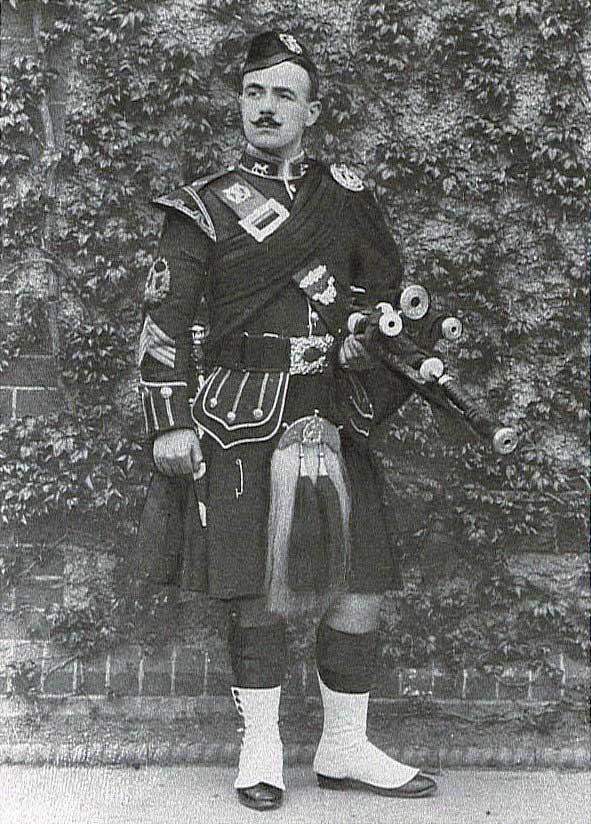 By Jim McGillivray
From a file in a house in Edinburgh has emerged a previously unknown six-parted competition march from the hand of a man who could arguably be called the greatest piper who ever lived.
George Stewart "G.S." McLennan was born on February 9, 1883. Time in the trenches during the Great War took its toll and he died from lung cancer in 1929 at 46.  He lived during a period when light music – particularly competition marches, strathspeys and reels – were undergoing an evolution from sparsely-gracenoted and simply-phrased quicksteps and dance tunes into the challenging and sophisticated pieces we still play today. G.S. McLennan, following in the footsteps of his older and lesser-known cousin, William – who died tragically at an even younger age – was at the heart of this transformation.
As a player, his like had not been heard before. As a composer, he was prolific, and the originality of his compositions striking. "Mrs. MacPherson of Inveran," "Jig of Slurs," "Dancing Feet," "Dalnahassaig," "The Little Cascade," "Inveran," "The Strathspey King" – the list goes on.
He wrote tunes with such frequency that he didn't title them all. He merely numbered them in a manuscript book. His great 6/8 march "The Braemar Gathering" was written before or during the Great War but became public only after his half-brother, Donald Ross "D.R." MacLennan, entered it anonymously in a Braemar Gathering composing contest in 1950 – 21 years after G.S.'s death – and it won. Many of his tunes were given titles by D.R. after G.S. had passed.
Given this history, the idea of a good, new GSM tune appearing from nowhere is not particularly far-fetched.
Captain John A. MacLellan, MBE (1921-1991), was head of the Army School of Piping at Edinburgh Castle from 1959 until his retirement in 1974. A pupil of Willie Ross, and one of the great players of the century, he was a rigorous student of piping history and collector of all things piping. His son, Colin, also a superb piper, successful competitor and prominent piping figure, is a careful curator of his father's material. The new tune surfaced from an obscure file in the Captain's papers.
+ The Greatest 20 Pipers in History
With the blessing of Colin and the descendants of G.S. McLennan, we are fortunate to be able to publish this historic, new, 110-year-old tune on pipes|drums.
It follows the visual pattern of many of G.S.'s other compositions. It is notated hastily, with frequent shortcuts and very little pointing. His book, Highland Bagpipe Music, published at the time of his death in 1929, shows a similar lack of pointing in the competition marches and reels. Some have suggested that this means G.S.'s playing was very round. Those who heard him say this is not true. He wrote the tunes out evenly to allow performers the freedom to express them as they wished, not as the composer dictated.
The most distinctive G.S. trademark is the G gracenote on each birl ending the parts. During his competing days he was sometimes criticized for this, but he held his ground to the end. One story, perhaps apocryphal, says that on the day he died he was giving his boys a chanter lesson from his bed, and his last words before lapsing into a coma were, "And don't forget the G gracenote on the birl, boy!"
As seen in the photo of the manuscript below, the tune has no title, but it is clearly signed on the bottom right, "G.S. Mc" and dated "01-04-08." In 1908, he would have been 25, still a Gordon Highlander and doing the games circuit with his good friend Willie Lawrie. The manuscript was found along with a fragment of a letter, though there is no indication who the recipient was. Could it have been to a patron for whom he was composing the tune? Could it have been to his father, Lieutenant John McLennan, an influential piping figure in his own right and with whom G.S. shared much?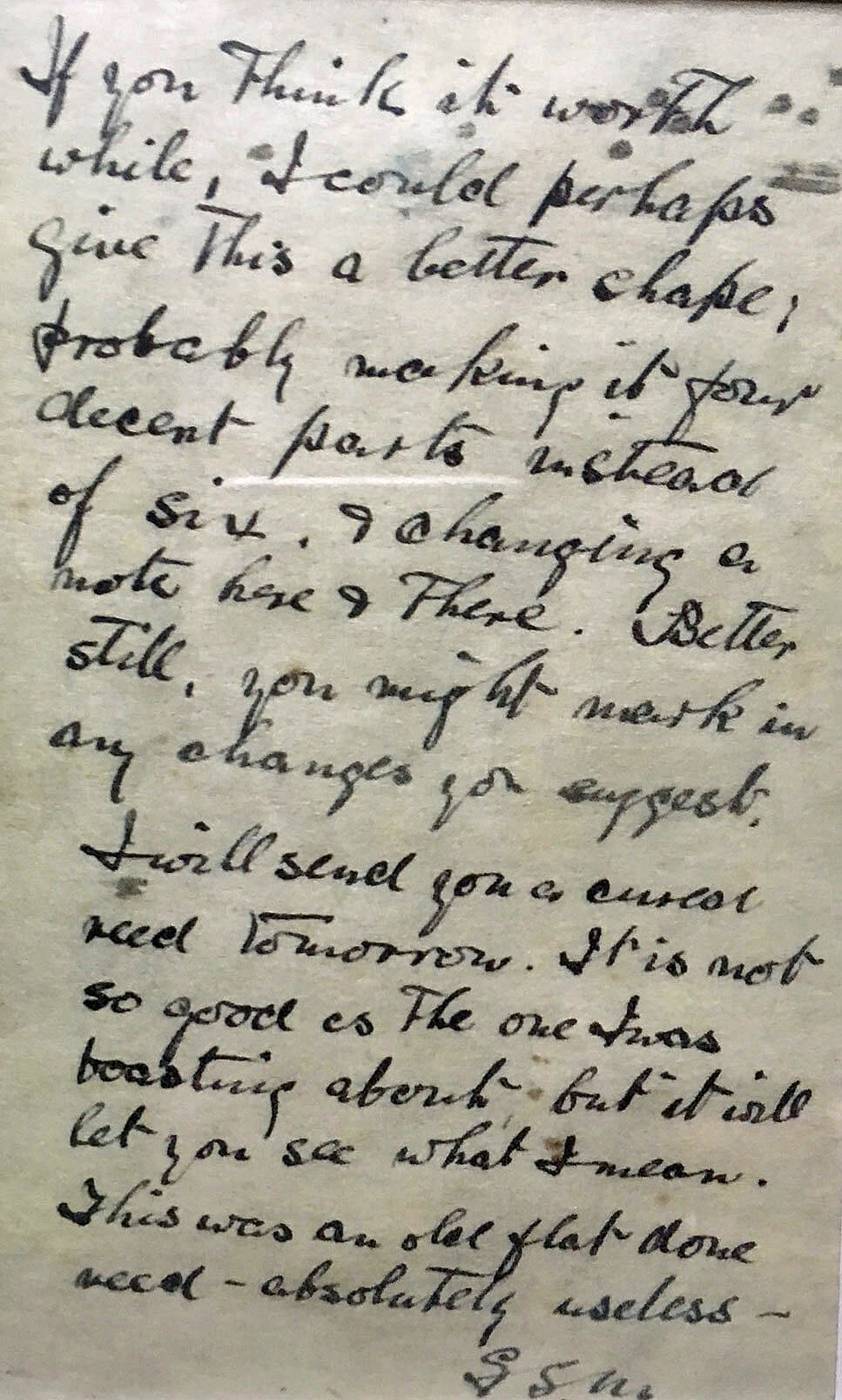 The letter suggests that the tune is a draft only:
If you think it worth while, I could perhaps give this a better shape, probably making it four decent parts instead of six.  & changing a note here & there. Better still, you might mark in any changes you suggest.  I will send you a [illegible, possibly "cured"] reed tomorrow. It is not so good as the one I was boasting about but it will let you see what I mean. This was an old flat drone reed – absolutely useless.                          G.S. Mc
Composers commonly write more parts for a tune than they eventually publish, selecting the best four parts out of six, seven, eight or more. The fact that there are no second-endings also suggests that the tune would see at least one more edit before it was finished.
Nonetheless, the tune stands up well as it is, and while it might not be perfectly suited to the solo competition boards, it would certainly hold its own as a top-grade band competition march, where six-parters are precious.
Below is a transcription of the manuscript, as true to the original as possible. Several gracenotes were added when they appeared in the same phrase elsewhere in the tune and were obvious omissions.
The sound file, recorded by the author on a Blair Digital Chanter, is one interpretation only. Certainly the ending has several possible interpretations.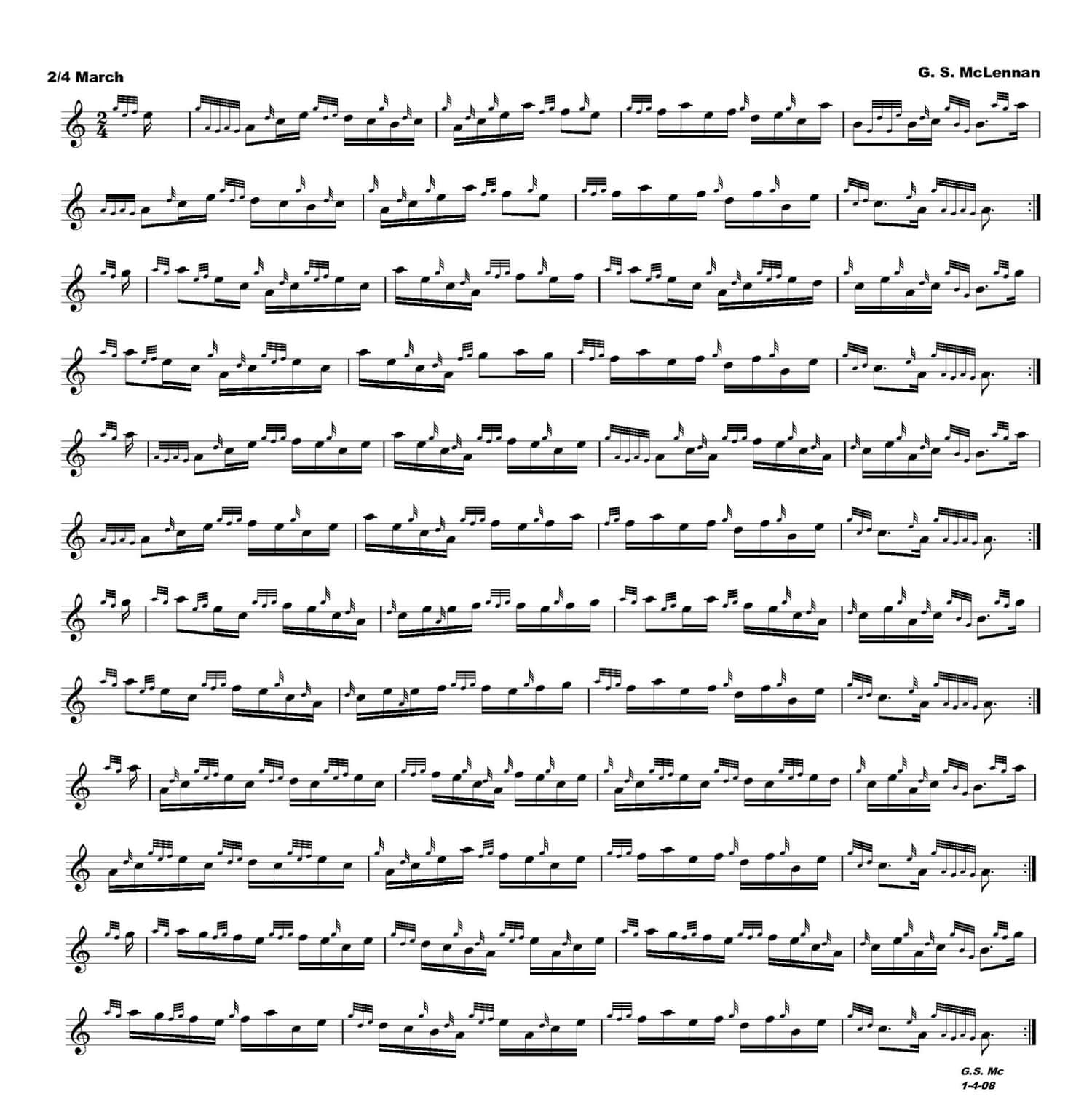 And what should the tune be called? Without question it is within the purview of the descendants of G.S. McLennan to name the tune. G.S.'s grandson, Hamish, and great-grandson, Calum, have recently launched a beautiful new website dedicated to the great man, complete with never-before-seen photographs and information on G.S.'s life, instruments, artifacts and music. The composition and letter will be added to the G.S. McLennan site in the next few days.
+ Glorious online homage to G.S. McLennan unveiled
At a time when details of the lives of so many of our great composers, players and piping figures are being lost as papers go into bins, and memories into graves, this new website shines a light on what in fact should transpire with our fragile history.
It is timely, then, to be able to add a new musical contribution to the legacy of George Stewart "G.S." McLennan.
Jim McGillivray achieved great success as a competitive solo piper. He won both Highland Society of London Gold Medals as well as the Clasp at Inverness. He also won the MSR at the Glenfiddich Championship, and then retired from competitive solo playing at age 36 in 1991. He was the Pipe-Major of the Grade 1 Guelph Pipe Band when it won the North American Championship in 1981, and was a member of the 78th Fraser Highlanders from 1988-'92 and the Spirit of Scotland Pipe Band in 2008. He is Director of the piping and drumming program at St. Andrew's College in Aurora, Ontario, an independent boys' school teaching grades 5-12. He also owns and operates McGillivray Piping and pipetunes.ca where you can download bagpipe music and free demonstrations of the tunes by Jim and by many of the composers themselves.