North Stratton evens the score at Ellerslie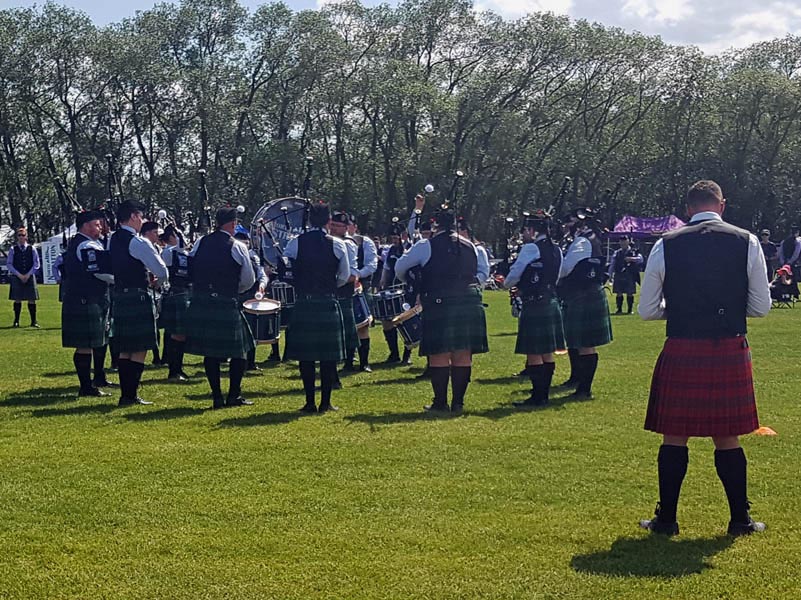 Ellerslie, Alberta – June 24, 2018 – Contrasting the previous day at Red Deer, competitors and spectators welcomed the warm, sunny day at the annual Ellerslie Highland Games. It was already 23C by 9am, and warmed up to near 30C by the time bands were playing in the afternoon. The Grade 2 "Battle of Alberta" proved to be just that, with the medley contest being broken on ensemble preference with North Stratton edging out Rocky Mountain for the win. Zephal Knichel won the Professional Piper of the Day for the second straight day, and the Professional Drumming aggregate trophy went to Andrew Miller.
Grade 2 (Medley)
1st North Stratton (ens.pref.) (2,1,2,1)
2nd Rocky Mountain (1,2,1,2)
Grade 4 (Medley)
1st Edmonton & District
Grade 5 (Quick Marches Medley)
1st Ogden Legion
2nd Clan McNaughton
3rd Grande Prairie & District
4th Edmonton Youth
Judges for all band events: Sean McKeown, Dave Hicks (piping); Aaron Carter (drumming); Alex MacIntyre (ensemble).
Professional Piping
Piobaireachd
1st Zephan Knickel
2nd Ross Barker
3rd Robyn Gray
Judge: Dave Hicks
MSR
1st Gordon Conn
2nd Zephan Knichel
3rd Stewart Smith
Judge: Sean McKeown
Hornpipe & Jig
1st Stewart Smith
2nd Zephan Knichel
3rd Gordon Conn
Judge: Alex MacIntyre
Professional Snare Drumming
MSR
1st Andrew Miller
2nd Elizabeth Shaw
Judge: Aaron Carter
Hornpipe & Jig
1st Andrew Miller
2nd Elizabeth Shaw
Judge: Peter Hendrickson
Got results? We're not mind readers and can't everywhere! Please do send them in, with a pic or two, using the format above.