One-day 2019 World's likely a non-starter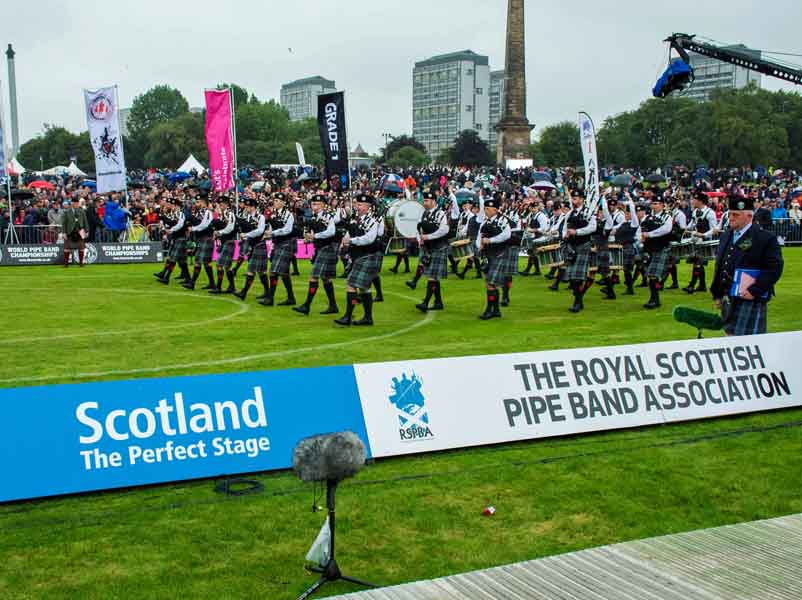 Even if they and their members wanted to return the World Pipe Band Championships to a single-day format, the Royal Scottish Pipe Band Association and event organizers Glasgow Live are in a bind.
RSPBA rules clearly spell out that changes to playing requirements for competitions must be ratified at the organization's annual general meeting, this year on March 9 at Trades Hall, 85 Glassford Street, Glasgow.
But in order to have a motion to make such a change on the AGM agenda, it has to be submitted and registered in writing no sooner than six weeks before the meeting. With the AGM less than three weeks away, the association would have to create a special dispensation for such a resolution to be tabled.
The practicalities and common sense of holding a separate day for a Grade 1 Qualifier have come into serious question with the likelihood that no more than 15 bands will enter for this year's competition.
+ World's Grade 1 probably only 15 bands
With the rules stipulating that the qualifier will be broken into two groups, competitions of seven or eight bands would need only about 90 minutes to complete, or only about four total hours to run through in order to weed out only three bands for the 12-band Final.
At publication time, RSPBA Executive Officer Ian Embelton had not responded to a request for comment.
"My opinion would be that the two-day event will go ahead this year," said one insider who spoke on condition that his name not be used. "Seems crazy using up a whole day to eliminate one or two bands. Friday could be out to better use."
Only three Grade 1 bands from outside of Great Britain and Ireland – Canada's 78th Fraser Highlanders and Simon Fraser University, and Canterbury Caledonian Society of New Zealand – so far are planning to compete, making the name "world championship" somewhat questionable. What few would question, though, is that about 10 bands are extremely likely to sail through the qualifier, most of which are from the UK and Ireland.
With the Friday qualifier something of a formality for several bands based in the UK and Ireland, each of these bands has an added expense for travel and accommodation, plus each of their members devoting an additional day of holiday time, for what could be considered as a superfluous qualifying round.
Whether these bands intend to petition the RSPBA to develop a different one-day format is yet to be seen.
"It would be a bit pointless causing a stink," the source remarked. "The two-day event was installed by a majority of the bands at an AGM. Any attempt to change it out with the same AGM process would be pointless. The bands wanted the two-day event because they didn't like playing three times on the Saturday. I think there will be some sort of minor change if the entry is only 15 for Friday. But that's only my gut feel. If Friday is on it needs to mean something more than just a tool for kicking a few bands out."
Glasgow weather in August typically sees overcast and rainy conditions in the morning, often followed by a substantially warmer and sunnier environment in the afternoon.
Also speaking anonymously, a pipe-major of a Grade 1 band said that the event should be held on a single day: "Yes back to one day, with the Grade 1 Final to be held in the afternoon in the best weather conditions."
Some see the decline in the number of Grade 1 bands and entries by those that exist as symptomatic of an increasing demands to sustain a viable organization. The RSPBA has not acted on frequent calls to create maximum numbers either for players in competition or overall band rosters. The association has chosen instead to allow the genre to police itself, apparently believing that the bands should self-regulate what the right maximum numbers are for them.
The RSPBA and associations around the world stipulate minimum section numbers for all grades in competition.
A positive from the association's neutral stance on maximum numbers can possibly be seen in pipe band organizations working to create new teaching programs or add to existing ones. The Johnstone Pipe Band organization of Scotland has implemented a large scale teaching initiative to great effect, evidently enabling the group to field solid numbers while qualifying for the World's Final only two years since their promotion from Grade 2.
Long-established teaching programs and feeder bands by Vancouver's Simon Fraser University and Scotland's Peoples Ford Boghall & Bathgate Caledonia and Shotts & Dykehead Caledonia have resulted in a consistency of rosters and quality, even in the wake of challenging leadership changes.
On the other hand, the Vale of Atholl organization of Pitlochry, Scotland, recently pulled the plug on its Grade 1 band entirely, even though the group boasts one of the world's most well-established teaching programs, going back to the 1970s.
The current pipes|drums Poll, which asks, "If only 15 bands are in the event, should the Grade 1 World Championship be held on a single day?" has nearly 70% of respondents answering Yes.