World's Grade 1 probably only 15 bands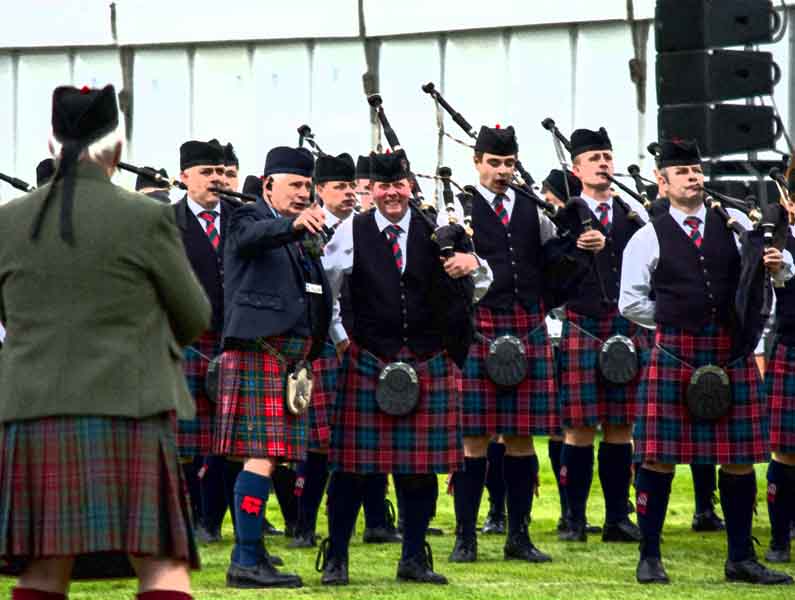 The two-day 2019 Grade 1 World Pipe Band Championships will most likely feature only 15 bands, an all-time low for the event for at least the last 30 years or even since the formalization of the event in 1947.
According to a pipes|drums assessment of bands, the competition will probably have seven fewer entrants from the 22 Grade 1 bands that competed in 2018. An entry of 15 would in all probability make Grade 1 the second-smallest event, with only Juvenile having fewer bands.
To date, the Grade 1 competition is still scheduled to run over two days, a format adopted six years ago in part to better accommodate a large number of bands in the grade, ensuring that every band would have two performances to qualify for a 12-band Final.
Grade 1 bands expected to compete
78th Fraser Highlanders, Canada
Canterbury Caledonian Society, New Zealand
Field Marshal Montgomery, Northern Ireland
Glasgow Police, Scotland
Glasgow Skye Association, Scotland
Inveraray & District, Scotland
Johnstone, Scotland
Lomond & Clyde, Scotland
Peoples Ford Boghall & Bathgate Caledonia, Scotland
Police Scotland Fife
Police Service of Northern Ireland
ScottishPower, Scotland
Shotts & Dykehead Caledonia, Scotland
Simon Fraser University, Canada
St. Laurence O'Toole, Ireland
Not expected to compete
78th Highlanders (Halifax Citadel), Canada
Auckland & District, New Zealand
City of Dunedin, USA
Manawatu Scottish, New Zealand
New Zealand Police
Toronto Police, Canada
Western Australia Police
A 15-band qualifier would leave only three bands out of the Final. With the contest divided into groups in the Friday Qualifier, an MSR event of seven would need only about 90 minutes to complete.
The RSPBA demoted three Grade 1 bands after the 2018 competition season, with Brittany's Bagad Cap Caval, Buchan Peterson of Scotland and Denny & Dunipace Gleneagles moving to Grade 2.
+ RSPBA announces regradings – now four fewer Grade 1 bands
The downgrades followed Dowco Triumph Street of Canada sudden announcement that it would cease operations, and was followed by the same announcement by Scotland's Vale of Atholl.
+ Dowco Triumph Street "ceases competitive operations"
+ Vale of Atholl latest Grade 1 band to halt operations
As in the cases of Vale of Atholl and Triumph Street, other Grade 1 bands have been beset with personnel challenges, including Canada's 78th Highlanders (Halifax Citadel) and the Toronto Police.
+ Grade 1 Toronto Police still searching for L-D
+ Grade 1 78th Halifax again hangs out shingle for L-D
While Pipe-Major Sean McKeown confirmed that his Toronto Police have cancelled competition plans for 2019, 78th Highlanders (Halifax Citadel) Pipe-Major Alex Gandy confirmed that his group plans to compete in North America as the band continues to build up their operation and work toward settling on a lead-drummer to guide the band's back end for the long-term. Both bands did not compete at the 2018 World's.
The Western Australia Police of Perth, Australia, are not permitted by the sponsoring police force to travel outside of the country to compete.
Since the two-day Grade 1 World's was introduced in 2013, the format has been received with mixed opinions. While many like that all bands have to earn a spot in the Final, others contend that the benefits of a separate day do not make up for the investment of money and time by bands that generally operate on a threadbare budget, members often personally covering additional costs and vacation time.
"With only 15 bands possibly competing there is no reason at all to hold a qualifier on a separate day," said one Grade 1 pipe-major who spoke on condition of anonymity. "All a Friday competition would do is risk exposing sensitive instruments to quite possibly another day of horrible weather and would make the Scottish bands take another day off of holidays. There's no good reason for it now."
Unlike most of the rest of the world, the RSPBA does not provide competing bands with any financial allowance for travel or an appearance fee. The first prize for the World Pipe Band Champion is £1500. BBC Scotland makes a significant investment of British taxpayer money into the live broadcast and recorded programs covering the Grade 1 event.
The RSPBA recently announced its allocation of judges for the organization's five major championships, revealing that all 16 of those assigned to Grade 1 at the World's are from the UK.
+ All 16 World's Grade 1 judges are British