Grade 1 78th Halifax again hangs out shingle for L-D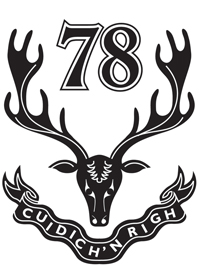 The Grade 1 78th Highlanders (Halifax Citadel) are the latest top-tier band to be searching for a suitable lead-drummer to sustain them for the future.
While Pipe-Major Alex Gandy said that the situation does not threaten the band's ability to compete in 2019, the Halifax, Nova Scotia-based group is looking for "someone with a vision for inspiring drumming excellence in the Halifax area, creating an atmosphere that develops players for the local scene."
"We were fortunate to have band member Marc Maloney step forward and take on the role last year," Gandy said, "but he is unable to continue due to professional commitments. We need a drumming leader with the playing, teaching and people skills to really make a difference. The band has consistently strong piping results, and while we've improved overall, we need a strong leader to help us move everything forward."
The band lost their previous lead-drummer in February 2018 after they parted ways with Jeremy Keddy.
+ 78th Halifax looking for L-D
The Grade 1 band joins the list of those at the top toiling for lead-drummers and snare drummers in general, some choosing to take a hiatus from competing rather than risking tiding over a sub-standard outfit. The Grade 1 Toronto Police have seemingly cancelled their 2019 season, focusing instead on a teaching initiative. The organization's request to move its Grade 3 band to Grade 2 was recently approved by the Pipers & Pipe Band Society of Ontario's Music Committee.
+ Grade 1 Toronto Police still searching for L-D
The Grade 1 Ottawa Police Service Pipe Band suspended competing in large part after a search for a lead-drummer proved futile.
+ Ottawa Police cancel another season
+ L-D search on for Ottawa Police
Gandy confirmed that snare drummers Bree Caldwell and Bruce MacAulay will keep things moving, even if the band can't find a permanent new lead-drummer. He added that both drummers have demanding work schedules, which makes drumming leadership difficult.
The 2018 winner of the Silver Star Former Winners MSR at the Northern Meeting, Gandy stressed that the 78th Halifax is strong in piping, with 21 players on the books, with a section consisting of mostly solo professional-grade members. The pipe-sergeant of the band is Bruce Gandy, one of this generation's greatest solo pipers.
pipes|drums recently examined the persistent problem with many bands finding lead-drummers and snare drummers to meet standards. Though warning signs have been evident for more than a decade, few pipe band associations around the world have a concerted and cohesive teaching program in place, hoping that member bands and individuals will sustain standards and numbers.
In the last decade, Scotland has launched substantial piping and drumming tutoring programs for state-run schools, resulting in substantial dividends in terms of numbers, standards, and competition success.
+ Success of national teaching evidenced in growing Scottish Schools Championships
Gandy said that those interested in his band's lead-drummer role are encouraged to contact him by email or via Facebook.