Ottawa Police cancel another season
The Grade 1 Ottawa Police Service Pipe Band has decided to cancel its plans to compete in 2018, citing a shortfall in the drum section with "numbers lower than what is considered acceptable in Grade 1 these days," according to new Pipe-Major Jacob Dicker.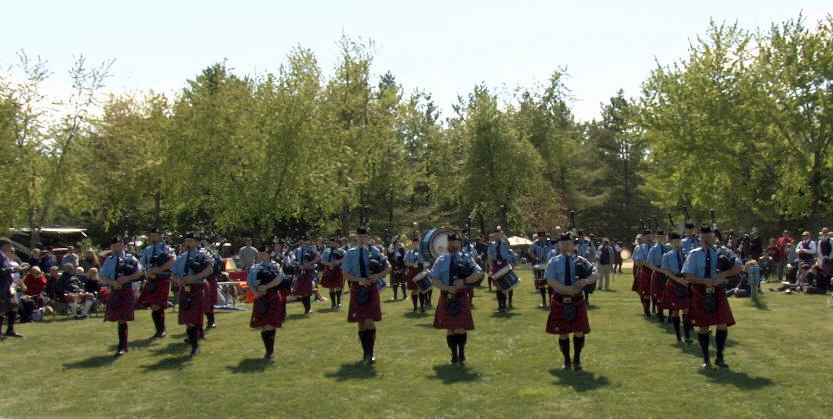 The band had hoped to re-emerge for competition after taking a hiatus for the entire 2017 season. In the spring of 2017 Lead-Drummer Brendan Kelly stepped down from the post, and then the group halted all plans to compete. In fall 2017 the band reorganized, with Andrew Hayes stepping down as pipe-major, and Dicker stepping in along with Mike Tuzyk as the new lead-drummer.
+ New leaders for Ottawa Police
+ Ottawa Police making a rest this year
+ L-D search on for Ottawa Police
The band said that "rebuilding plans are on hold, and has no immediate plans to compete," indicating that its long-term viability for future competition appearances could be in doubt. "Nothing is planned at this time, but the organization will explore its options for 2019 and onward," Dicker said.
Members of the band made the collective decision at a meeting in Ottawa on March 4th.
A non-competing band will continue to perform at official police functions, including the Ontario Police Memorial Foundation's Day of Remembrance in Toronto on May 6th; the Cleveland International Tattoo in Cleveland, Ohio, on May 26th; and the Blackburn Fair Parade in Ottawa on June 2nd.
The move is the third major announcement by a North American Grade 1 band either to cancel its season or drop to Grade 2. The Los Angeles Scots and Peel Regional Police of Ontario each agreed to move down a grade.
There are now only five competing Grade 1 bands from North America: the 78th Fraser Highlanders (Ontario); the 78th Highlanders (Halifax Citadel) (Nova Scotia); Dowco Triumph Street (British Columbia); Simon Fraser University (British Columbia); and the Toronto Police (Ontario).
Without a limit on the size of bands or section sizes, the ability to field competitive large bands particularly in the top grades has become increasingly difficult for non-UK bands, as well as many groups from outside of the Central Belt of Scotland.
Grade 1 bands from all regions routinely bring in temporary players from all over the world in order to fortify numbers and quality for competition.
"This is getting ridiculous," said a member of a Canadian Grade 1 band struggling to field enough quality players to compete seriously on an international level, who spoke on condition on anonymity. "Maybe this is what the RSPBA wants, to keep its bands strong and winning, but sooner or later at this rate the 'World' Championships will return to its local roots because overseas bands just won't bother – or there might not be any left to compete anywhere, and just be a lot of Grade 2 bands."
pipes|drums has highlighted the situation and has called for the RSPBA to address the numbers issue for more than a dozen years. The magazine's surveys of readers consistently indicate that there is a strong desire to create rules for maximum numbers for band rosters or on-field sections, just as there have been minimum numbers for at least the last 60 years, which are now relatively meaningless if a band wants to be competitive.
+ p|d Survey: Almost two-thirds of Grade 1 P-Ms favour size limits
+ Size Matters: Armstrong and Livingstone to square off in great debate
Some 16 years ago, an RSPBA Judging Committee made recommendations on maximum numbers, but the effort went nowhere.
+ RSPBA Judging Sub-Committee Allegedly Recommends Size Restrictions on Bands