Opinion: The future for piping and drumming must put an emphasis on performance, not perfection
A fundamental change must occur if piping and drumming is to thrive or even survive in any meaningful way.
In short, we have to put the performance – the entertainment value for non-players – first and clinical precision second.
For more than 35 years, we've called for a musical change to our stagnant, precision-obsessed competition culture. Astonishingly, the pipe band medley hasn't changed in any meaningfully acceptable way. Yes, there are new tunes, more sophisticated arrangements, and orchestrations, but the core structure of what we play is essentially the same as in 1983.
Any company or industry that has one product in one version that hasn't changed in more than a century . . . well, we wanted to say that that company would be in trouble. But the truth is, no hundred-year-old company or industry like that is still around.
So, let's forget about throwing funky new music into competition medleys or mini-medley MSRs. As long as the RSPBA – which controls the competing pipe band because of our addiction to doing well at the World Championships (also discussed here many times) – we need a fundamental shift in what we consider "good."
We need to replace the emphasis on precision with a preference for performance.
How often will we have to hear from competitors, "We should do what the Breton bagads do!" until we finally make changes?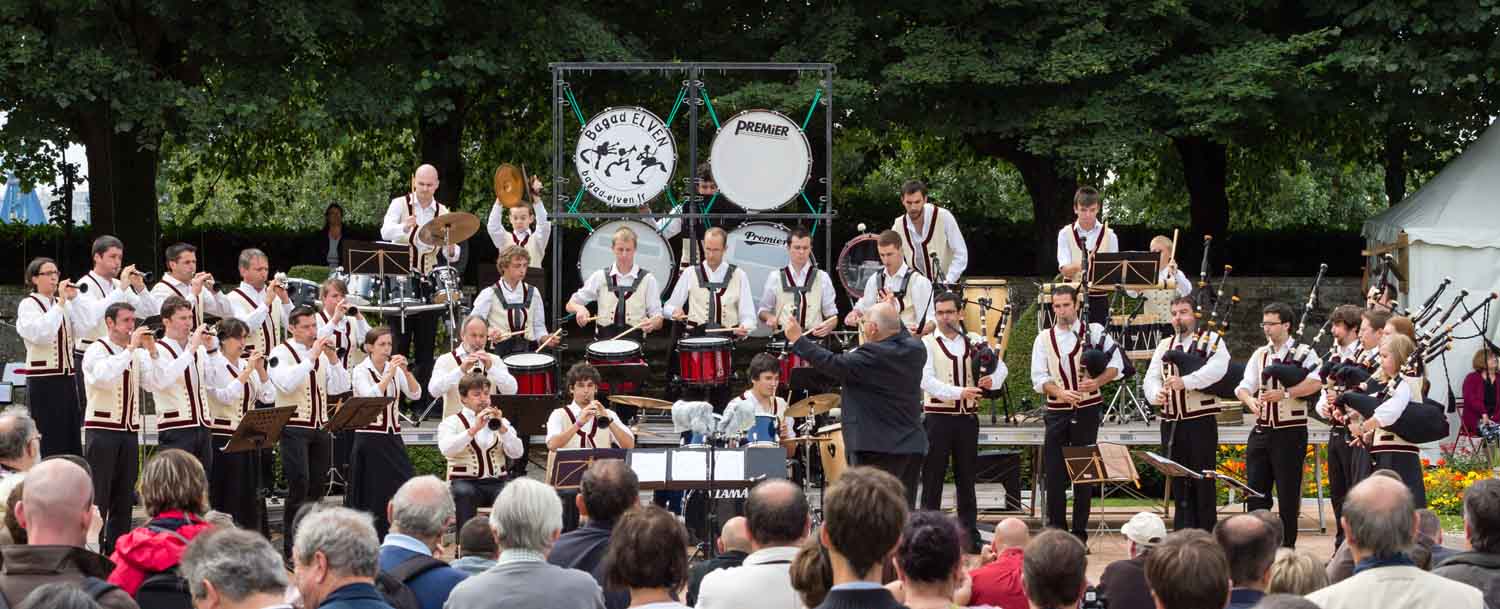 While still playing to exacting standards, Breton bands emphasize performance over precision. They dig into their traditional and new music for over 15 minutes and put on stadium-filling shows while competing for significant accolades. The top bagads have sizable followings across France, not just by other pipers, percussionists and bombard players, but by music enthusiasts of all stripes.
Or look at what Drum Corps International did 52 years ago. They knew that their marching band niche wasn't sustainable if they wanted to have any future success, so they relaxed musical and visual requirements, emphasizing creativity rather than dogged adherence to tradition. Like the Breton bands, the result is a worldwide competition/performance system that draws massive crowds.
On that note, thank goodness for the rise of the mid-section. Tenor drummers are today's competing pipe band's most exciting and entertaining aspect.
Associations can change rules and requirements and work with accredited and future judges to open their minds to what's possible, rather than summarily put down any perceived threat to the familiar.
Tenor drummers realized in the 1990s that they could perform with a flourish (literally) while contributing musically and precisely. Until Tyler Fry and Haggis MacLeod, and a few others resurrected the fine art of flourishing, tenor drumming had collapsed to being essentially superfluous and boring, a waste of perfectly good uniforms and expensive instruments.
Modern mid-sections are often criticized by persnickety pipers and drummers who resent that it can take only a year or two to be of Grade 1 calibre and, not only that, these pipe band heretics actually smile and visibly enjoy themselves in competition.
Some way somehow, modern mid-sections were accepted. When you look back and see how many famous traditionalists tried to shut down the resurgence of flourishing, multiple drums tuned to different pitches, and those smiling and enthusiastic faces, it's a miracle that they have survived, evolved, and thrived.
And the reasons for that thriving might be no more complicated than the fact that many tenor drummers were early social media adopters. They banded together online to ward off and shut down the naysayers, so much so that others learned not to mess with them lest they, too, get cancelled. When the late Jimmy Hutton – a great pipe band snare drummer and powerful RSPBA judge – tried to quell an uprising by mid-section musicians, he faced an online wrath that made him spin back into retreat.
Tenor drummers created a cohesive union and fought back against fuddy-duddy naysayers. They evoked change with an effective tactical barrage of online firepower.
The most popular and visible elements of the piping and drumming world are, by far, not competition-based. The Red Hot Chilli Pipers, Rolling Drones, Modern Piping, Ally the Piper . . . all prove that musical performance, orchestration and creativity – not clinical precision – attract audiences.
But, the funny thing is, they also perform with musical excellence, which shows up in the performance. It's in tune and rhythmical, visually appealing, accessible and entertaining for players and non-players alike.
And look at the National Piping Centre. The head of the organization, Finlay MacDonald, is a performing musician, not a competing piper. He never was. Down the street from the NPC is the Royal Conservatoire, where pupils are taught how to be musicians, and not solely how to win competitions. Meanwhile, if they teach at all, most associations instruct bands, pipers, and drummers on how to win prizes rather than build an audience.
Once again, we look to associations to make a profound shift, to guide the art away from 100% clinical competition to an emphasis on performance, and to build new audiences that, to a great extent, have already been built by the performers mentioned above.
Associations can change rules and requirements and work with accredited and future judges to open their minds to what's possible, rather than summarily put down any perceived threat to the familiar.
It's an existential challenge. We must put performance before precision unless we prefer to watch our competition-driven art form shrink into oblivion.
What do you think? We welcome your thoughts via our Comments feature below.