Pick The Glenfiddich Five! Win an Infinity pipe chanter and an array of merch from R.G. Hardie!
How'd you like to win a brand new Infinity pipe chanter and other goodies from our friends at R.G. Hardie?
All you have to do is enter pipes|drums' annual Pick The Glenfiddich Five contest, where our super-canny readers get to submit their prediction for the top-five aggregate finishers (including the champion) competing at the Glenfiddich Invitational Solo Piping Championships at Blair Castle in Blair Atholl, Scotland, on Saturday, October 28th.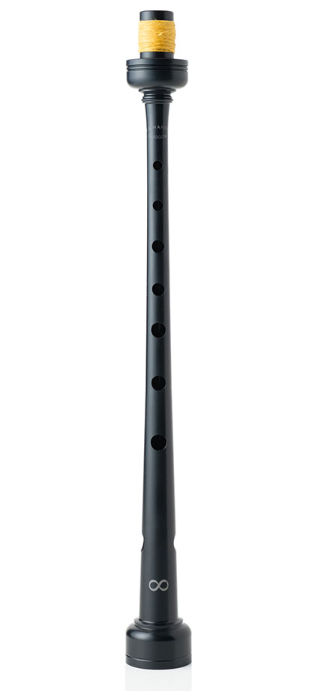 Sounds easy, huh? Well, considering that any of the 10 elite solo pipers could win the whole shebang, it ain't.
Here's what you could win:
Here are a few details from R.G. Hardie about the chanter:
Designed by Alastair Dunn, two-time Highland Society of London Gold Medalist and 10-time World Champion with Field Marshal Montgomery, the chanter features smaller finger holes that are more comfortable for pipers.
The Infinity chanter has been extensively tested in a synthetic and leather pipe bag set-up with a range of reeds and produces a rich resonant tone that will provide superb harmonics with any set of drones. It provides optimum sound when pitched in the range 480hz to 484hz.
Sounds pretty good, huh?
Don't believe it? Here's a vid from finger-wizard Lincoln Hilton:
Again, sounds pretty good, huh?
Okay, here are the 10 pipers who will compete at this year's Glenfiddich:
Callum Beaumont, St. Andrews, Scotland – Northern Meeting Clasp winner, Northern Meeting Silver Star MSR winner
Alex Gandy, Dartmouth, Nova Scotia – Argyllshire Gathering Formers Winners MSR winner
Bruce Gandy, Dartmouth, Nova Scotia – Bratach Gorm, Masters Champion
Alasdair Henderson, Edinburgh – Argyllshire Gathering Highland Society of London Gold Medal
Finlay Johnston, Glasgow – Northern Meeting Silver Star MSR second prize
Jack Lee, Surrey, British Columbia — Argyllshire Gathering Formers Winners MSR second prize
Angus D. MacColl, Benderloch, Scotland – Argyllshire Gathering Senior Piobaireachd winner
Willie McCallum, Bearsden, Scotland – 2022 Glenfiddich Champion
Fred Morrison, Bishopton, Scotland – Scottish Piping Society of London Champion
Innes Smith, Glasgow – Northern Meeting Highland Society of London Gold Medal
The contest comprises two events, a Piobaireachd and an MSR, the competitor with the overall best results, with a Piobaireachd preference in the event of a tie declared Glenfiddich Champion.
What about the judges? These piobaireachd fellows have vaaaaast repertoires of tunes taught to them by masters, don't they? Same with the light music luminaries. They have their personal preferences, and they're some of the world's greatest hair-splitters:
Piobaireachd: Murray Henderson, Jack Taylor and Bob Worrall
Light Music: Jimmy Banks, Ian Duncan and Iain MacLellan.
The competition will be broadcast live on the internet once again, pay-per-view. Tickets to the livestream are £15 (about USD$17) and available here.
And how exactly might you win? Well, here are the rules, so please read carefully:
Readers must submit their entry via e-mail – click here. (Please use the template automatically generated.)
Entries must list the competitors in their aggregate order of finish – 1st, 2nd, 3rd, 4th, 5th.
Only one entry per e-mail address (all multiple entries from the same e-mail address will be discarded; please don't try to game the system).
In the event of aggregate ties between piping competitors, the Piobaireachd event determines the winner.
Submissions should include a full postal snail-mail delivery address.
The winning entry must pick the 2023 Glenfiddich Champion – the overall winner of the first-prize – correctly.
Ideally, the winning entry will pick the exact prize-list in exact order of finish.
If more than one entry gets the list exactly right, a random draw will be made.
If no entry is completely correct, the submission that picks the first-prize winner and gains the most points from the following system will win: 3 points for choosing a piper in the right spot, and 1 point for including a piper who made the top-five aggregate prize list but not in the correct place.
If still tied, a random draw will decide the winner.
Entries close at 18:00 GMT, Friday, October 27th.
Glenfiddich adjudicators, competitors, officials, the Duke of Atholl and his servants are not eligible to win.
The winner will be notified by e-mail (please check your email if you feel your entry might be close), and a story will be published soon after. The winner's name will be withheld if desired.
Readers are encouraged to browse pipes|drums for results from this year's solo piping events worldwide.
So, research the players and check out our Big Prizes database for past success at the Glenfiddich and other major events.
The competition will be broadcast live on the internet once again, pay-per-view, so be sure to watch the livestream of the event via the National Piping Centre's site.
Thanks to our sponsors, R.G. Hardie, and good luck to all readers who give our Pick The Glenfiddich Five contest a go – and best of luck to all competitors on October 28th at Blair Atholl Castle.