Piobaireachd Society Conference moves to Piping Centre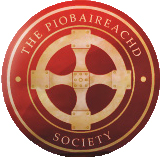 About 50 people attended the annual conference and annual general meeting of the 709-member Piobareachd Society, held at the National Piping Centre on March 23 in Glasgow, changing with its norm, as it moved away from a traditional rural hotel setting.
The conference portion featured President Jack Taylor discussing historical documents from judges of solo piping competitions in the 1800s, including a controversy at the 1861 Northern Meeting when judges were accused of bias by William Ross, Queen Victoria's piper, with one judge in high dudgeon suggesting that it should be reported to Victoria and banned from future competition.
The conference featured a screening of MacCrimmon's Gold, a new movie by Gerard Alle, featuring the Breton piper Patrick Molard's experiences with piobaireachd, including receiving tuition in the 1970s from Robert Brown and Robert Nicol.
Accomplished piper and piping scholar Gary West led a discussion that included a section on how judges might consider assessing new, unknown piobaireachds.
Solo pipers Iain Speirs, John Dew, Jamie MacRae and Campbell Stewart each played a piobaireachd.
As reported, the annual general meeting portion saw Jack Taylor's 12-year tenure as president come to an end with Vice-President Robert Wallace taking over.
There was no vote, apparently because the 99-year-old organization has no formal process in place for the election of a new president, according to Alan Forbes, chairman of the Piobaireachd Society's Music Committee, who said, "Outgoing presidents have usually nominated their successors, normally the vice-president, unless they don't want to do it. In this case Jack nominated Robert, with the support of the General Committee, and he was approved by acclaim."
When asked if he had a vision for the Piobaireachd Society, Wallace said, "Nothing to report at the moment, I'm afraid, but we will keep you abreast of any developments."
About Wallace, Taylor said, "I have every confidence that he will be a dedicated and imaginative president."
Under Taylor and previous President Andrew Wright's oversight, the Piobaireachd Society has gradually moved to embrace modern composition and resurrect near-lost ceol mor manuscripts.
---
Related

Taylor confirms resignation from Piobaireachd Society presidency

---

Piobaireachd Society at crossroads with future direction

---

Piobaireachd Society takes ceol mor to Edinburgh during Piping Live!