Piobaireachd Society issues 2020 requirements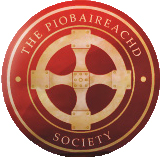 Scotland's Piobaireachd Society has issued its traditional requirements for the major piobaireachd competitions at the Northern Meeting at Inverness and the Argyllshire Gathering at Oban in 2020. The list of choices for the Senior events (the Clasp at Inverness and Senior Piobaireachd at Oban) comprise some of the lengthiest and most difficult pieces in the ceol mor canon.
Contestants vying for the Highland Society of London Gold Medal and Silver Medal get an always welcomed break from the treadmill of set tunes with an "own choice" year. Gold Medal players submit whatever eight tunes they wish, and Silver Medal players submit six, each performing one as chosen on the day.
Senior (submit six, play one)
"Lament for Donald Ban MacCrimmon" (Piobaireachd Society Collection Book 2, Kilberry Collection of Ceol Mor)
"Lament for King George III" (PS Book 14)
"Lament for the Harp Tree" (PS Book 12, Kilberry)
"Lament for the Laird of Anapool" (PS Book 9)
"Lament for MacLeod of Colbeck" (PS Book 10)
"Lament for Patrick Og MacCrimmon" (PS Book 3) – played with Donald MacDonald's additional variation (singling and doubling), as in Piobaireachd Society Book 3.
"Mrs. MacLeod of Talisker's Salute" (PS Book 11)
"Nameless – Cherede Darievea"" (PS Book 8, Kilberry)
"The Sound of the Waves Against the Castle of Duntroon" (PS Book 6, Kilberry)
"The Unjust Incarceration" (PS Book 2) – played with the "optional" third line, as recorded in Piobaireachd Society Book 2.
Strictly speaking, Oban and Inverness are not required to adhere to the Piobaireachd Society's recommendations, but they have every year the contests have been held in the last century.
Other events around the world, such as the Piobaireachd Society Gold Medal (Canada) competitions at Maxville, Ontario, often use the Piobaireachd Society requirements.
---
Related stories

Piobaireachd Society Conference moves to Piping Centre

---
---