Piping Live! officially launches into 20th anniversary stratosphere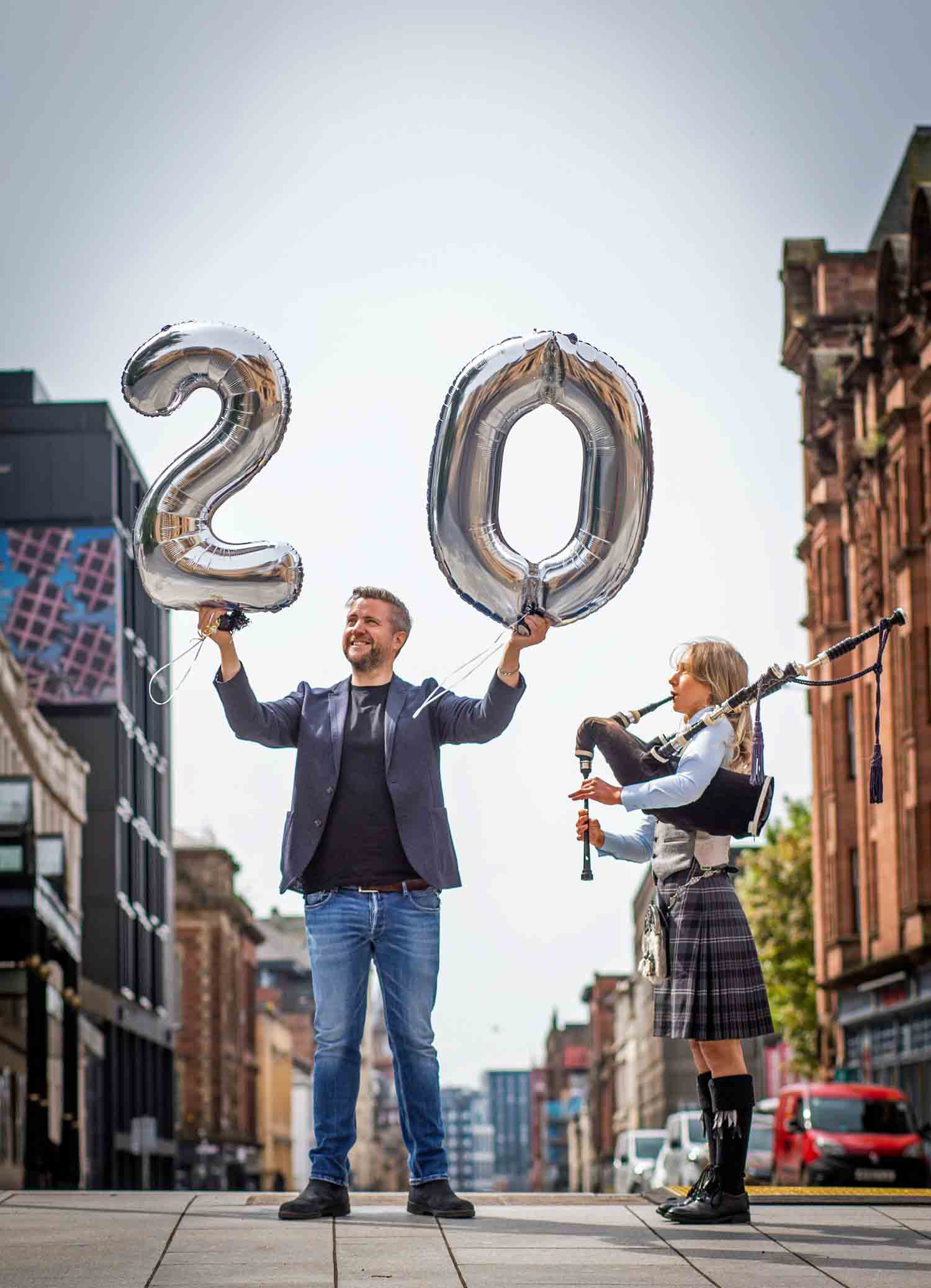 A few lean pandemic years notwithstanding, two decades have flown by since the debut of Piping Hot! a fledgling festival run what was known simply as simply the Piping Centre in Glasgow, and now the National Piping Centre and its partners will celebrate the twentieth anniversary of Roddy MacLeod's brainchild with a full slate of Piping Live! Glasgow International Piping Festival events.
For the competitive pipers and drummers in Glasgow foaming at the mouth for the World Pipe Band Championships, there are all the big Highland piping competition hits:
The Pipe-Major Alasdair Gillies Memorial Recital Challenge – the thing that inspired the whole shebang in 2003 – will again be at the Glasgow Royal Concert Hall's Strathclyde Suite with rocket-handed players burning out their fuse up there alone on stage with their 25-minute medley of whatever they like. Defending champion Matt MacIsaac of Ontario will go at it against Callum Beaumont, St. Andrew's, Scotland; multi-time winner Stuart Liddell, Inveraray, Scotland; Angus MacColl, Benderloch, Scotland; and Sarah Muir, Glasgow.
Four steely-nerved pipers each from the 78th Fraser Highlanders, Field Marshal Montgomery, Inveraray & District, Manawatu Scottish, Peoples Ford Boghall & Bathgate Caledonia, and Shotts & Dykehead Caledonia drew the short straws for the self-flagellation of the International Quartet Competition on Tuesday, August 15th. Each quartet plays in Medley and MSR events at the Strathclyde Suite. One slip and you're done! What could be more exciting?!
The Masters Solo Piping Competition features a full day of piobaireachds and MSRs presented by about 20 of the world's top solo pipers on Monday, August 14th, at the National Piping Centre. The overall winner gets an invite to the 2023 Glenfiddich Solo Piping Championships.
The Gordon Duncan Memorial Competition pays tribute to the late great composer, performer and legendary iconoclast with qualified pipers competing in events specifically for Scottish, Irish and Breton music.
Throughout the week, qualifying rounds of four each at the Street Café outside the National Piping Centre's McPhater Street headquarters will determine the four young whippersnappers who go through to the final of Pipe Idol. Mini fire extinguishers are rumoured to be available in case any young hands burst into flames on Thursday, August 17th.
While not a competition, the 2023 festival will stage several 1 pm recitals that showcase not only big-time Highland pipers, but historically remarkable instruments they're closely related to.
Angus MacColl will deliver a recital on Tuesday, August 15th, at the NPC on the legendary composer and competitor John MacColl's pipes. Willie McCallum will deliver a similar performance on the pipes played by his late great uncle Hugh MacCallum on August 16th, and Ross Ainslie will perform on August 17th with the pipes played by his childhood teacher and mentor, Gordon Duncan.
Competing pipe bands prepping their GDEs and ratamacues for the weekend's World's will be featured again throughout the festival, whether in formal performances on Buchanan Street or in somewhat impromptu evening band practices outside the NPC.
"There's a real energy in the piping and drumming scene in anticipation of Piping Live! this year. Glasgow is certainly going to be alive with music, friendship and camaraderie." – Finlay MacDonald
True to the international and bagpipe-agnostic ethic of the festival, Piping Live! has struck a new partnership with the Lowland & Borders Pipers' Society. "inB celebrates the rich sounds of the Uilleann pipes and Scottish smallpipes pitched in the beautiful key of B," with Scotland's Brìghde Chaimbeaul and Fin Moore on Scottish smallpipes, Ireland's Louise Mulcahy and Tiarnán Ó Duinnchinn on uilleann pipes performing.
There are tons more performers, events and workshop-type things to expand and titillate your musical mind, with superstars of world piping and Celtic folk like Kim Carnie, Fraser Fifield, Jarlath Henderson, Ali Hutton and Kathleen MacInnes performing.
Check out all of what's in store at the 2023 Piping Live! festival here, and tickets for everything go on sale starting at 10:00 GMT, Friday, May 19th. The festival is launching a new ticketing system that promises to make things even easier.
Piping Live! reportedly attracts more than 30,000 visitors to Glasgow and injects millions of pounds into the local economy.
"Piping is more popular than ever, there are more people from diverse backgrounds playing, the music is both steeped in tradition as well as forward-looking and innovative," said Finlay MacDonald, Artistic Director of Piping Live!, in a statement. "This rise in popularity is in no small part down to the continued support from our audiences and the dedication of the teams behind Piping Live! and the World Pipe Band Championships. There's a real energy in the piping and drumming scene in anticipation of Piping Live! this year. Glasgow is certainly going to be alive with music, friendship and camaraderie."
Piping Live! is supported/sponsored by EventScotland, Glasgow Life and VisitScotland.