"Preposterous" Livingstone book launches early-August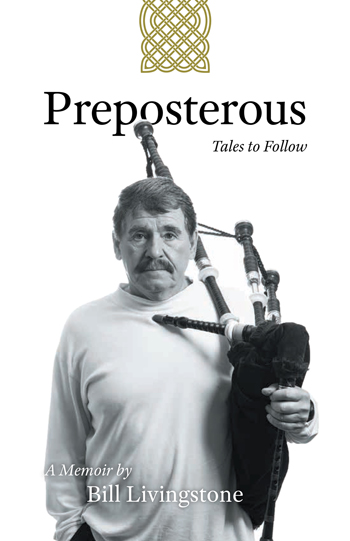 The much-anticipated and long-in-the-making memoir by Bill Livingstone will finally be released in August at the Piping Live! Glasgow International Piping Festival.
Preposterous, Tales to Follow has taken more than two years to complete, with Livingstone electing to do a wholesale re-write at one point. The book chronicles Livingstone's life from his beginning in Copper Cliff, Ontario, through his formative piping years, to the vintage era of the 78th Fraser Highlanders, to today.
The book is not exclusively about his piping life. Livingstone delves into his professional career as a lawyer, exploits with his rock band "The Coppertones" as a keyboard player, and his challenges with anxiety and depression. The writing style is frank and open, and Livingstone pulls few punches about personal interactions over his 75 years.
The 260-page book will be for sale online in both hardcover and softcover and through major book retailers beginning in August and reportedly at the Glengarry Highland Games at Maxville, Ontario, where Livingstone is the games' Guest of Honour at its 70th anniversary event.
+ Livingstone to be Guest of Honour at Maxville
"Writing [the book] has been a roller-coaster ride of emotions as I have not held back on putting my memories, my views and my feelings out there for everyone to see," Livingstone said. "Seeing it finished is simultaneously elating and terrifying."
Livingstone continues to compete and is a front-rank member of the Grade 1 Toronto Police Pipe Band. He is probably the oldest playing member in history of a competing top-grade band. Livingstone continues to be the only piper in history to have won the Clasp at the Northern Meeting and led a Grade 1 band to a World Championship.
Bill Livingstone recently was named as one of the 15 Greatest Living Canadian Pipers and Drummers in pipes|drums' survey released on Canada Day 2017, marking the 150th anniversary of Canada's nationhood.
+ Canada 150: the 15 Greatest Living Canadian Pipers & Drummers
Autobiographies and biographies of pipers and drummers are rare. Best known are Angus MacPherson's A Highlander Looks Back and John Wilson's A Professional Piper in Peace and War. Both are long out-of-print and can be sourced almost exclusively on resale book sites.
"It's filled with gossip, insight, history, laughter, tragedy and a little bit of payback – all packaged within Bill's delightful gift for language," Jim McGillivray, the renowned piper and friend of Livingstone, said after reading select excerpts.
[Disclosure: the editor of pipes|drums edited the first draft of the memoir and provided initial advice to the author.]