Reay Mackay books hit shelves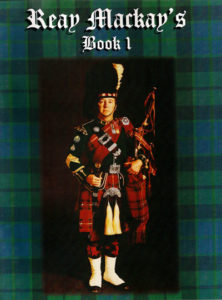 The late Reay Mackay's family has published a prodigious three-volume collection comprising a total of nearly 180 compositions and arrangements of virtually all traditional Highland pipe music types, including a tango and three piobaireachds.
The large majority of the pieces are composed by Mackay, and other contributors include Archie MacNeill, Andrew Pitkeathly, and a republished piece by the renowned composer Roderick Campbell of Edinburgh, creator of, among many other tunes, the classic 2/4 marches "Edinburgh City Police" and "The Royal Scottish Pipers Society."
Initially, the collections will be sold as a set by the family, with Mackay's wife of 56 years, Joan, managing transactions. The weighty set is priced at $60, plus shipping.
"Reay wanted his collection out to as many people as possible and had no desire or intent to make it a profitable venture," said his son-in-law Michael Wilson, who played a leading role in completing the books. "He said he didn't care if he made a cent but still proposed that it be sold at a very reasonable and affordable price point. He never saw the final product within this earthly world, though I am sure he is looking down on us just beaming."
Reay Mackay died on March 14, 2017, at the age of 78, after a long piping career as a competitor, pipe-major, teacher and adjudicator. He was taught mostly by John Wilson of Edinburgh and Toronto, who was taught by the aforementioned Roderick Campbell. He was presented with an honourary lifetime membership to the Pipers & Pipe Band Society of Ontario in 2012.
Only 100 copies of each book have been printed, and are, to begin with, available from Michael Wilson or Joan Mackay.