RSPBA allegedly threatens Clunie with disciplinary action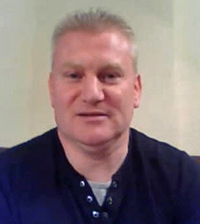 David Clunie, the pipe-major of the Grade 1 Denny & Dunipace Pipe Band of Stirling, Scotland, allegedly has been threatened by the Royal Scottish Pipe Band Association with possible discplinary action for his remarks regarding the challenges that he perceives new top-grade leading-drummers and drum sections encounter with some RSPBA adjudicators.
His comments were included in the pipes|drums news story reporting on the band deciding not to compete in 2016 due to the lack of a suitable Leading-Drummer stepping forward to replace Arthur Cooke, who left the band after the 2015 World Championships.
According to sources close to the matter who spoke on condition of anonymity, Clunie was notified by the RSPBA on March 30th with a threat of disciplinary action because of his statement, and that he has been told to contact the judging panel by April 4th to explain himself.
When asked about his interaction with RSPBA Chief Executive Ian Embelton, Clunie would not comment any further than to say he had no comment to Embelton himself.
In the original pipes|drums story of February 28th, Clunie said, "I think there are guys who would love the opportunity but fear the backlash or failure associated with corrupt/inexperienced judging out there. Grade 1 is a joke and you can guess the prize list order and the rest within a place of each other depending on who's judging. Everyone knows it and all the band members in every band know it, but we do nothing about it. Bands still turn up on the hope that the judges take a moral pill that day and might get a chance of upsetting the apple cart."
Before publishing his comments in the original news story, pipes|drums confirmed with Clunie that they were on the record and attributable to him.
RSPBA Executive Officer Ian Embelton was asked to comment on the matter, but no response was received at publication time.
If the allegations are correct, it would be the latest disciplinary action due to a player in an RSPBA-member band expressing concerns either in the media or in social media about judging or specific judges.
Clunie reportedly has no plans to play with any band in the foreseeable future. If this were true, any suspension that follows the RSPBA's usual approach of putting out a band or playing member for a period of time would be moot.
The news follows a particularly controversial three days days for the world's largest pipe band organization. following the outright resignation of Mervyn Herron after his 30-year volunteer tenure with the RSPBA and the resginations of Ian Duncan from the RSPBA's judging panel, and judges Joe Noble and John Wilson from the association's Adjudicators' Panel Management Board.