Scots swoop in to take top piob prizes at KC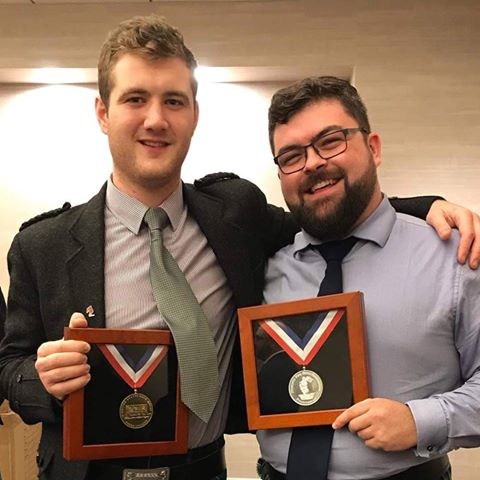 Kansas City, Missouri – January 18, 2019 – The annual Winter Storm solo competitions held at the Grand Ballroom of the Kansas City Marriott, Country Club Plaza Hotel attracted nearly 200 competitors, including from as far away as Japan, Alaska and Scotland. Cameron MacDougall of Nigg, Scotland, and Glasgow's Ross Miller won the professional piobaireachd prizes, and Matt MacIsaac of Stayner, Ontario, won the Gold Medal for light music. Eli Fugate of San Diego won the Gold Medal snare drumming prize. Sam Johnson of Columbia, Maryland, took the Gold Medal in solo bass drumming, and Ben Elkins of Dunedin, Florida, won the Gold Medal for tenor drumming.
The competitions are part of a three-day indoor Winter Storm festival that includes workshops, recitals and a ceilidh.
+ With another record entry, Winter Storm considering adding fourth day to 2020
Solo Piping
Professional
Piobaireachd
United States Gold Medal (sponsored by R.G. Hardie & Co. and Midwest Highland Arts Fund)
1st Cameron MacDougall, "Lament for Donald Duaghal MacKay"
2nd Andrew Carlisle, Pittsburgh
3rd Nick Hudson, Houston
Judges: Ian K. McDonald, Colin MacLellan, Fred Morrison
United States Silver Medal (sponsored by McCallum Bagpipes and Midwest Pipe Band Association)
1st Ross Miller, Glasgow, 'The Massacre of Glencoe"
2nd Austin Diepenhorst, Santee, California
3rd Dan Lyden, Timonium, Maryland
4th Alastair Murray, Pittsburgh
5th Jack Williamson, Topeka, Kansas
Judges: Callum Beaumont, Jenny Hazzard
MSR
1st Matt MacIsaac
2nd Alastair Lee, Coquitlam, British Columbia
3rd James P. Troy, Victoria, British Columbia
Judges: Stuart Liddell, Colin MacLellan, Fred Morrison
(Qualifier judges: Ken Eller, Roddy MacDonald, Richard Parkes)
Amateur (sponsored by The Tone Protector and Midwest Highland Arts Fund)
Grade 1
Piobaireachd
1st Griffin Hall, Overland Park, Kansas
2nd Liam Murray, Halifax, Nova Scotia
3rd Alasdair Martin, Huntersville, North Carolina
Judge: Brian Donaldson
MSR
1st Kayleigh Johnstone, Aurora, Ontario
2nd Filemon Tan, Bellaire, Texas
3rd Griffin Hall, Overland Park, Kansas
Judge: Terry Lee
Grade 2
Piobaireachd
1st Evan Burlew, Bethlehem, Pennsylvania
2nd Weston Kennedy, Sammamish, Washington
3rd Mary Beth Nicholson, Gross Pointe Woods, Michigan
Judge: Roddy MacLeod
Light Music
1st Joel Hrncir, Houston
2nd James Piccione, Bronx, New York
3rd Derek Reed, Oxford, Mississippi
Judge: Murray Blair
Grade 3
Piobaireachd
1st Hugo Mackay, Redmond, Washington
2nd Elizabeth Curiskis, Minneapolis
3rd Michael Saxer, Northport, New York
Judge: Stuart Liddell
Light Music
1st Hugo Mackay, Redmond, Washington
2nd Connor Francis, Bellevue, Washington
3rd Kim Greeley, Honolulu
Judge: Jack Lee
Solo Drumming
Snare
Professional
North American Gold Medal
1st Eli Fugate
2nd Blair Brown, Houston
3rd Eric MacNeill, Dunedin, Florida
4th Derek Cooper, Warminster, Pennsylvania
5th Grant Maxwell, Surrey, British Columbia
6th Stephen Paynter, Port Coquitlam, British Columbia
Judges: Hugh Cameron, Duncan Millar, Eric Ward
(Qualifier judges: Stephen Creighton, Steven McWhirter, Jim Sim)
Amateur (sponsored by Cameron's Drumming Studio and Midwest Highland Arts Fund)
Grade 1
1st Kerr McQuillan, Bearsden, Scotland
2nd Robert Graham, Eastmont, Washington
3rd Matthew Page, Hamilton, Ontario
Judges: Hugh Cameron, Duncan Millar, Jim Sim
Grade 2
1st Sebastian Arguelles, Houston
2nd Aditya Vasudevan, Pearland, Texas
3rd Terrance Cadiente, New Westminster, British Columbia
Judges: John Fisher, Doug Stronach, Eric Ward
Grade 3
1st Gabriel Javaluyas, Pearland, TX
2nd Nicolas Valladolid, Pearland, TX
3rd Alec Flansburg, Rotterdam, NY
Judges: John Fisher, Doug Stronach, Eric Ward
Tenor
Professional
Gold Medal
1st Sam Johnson
2nd Taylor Page, Hamilton, Ontario
3rd Kyle Heaney, Toronto
Judges: Simon Hodgett, Stevie McQuillan, Michael O'Neil
Intermediate
1st Kathryn Byzewski, Minneapolis
2nd Andrea Jackson, Maitland, Ontario
3rd Marielle Webster, Concord, New Hampshire
Judges: Simon Hodgett, Stevie McQuillan, Michael O'Neil
Novice
1st Brynn Bishop, Westminster, Colorado
2nd Mikelle Murdoch, Des Moines, Iowa
Judges: Simon Hodgett, Stevie McQuillan, Michael O'Neil
Bass
Professional
Gold Medal
1st Ben Elkins
2nd Ben Finley, Portland
3rd Andrew Fowler, Parma Heights, Ohio
Judges: Kahlil Cappuccino, Steve Foley
Intermediate
1st Andrew Koysdar, Clayton, North Carolina
2nd Brianna McDonald, Dundee, Illinois
3rd David Zimmerman, Minneapolis
Judges: Kahlil Cappuccino, Steve Foley