Several hundred pay tribute to Ed Neigh (video)
More than 200 people mostly from the piping and drumming rich area of Kitchener-Waterloo, Ontario, that the late Ed Neigh played an important role in creating came out to honour his memory and contribution in a three-hour music tribute on November 15th at Bingeman's Centre in Kitchener.
Most of Neigh's family were there along with his many friends, some who travelled from as far away as Chicago, to enjoy a celebration of his life, which came to a sudden end on August 8th at the age of 70 after complications from hip surgery. A tireless teacher, former pipe-major of the Grade 1 Guelph Pipe Band, and recipient of many top solo piping awards, Neigh's contribution to Ontario piping was profound, and the afternoon, organized by his long-time partner Darlene Carreiro was a fitting tribute.
Ken Eller filled the role of master of ceremonies, keeping the event moving along with recollections of his many years of friendship with Neigh. Eller spoke of various "Ed-isms" that the late piper would use, such as, when speaking to students about note-values: "Those aren't fly-[droppings] on the music, they're dots."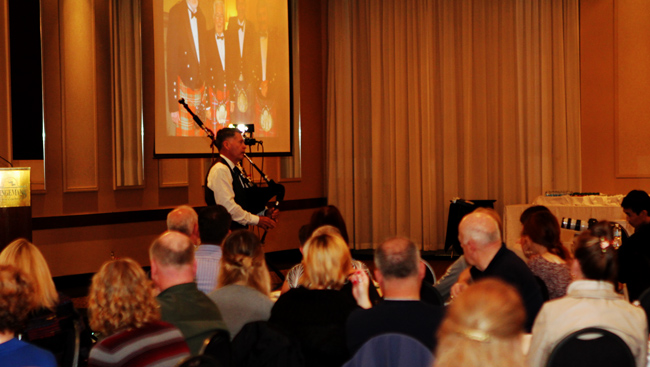 The performances started with the Grade 2 Paris Port Dover Pipe Band, which Neigh taught, performing with most very young players, then handing things off to Bob Worrall, another of Neigh's good piping friends, who delivered a fine selection of light music on a sonorous pipe.
Worrall took the microphone to give a remembrance of Neigh, and drew attention to the fact that he was well ahead of his time as a pipe band leader, highlighting that the Guelph Pipe Band was almost half women in the 1970s at a time when most bands at the top level were men-only. Worrall remarked that even Ken Eller's wife, Diane, a top-flight piper in her own right, played in Guelph because Eller's Clan MacFarlane Pipe Band had a no-females policy in the 1970s.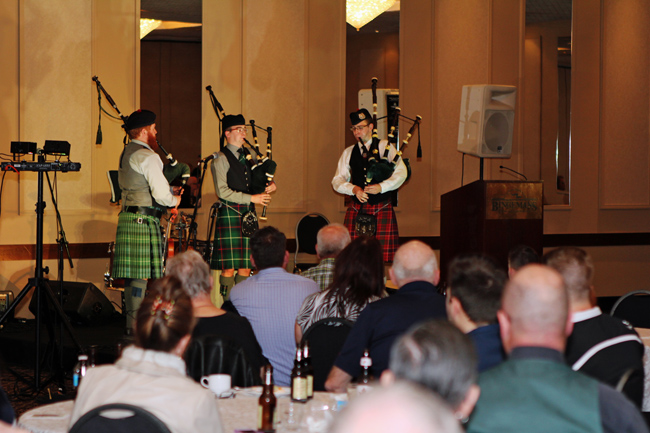 Clasp-winner Jim McGillivray, Neigh's most famous pupil, delivered a stellar rendition of "Too Long in this Condition." McGillivray remarked, "I wish I could have a pupil who is half the pupil I was to Ed, but then I realize I wish I could be half the teacher Ed was to me." Among his comments included a hilarious off-colour anecdote about Neigh's legendary flatulence.
David Neigh, Ed Neigh's son, played one of several strong fiddle performances with the Steel City Rovers, with Tyler Bridge, another of Ed Neigh's pupils on smallpipes. Bridge later joined two more Neigh pupils, Andrew Hutton and Dylan Whittemore, in a great pipe trio, each playing a set of drones that Neigh owned.
Piping legend Bill Livingstone at age 73 was in superb form with a rendition of "Lament for Mary MacLeod," later saying that he and Ed would discuss piobaireachd "always at full-blast," and "the pipers on this stage today represent about 200 years of experience . . . which is horrifying."
Ontario piper Michael Grey offered a short speech about a few memories of Neigh, describing him as "a living, breathing music-machine," before playing a few tunes.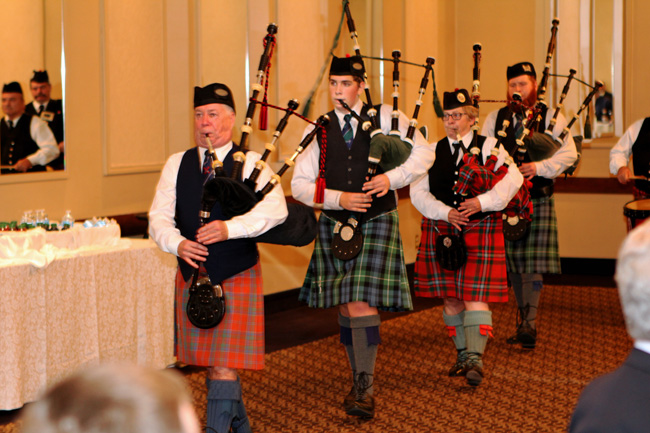 Near the end of the afternoon, David Neigh gave a heartfelt thank you to all attending, and thanked Carreiro "for making him happy and looking after his health in the last years of his life." He then introduced a special version of the Guelph Pipe Band, which included many members of the original band of the 1970s, including McGillivray, Ellen Mole, Larry Willis and Bruce Anderson, as well as various young Neigh students.
Ken Eller concluded the event with comments, saying, "The world's a better place for Ed being here, but it would be even better if he were still here."