SFU family surprises Boney's family
Every successful pipe band is a family of sorts, but there's perhaps no greater familial feeling in the pipe band world than that of the Simon Fraser University organization. The Grade 1 band and many several of its alumni and friends gathered on the street where piper Andrew Bonar lives to ambush him and his family with a special performance on September 9th.
Bonar, one of the best pipers to emerge from Canada and a winner of the Silver Medal at the Northern Meeting among many other awards, has been courageously dealing with a rare form of brain cancer since he was diagnosed in 2014.
+ Andrew Bonar recovering following emergency brain surgery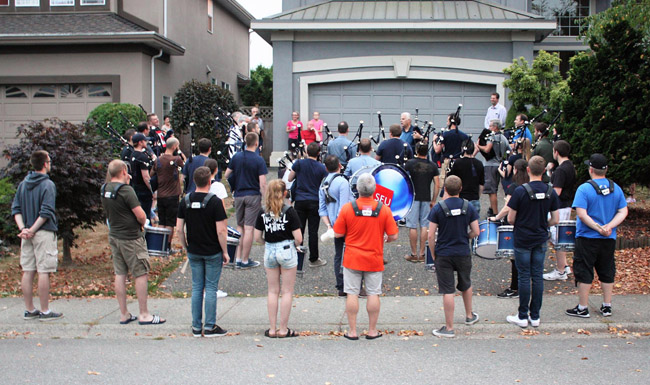 The group, led by former Pipe-Major Terry Lee and with Bonar's young son, Cameron, in its ranks, paraded down the street, ending up with a brief concert in his driveway. Andrew Bonar and several of his piping and work friends came out to enjoy the tribute of support.
Bonar's daughter Kate, a champion dancer, delivered a Highland fling, and former members from the band from as far back as the 1980s travelled to join the tribute.
"We wish Andrew all the best and hope he makes a strong recovery," the band said in a statement. "His perseverance is an inspiration to us all."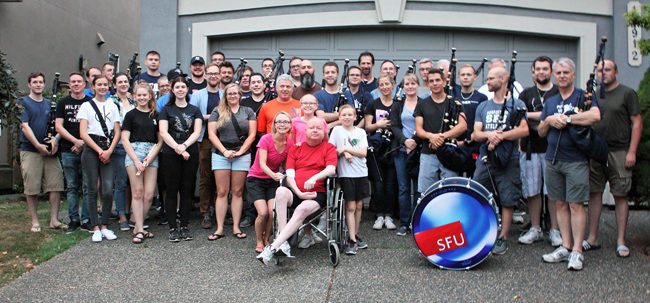 Since Bonar last played with SFU at the 2014 World's, the organization has held several events to raise money for brain cancer research, with amounts totaling more than $100,000.
Perhaps the most celebrated event was a full concert in March 2015 that was followed by a charity head-shaving of many band members, raising close to $35,000.
+ Cancer research gains nearly $35k from SFU band event
Bonar has been a front-rank piper with SFU since the late 1980s, playing in all six of the band's World Championship victories. He has won most significant solo competitions in North American, including the MacCrimmon Cairn for Piobaireachd at the British Columbia Annual Gathering and the aggregate North American Championship at the Glengarry Highland Games at Maxville, Ontario. He has also published The Boney Collection, a book of his original compositions.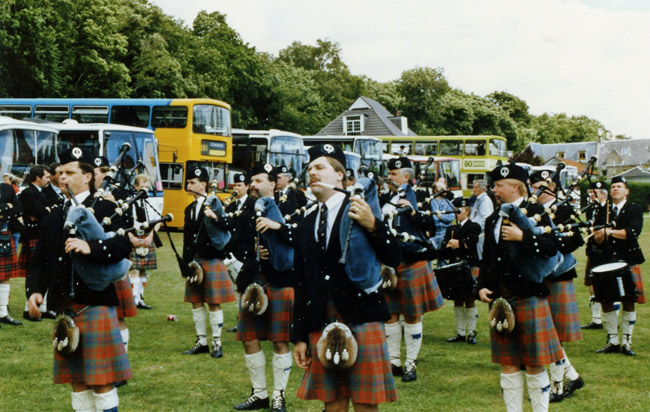 Andrew Bonar was made a Life Member of the British Columbia Pipers Association in 2015.
+ Bonar made BCPA Life Member at BC Games
pipes|drums readers who wish to make a donation to the BC Cancer Foundation in Andrew Bonar's name should do so here.