St. Thomas Alumni sweeps Chicago Grade 2 with eight firsts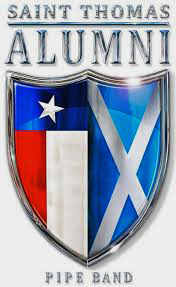 Itasca, Illinois – June 15, 2019 – St. Thomas Alumni of Houston achieved eight first place rankings from the eight judges in both medley and MSR events against seven other Grade 2 bands at the Chicago Highland Games at Hamilton Lakes park. The competition is one of the biggest upper-grade events in North America, attracting groups from across the continent with a convenient location close to Chicago O'Hare International Airport. Grade 2 and Grade 3 bands competed in a concert formation in their medley events.
City of Chicago won both Grade 3 events, and Nashville and the Minnesota Police won Grade 4 and Grade 5, respectively.
A total of 33 bands competed throughout the day.
Grade 2
Medley
1st St. Thomas Alumni (1,1,1,1)
2nd Winnipeg Police (2,2,5,2)
3rd MacMillan (3,4,3,3)
4th Portland Metro (4,3,4,4)
5th Greater Midwest (ens.pref.) (6,7,6,5)
6th New York Metro (ens.pref.) (5,6,7,6)
7th Great Lakes (8,8,2,7)
8th Midlothian Scottish (7,5,8,8)
Best bass section: St. Thomas Alumni
Judge: Tom Weithers, Alex MacIntyre (piping); Tom Foote (drumming); Ken Eller (ensemble)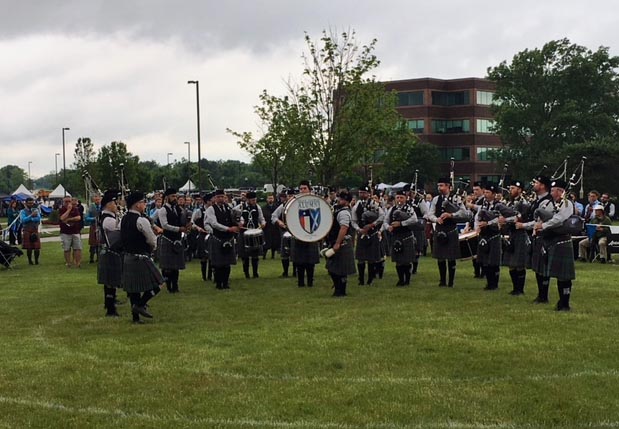 MSR
1st St. Thomas Alumni (1,1,1,1)
2nd Winnipeg Police (2,2,2,3)
3rd MacMillan (ens.pref.) (4,4,4,2)
4th Portland Metro (ens.pref.) (3,3,3,5)
5th New York Metro (6,6,6,4)
6th Midlothian Scottish (5,5,7,7)
7th Great Lakes (7,7,5,6)
8th Greater Midwest (8,8,8,8)
Best bass section: Greater Midwest
Judges: Ken Eller, Scot Walker (piping); Hugh Cameron (drumming); Alex MacIntyre (ensemble)
Grade 3
Medley
1st City of Chicago (1,1,3,1 )
2nd Macalester College (2,2,2,2 )
3rd North Coast (3,3,1,4 )
Judges: Scot Walker, Alex MacIntyre (piping); Tom Foote (drumming); Ken Eller (ensemble)
MSR
1st City of Chicago (1,1,3,1 )
2nd North Coast (2,2,1,2 )
3rd Macalester College (3,3,2,3 )
Judges: Ken Eller, Tom Weithers (piping); Hugh Cameron (drumming); Alex MacIntyre (ensemble)
Grade 4 (medley, nine competed)
1st Nashville (1,1,5,1 )
2nd Chicago Stock Yard Kilty (3,4,1,2 )
3rd Cameron & District (4,3,3,3 )
4th St. Louis Caledonian (2,7,2,4 )
5th Twin Cities Metro (8,2,6,6 )
6th The Alliance (5,5,7,7 )
Judges: Ian Swinton, Keith Paton (piping); Hugh Cameron (drumming); Alex MacIntyre (ensemble)
Grade 5 (march medley, 11 competed )
1st Minnesota Police (2,1,2,4 )
2nd St Andrews Central Illionois (1,2,5,2 )
3rd Kansas City St. Andrew (3,6,1,1 )
4th Cincinnati Caledonian (8,5,3,3 )
5th Firefighters Highland Guard (5,4,11, 5 )
6th Macalester College (4,10,6,7 )
Judges: Scot Walker, Tom Weithers (piping); Tom Foote (drumming); Ken Eller, (ensemble)
---
Related articles

Chicago games expecting eight Grade 2 bands, 36 total
June 10, 2019
---

Rocky Mountain reaches peak of Chicago
June 17, 2018