The Style Guy: game sporran game, a dilemma of judges, and what women want
Hi Mr. Guy,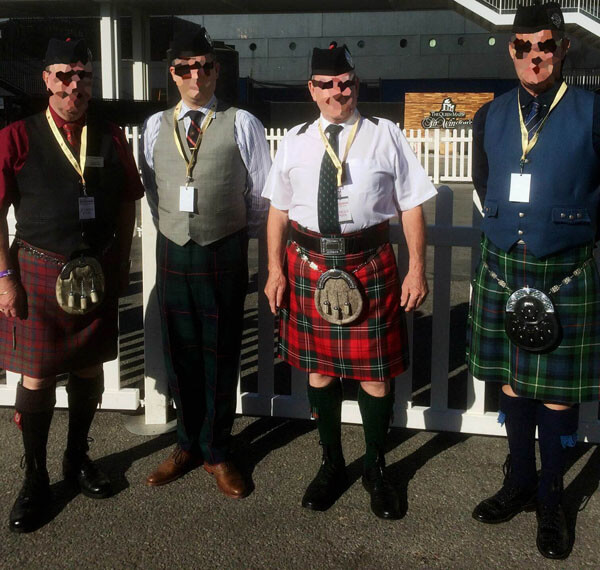 I saw this photo recently of a bunch of judges. Just curious, which one of them do you think got it most right?
Yours,
Randall Smythe-Johnson
Weston Super Mare, England
Thanks for the query, Mr. Smythe-Johnson. I love judging judges. First of all, this is a good lineup of opionaters. They're all looking at least pretty okay, each obviously having put some thought into their get-up.
The fellow on the left has probably taken the longest steps to coordination. Elegant tartan. Beautifully cut and pressed kilt.  Complementary shirt, and looks like he has rolled up the sleeves in the hot weather, which is a whole heckuva a lot better than short sleeves, which are a no-no with a waistcoat, Looking good there. (Just put your sporran down a notch.)
The lad on the far right is okay. The tartan is a bit mundane and the kilt not quite sitting right, and the sporran askew, but maybe the photo was snapped before he adjusted things – and we should all should take a second to adjust all those straps and buckles and bits and pieces of what-nots before a picture is snapped. (Remember also to remove the lanyards or similar judge-tags that spoil the look.) The colour palette is pretty good, though I might have looked to match the shirt colour with the socks, or vice versa.
The white-shirted bloke is plain, but well turned-out. Obviously, tucking the too-long tie into the kilt is a massive faux-pas. Please, people, take the time to get the tie-length right. The end-point triangle should start at the top of the kilt, so slight overlap, but no unsightly shirt peeking through. Really like the deep green hose.
The winner for me, though, is the trews-wearing gent, second-left. For a judge, this is a derring-do, especially if the rest of the pieces are poorly picked. But the unconventional grey waistcoat is well cut and the brown shoes are another excellent touch. Many might have been tempted to go over-the-top with a balmoral, but this understated glengarry completes the look.
So, my judging of these judges, would go 1st: second-left, 2nd: far-left, 3rd: far right, 4th: second-right. But it's close. Ensemble breaks the tie.