The Style Guy: game sporran game, a dilemma of judges, and what women want
Hello Style Guy: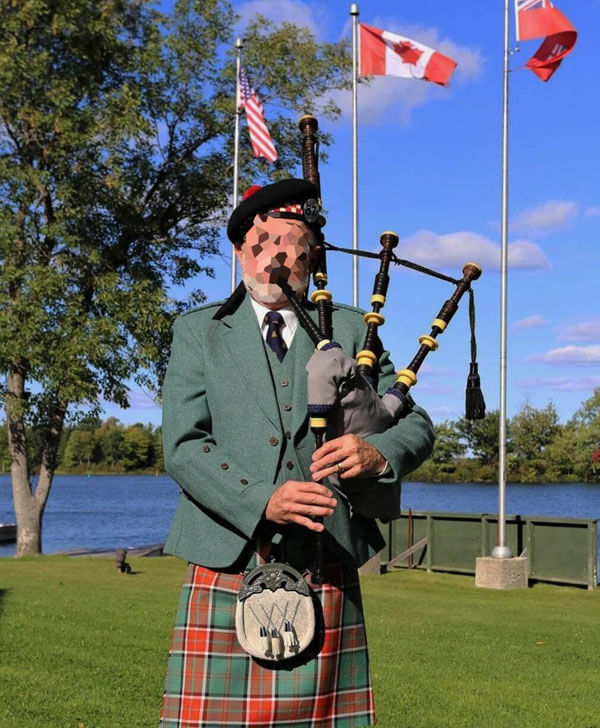 Can you give us an example of an average modern solo piper (and by that I mean, not a military guy or super-duper-soloist or a band player) who has got his or her kilted look totally going on?
Sincerely,
Catwalk Chris
Norfolk, Virginia
Hey, Cat-Chris. Tough task, but I was sent this resplendent image the other week. We can't see the edge of the kilt or the shoes, socks and flashes, but just based on the rest of the garb, you can be pretty sure that they're just as well picked, primped and placed. The cut of the jacket and waistcoat are excellent. Love the Lovat-style cuffs to the traditional tweed, the colour of which perfectly complements the lively and fresh tartan. Sporran is pretty good. I might have gone with a little more daywear and leather, as opposed to the quasi-evening sealskin with the silver cantle, but it's still very nice. The balmoral I quite like. Plain black is far, far better here than the somewhat begging-for-attention pastel colours we're seeing too often these days, and the red-and-white check is a good touch. A well-tied basic blue necktie with a coat-of-arms woven pattern keeps everything tied down.
But, in addition to the attire, take note of this young man's carriage. The pipes are solidly under the arm with the drones nice and upright. His hand posture suggests that this fellow can play a bit. The drones themselves aren't splayed apart, nor are they too close together. A wee bit of attention might be given to how the cords are attached the middle tenor, and he might want to sharpen his reeds a bit to get his tenors further up the pin, but these points are splitting hairs and silk. The guy looks to be in good shape, too, and a frame like his can be a lot easier for a tailor to dress. You could do far worse than to model you ensemble after this piper, Chris.
Questions about what to wear for your questionable attire? The Style Guy is here to provide answers, so just fire him a quick email message and he'll be happy to assist!