They've climbed so high and they're never gonna die: pipe music's greatest one hit wonders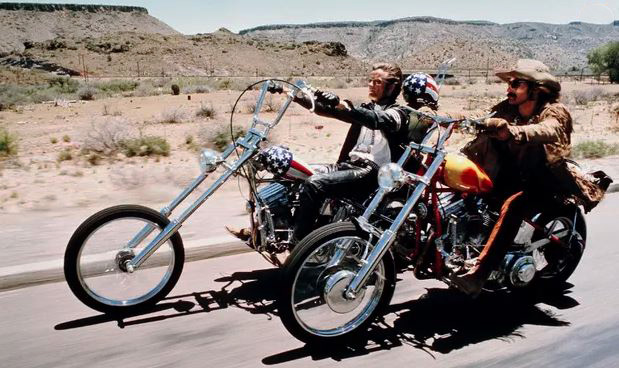 Just about everyone who enjoys music, television or movies will have heard the classic rock song "Born To Be Wild." Originally recorded by the hard rock band Steppenwolf in 1968, the tune got into the charts around the world, and reached #1 radio status in Canada. But it really took off when it was licensed for use in the 1969 cult classic movie, Easy Rider.
More than a half-century later, "Born To Be Wild" remains one of the most-played and -licensed pieces of music ever. The song's been covered by countless artists and licensed for hundreds of advertising campaigns, television shows, and movies. It is said that the piece has been and is still played on virtually every classic rock radio station around the globe at least once a day every day almost since it came out. The music genre name "Heavy Metal" is even attributed to the "heavy metal thunder" line in the song.
All of that is remarkable. But the truly amazing thing about "Born To Be Wild" is that it is the epitome of a "one-hit-wonder" – a song that was the only one, or one of very few, that a songwriter wrote and published.
The song was written by a Canadian from Oshawa, Ontario, who goes by Mars Bonfire. His given name is Dennis McCrohan and, now almost 80, he lives in Nevada. After "Born To Be Wild" blew up, he retired from music at age 26 and has been a committed environmentalist ever since.
One hit wonders are intriguing. The vast majority of successful songwriters and composers toil throughout their lives to create music, carefully learning and honing their craft. It's one thing to write dozens, even hundreds, of pieces of music and have one hit it big. It's quite another to achieve a smash hit from, at most, only a handful of tries.
It's the proverbial capturing lightning in a bottle.
But what about bagpipe music?
There are pipe music composers like Donald MacLeod, G.S. McLennan, Gordon Duncan, and John McLellan (Dunoon) who published many compositions and couldn't seem to write anything but a very good tune, and often truly great ones.
And there are those composers who wrote and published maybe a few dozen tunes, each at least very good and some certifiable classics. Count Roderick Campbell, Donald MacPherson, Neil Dickie and Pipe-Major Angus MacDonald as probable examples.
Then there are the composers who write prolifically, who seem to publish every first draft tune they scribble on the staff whether people want them or not, and pray that one or two might get played by a band somewhere. Their hope beyond hope is that just one tune becomes popular.
And then there are the unique precious gems. The classic compositions that almost every seasoned piper knows, that appeared to be one of only two or three, or, in the most extraordinary circumstances, the only tune known to have been written or published by the composer.
These are the true one-hit-wonders – the strokes of musical genius, the melodic bolts from the blue that have withstood the test of time and continue to capture the ears and fingers of pipers worldwide.
So what are Highland piping's greatest one hit wonders? We wanted to find out.
Since music is subjective, it's difficult or even impossible to create a definitive list. So perhaps a few ground rules:
The tune should be extremely well recognized over many decades and in the repertoires of many or most pipers.
The tune must be the only, or one of very few, pieces written by the composer.
It must have been composed specifically for the pipes by a piper.
The composer can't have another "hit"; there is only one.
The composer is no longer alive. That is, he or she can't still write another hit because they're dead.
Light music only. Too many one-off great piobaireachds to make them extraordinary.
Original tunes only. Not an arrangement or co-written by a non-piper.
Okay, then. So who are a few experts out there with a broad comprehensive knowledge of our music and its creators who can help apply these rules, identify possible examples, and come up with a top-10 list we can live with?
We love a good panel as much as we love making lists, so here's the one we assembled for this project:
Jeannie Campbell – she was awarded an MBE in large part for her work on the history of our music, including the composers, soloists, pipe bands and publishers whose work informs who we are as an art.
William Donaldson – one of the world's great scholars of Highland bagpipe music, with detailed knowledge of the publication of light music for the pipes and virtually every other Scots folk instrument.
Colin MacLellan – a veritable steel-trap of information on who wrote what and when and where, he was born with bagpipe music creation and publishing as essential aspects of his life.
Jim McGillivray – a fount of bagpipe music knowledge and a very successful composer himself (quality, not quantity), he's the owner and manager of pipetunes.ca one of the world's largest repository of pipe music manuscripts.
With that criteria in mind, here's our list:
Top 10 One Hit Wonders
The tune isn't played nearly as much as it used to be, but it's still a staple for most pipers. Not much is known about MacLeod, apart from he was in the Cameronians and apparently made the tune in the late 1800s. As a composer, there are other pieces attributed to him.
One of the great competition 2/4 marches that tends to resurge in popularity every 20 years with both bands and soloists. The beauty of it is that that it's easy enough to be played throughout most grades, and stands up at the highest levels. Nothing much is known about Thomas Douglas, and there appear to be no other tunes attributed to him.
A tricky competition 2/4 march that seems to be the sole offering by MacKinnon. The piece is a melodic test, mostly for solo pipers, and one of the truly great compositions that is sure to continue to be popular on the boards. If "The 74th's Farewell" is indicative of MacKinnon's natural talent, had he composed more it's a good bet we'd discuss him along with our greatest 2/4 march composers, such as GS, Roddie Campbell, Willie Lawrie and John MacColl.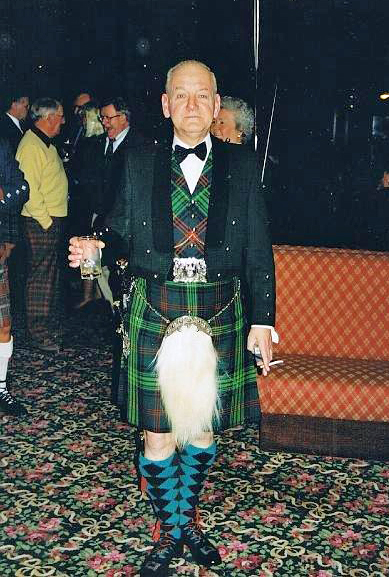 A stunning four-parted 6/8 march. Elegant, melodic, triumphant, even humorously mischievous with clever turns of phrase – just like the late great John D. himself. Like most music, the tune may have taken inspiration from elsewhere, but it stands apart in our genre.
A classic 2/4 march if there ever was one, beloved by pipers at all levels, while being a serious test of phrasing. Nothing apparently is known about the the namesake Ann, just as hardly anything is available on the composer. But he left this towering march as an eternal legacy.
A curious and delightful five-parted hornpipe, seemingly the only tune published by the composer. It's often assumed to be written for the late pipemaker Jimmy Tweedie, but it's actually for a young piping friend of the composer who was on his way by sea for his first trip from New Zealand to Scotland. First part: having a good time. Second part: stomach starts to be, um, unfriendly. Third part: feeding the fishes, as they say. Fourth part: much better; fishes missing out. Fifth part: back to normal, having a whale of a time, the kind we can only get aboard large passenger ships on long voyages. The tune has only five parts because Tweedie sailed only five seas.
The 4/4 march, not the piobaireachd. Donald MacPhee published it first as a 4/4 slow march, as did David Glen and The Seaforths. It appears to have always been scored in 4/4 time. It appears to be listed as a 4/4 march in the obscure collection Piping For Boys compiled by J. Percy Sturrock. The 78th Fraser Highlanders in the 1980s and '90s played it in homage to the head of Clan Fraser, Lord Lovat, whose gallant – though somewhat unhinged – defiant march along Sword beach on D-Day with his piper, Canadian-born Bill Millin, playing became the the stuff of legend.
Simple, melodic, distinctively original and happily in a major key, it's a perfect four-parted 2/4 march for novice and intermediate competitors and always will be. There's so much musical space to work with here. Young pipers especially can learn and show off their expressive phrasing without worrying too much about tripping up on technique.
Honeyman was assumed to be a piper in the 42nd Regiment (The Black Watch) of which Lord Alexander Kennedy was an officer. The tune is tricky and played mostly – and frequently – by top-grade bands unafraid of the technical pitfalls, namely the opening high-A to low-A salvo that can torpedo a performance on a cold day. This one hit wonder is so incredibly creative that one wonders why Honeyman didn't compose more.
And at the top of our chart, the greatest one hit wonder ever created for the Highland bagpipes:
The absolute definition of a piping one hit wonder. It appears the "Glendaruel Highlanders" is the only tune by Alexander Fettes ever published, and by all evidence it has been learned and played consistently and routinely by virtually all pipers for almost 150 years.
Alexander Fettes was born in 1845. He was pipe-major of the Aberdeen Rifle Volunteers from 1865-1879. He immigrated to South Africa where he became pipe-major of the Port Elizabeth Pipe Band, Mayor of Port Elizabeth, and possibly pipe-major of Prince Alfred's Guard. He died in South Africa in 1921.
Fettes composed "The Glendaruel Highlanders" for the Gillies family as their father came from Glendaruel although the boys were all born in Aberdeen.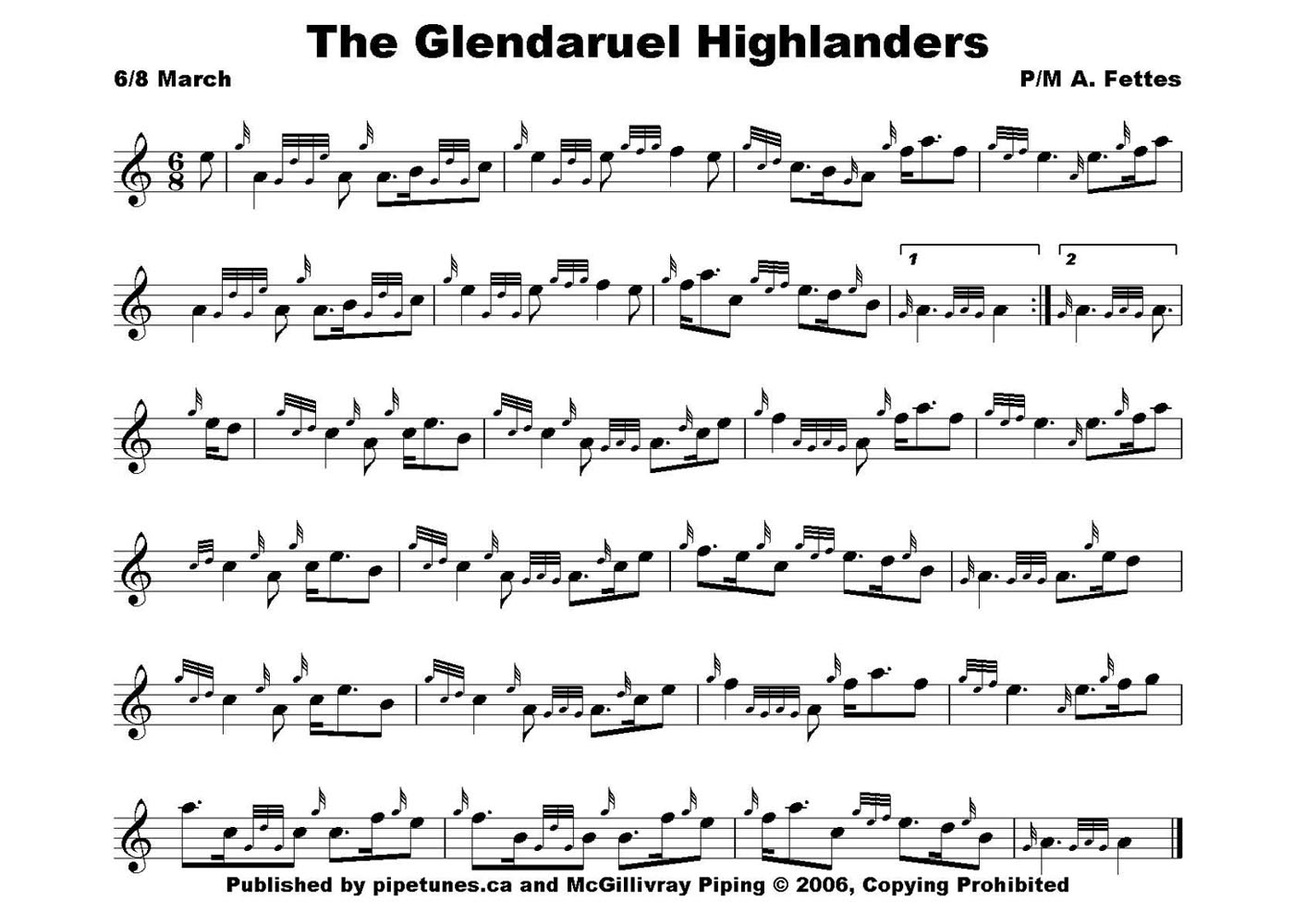 The tune was first published in David Glen Book 1 in 1876 and James Bett's collection in 1899, but with only two parts. The third and fourth parts were composed by Donald Ross "DR" McLennan – GS McLennan's half-brother – and can be found in the Seaforth Highlanders Collection published in 1936.
Glendaruel is a lovely region in Argyllshire, inspiring, among other great tunes, "The Dream Valley of Glendaruel" by John McLellan of Dunoon.
With that connection, "Glendaruel Highlanders" has been traditionally played by the massed bands at the Cowal Highland Gathering in Dunoon, Argyllshire, at least since 1948, according to games' organizers. Before then, "Highland Laddie" appears to have been the choice of tune for the massed bands' Salute to the Chieftain.
Before the World Championships became more prominent, important and bigger than the other four Scottish Pipe Band Association majors, the Cowal Gathering was the de facto world championship until perhaps the 1970s. With every band having to learn and play "Glendaruel Highlanders" the effect has been the equivalent of a song being in heavy radio rotation.
The popularity of the tune was also spurred when Alan Cameron made a true song of it, writing the well known "Campbeltown Loch, I wish you were whisky" lyrics. The great Scots entertainer Andy Stewart recorded the song in 1963 making it a true smash hit on vinyl records, radio and at concerts worldwide.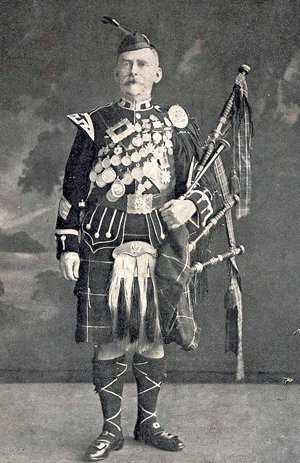 Why did Fettes compose the tune for the Gillies family? John Gillies was born at Kilmodan in 1825, the son of Alexander Gillies and Mary MacDougall. John moved to Aberdeen, where he became a granite worker and marble polisher. In Aberdeen, he married Isabella Smith who was born in Glasgow in 1825. Their first child was born in 1855 in Aberdeen, and named John MacDougall – the legendary piper John MacDougall Gillies. (Note that "MacDougall" was not part of a hyphenated surname, it was John's second forename and can be seen as such on his birth, marriage and death certificates.) A second son, Hector, was born in 1857, and a third son, Alexander, in 1859. John junior and his brother Alexander began to learn piping at an early age, having tuition at first from Alexander Fettes. Both played in the band of the Aberdeen Volunteers under Pipe-Major Fettes.
Willie Donaldson notes:
John MacDougall Gillies is an interesting case. For years and years you could get the impression reading things like the Piping Times that John MacDougall Gillies was The Great Glasgow Piper par excellence; one of the major forces in making Glasgow "the centre of the piping world," and so on. But Gillies was actually an Aberdonian. Born and bred. He learned his piping in the city and on Deeside. The Gillies family had moved to Aberdeen from Glendaruel, so the Glendaruel connection is real enough.
Interestingly, in the years of the first great series of pipe band contests at the Cowal Open Pipe Band Championships (the prototype for the World's) in the opening decade of the 20th century, when the ground rules for everything that followed were being put in place, and Gillies was winning everything in sight with the 5th (Volunteer Battalion) Highland Light Infantry – four out of the six events between 1906 and 1912. There was a move, otherwise difficult to understand, and never so far as I know actually acted upon, not only to have the judges under cover so they couldn't see the competitors (which did happen), but also to get an army sergeant-major to give the initial word of command, so they couldn't hear the pipe-major's voice. Presumably, Gillies's Aberdonian accent gave the game away at once that the judges were listening to the 5th, and hence the likely winners.

Honourable mentions (alphabetical)
Defintely hits, but either our criteria made them ineligible or the just didn't make the list.
"The Argylls Crossing the River Po" by Robert Brown. Another classy 3/4 march that everyone once knew and played. Not so much any more.
"The Balkan Hills" by J. Gillian. Another four-parted 2/4 march, and appears to be the only tune by "J. Gillian," but has fallen out of favour.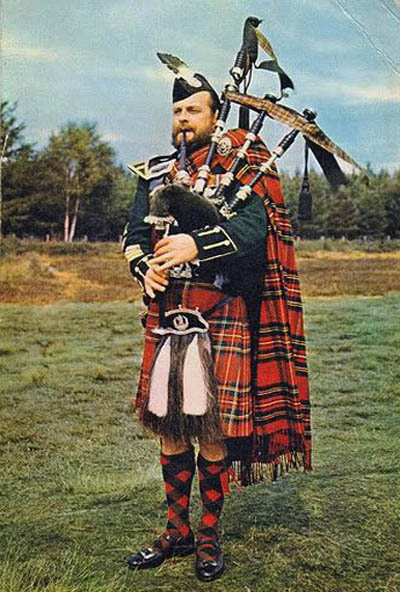 "Duncan the Gauger" by Evan MacRae. A four-parted jig and one of few published pieces by the Gold Medallist MacRae, but it's generally manageable by only much better pipers and bands.
"Father John MacMillan of Barra" by Norman MacDonald. Father John MacMillan was Duncan Johnstone's uncle and the namesake of this wonderful 2/4 march, played by pipers and Celtic folk musicians worldwide.
"The Festival March" by Ronnie Ackroyd. A swinging 9/8 march that was once a hit, and should be played today a lot more than it is, but it isn't, so didn't make the top list.
"Itchy Fingers" by Bobby Pinkman. From about 1985 to 2005, you were sure to hear this genius little reel at every piping and pipe band event. An off-the-chart hit for a few decades, but the tune has since fallen out of favour. It's credited to the late Pinkman in the Scots Guards Collection, Volume 3, but is often attributed to ex Scots Guards Pipe-Major Linden "Dixie" Ingram.
"Leaving Lunga" by John Gordon. A sensational big 2/4 march, but not played enough (perhaps because of the essential and difficult C to low-A-birl combination in the third part) to qualify as a true "hit." The tune was a signature piece for the great John D. Burgess, and is today closely associated with the great piper, Bruce Gandy, who's won many prizes with it.
"The Liberton Pipe Band Polka" by John Wallace. Another 2/4, and a borderline hornpipe, but played these days mainly for Highland and Scottish country dancing.
"Lord MacPherson of Drumochter" by Angus Graham. A terrific 6/8 march by the Prince George, BC-based composer who wrote the piece in the 1950s.
"The Mad Hornpipe" by Bert Barron. Fun, inventive, eccentric, much like the composer himself who wrote and published several other pieces. This is his biggest hit, though.
"MacLean of Pennycross" by Archibald Ferguson. Apparently, the only composition composed by the somewhat elusive Archibald Ferguson, who died under mysterious circumstances in 1907 at the age of 35. But he left one of the great 2/4 marches that has continued to be popular with upper-level solo pipers for more than 100 years.
"My Land" by Norman MacLean. A wonderfully melodic 3/4 march by MacLean, who composed too many other pieces to make the cut.
"Raasay House" by A.M. Lee. A quirky handful of a light 2/4 march, but these days infrequently heard.
"The Pony Gallop" by Maurice Forsyth. Definitely a hit four-parted 6/8 jig for a few decades, but now seldom heard.

Modern one hit wonders by living pipers, listed alphabetically by title.
To these composers: There's time for more, so, please keep composing!
"At Long Last" by James MacHattie. A simple, clever, and melodic 4/4 march that everyone and his dog plays these days. Need more, James.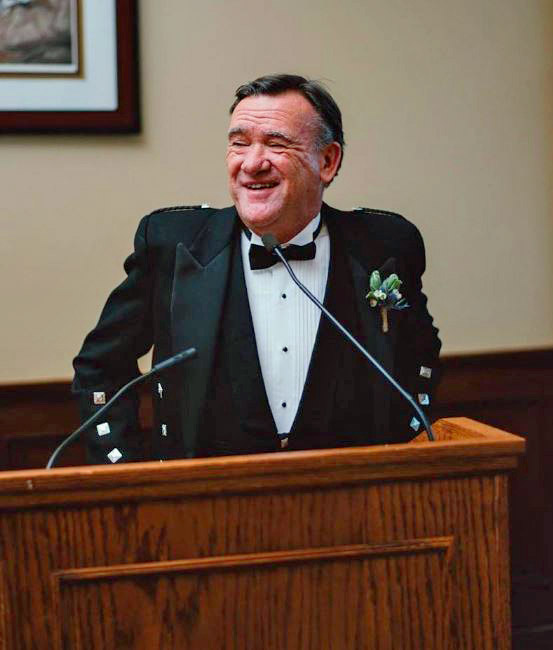 "Bruce Gandy's Farewell to the Iron Horse" by Rene Cusson. In a sea of 6/8 marches, probably the easiest genre to compose in, but the hardest to create something truly different – "BGFTTIH" has become one of the great tunes of our time.
"Kelsey's Wee Reel" by Iain Symington. An absolute gem of a two-parter that virtually every band or solo competitor can handle. Symington has had a few other very good tunes published (see "The Piobaireachd Club," for example) and seems to have an under-used gift. This ubiquitously popular tune was named for his one-year-old daughter who's now all growed up.
"Murdo's Wedding" by Gavin Stoddart. Who doesn't know this terrific 4/4 march from the pen of a 14-year-old Stoddart, one of the greatest pipers who ever lived. We hope Major Stoddart BEM puts pen to paper for more where that came from!
"The Train Journey" by Tom Anderson. Another banger of a hornpipe, and one of very few published tunes by the venerable Tommy Anderson, former pipe-major of Grade 1 Renfrew.
"Troy's Wedding" by Colin Magee. One of the all-time cleverest jigs, composed in the 1970s by the Victoria, British Columbia piper, who published his own collection.
Special mention:
"Highland Cathedral" by Michael Korb and Ulrich Roever.
While this unorthodox air is probably the most heard non-traditional bagpipe composition, we decided that it didn't fit the one-hit wonder critieria because it's a co-write with a non-piper music producer.
Michael Korb of Germany is a piper, and he teamed with the non-piper music arranger and producer Ulrich Roever to write and record "Highland Cathedral," seemingly with the express intent of making it popular. The duo worked with a proper music publisher from the outset, which worked to push the piece to a wider audience.
The piece has been published worldwide and performed on commercial sound recordings nearly 1,000 times in all manner of musical genres. Competing pipers and drummers may scoff at "Highland Cathedral," but in terms of royalties, fame and popularity, it's a good bet that the piece outpaces any other "bagpipe tune" by miles.
So there you have our list of the top 10 certifiable one hit wonders in the Highland pipe music repertory, immortal and forever young.
Like the song says, they can climb so high and they're never gonna die.
You can find many of these tunes at pipetunes.ca or Jack Lee's BagpipeMusic.com, in addition to thousands more. We recommend you check them out and, don't forget, the lifeblood of our music is composition. Be sure to support composers by purchasing new collections of music.  
Our thanks to our panel of experts. It's music and subjective, your opinions will vary, and as always we welcome your thoughts.