Third annual Boney Invitational Feb 24th
The memory and spirit of British Columbia piper Andrew Bonar lives on with the third annual Boney Music Invitational Piping Competition & Recital, an event he started in 2016 to celebrate the most successful professional solo pipers from British Columbia Pipers Association competitions and to raise money for and awareness of the BC Cancer Foundation.
Sadly, the event this year added "Memorial" to its name. The competition will be on February 24th at the Halpern Centre at Simon Fraser University's Burnaby campus, and will feature the top five finishers from the BCPA 2017 Open Piping Grand Aggregate standings.
Jori Chisholm, Seattle
Alastair Lee, Surrey, British Columbia
Andrew Lee, Surrey, British Columbia
Kevin McLean, Maple Ridge, British Columbia
James P. Troy, Victoria, British Columbia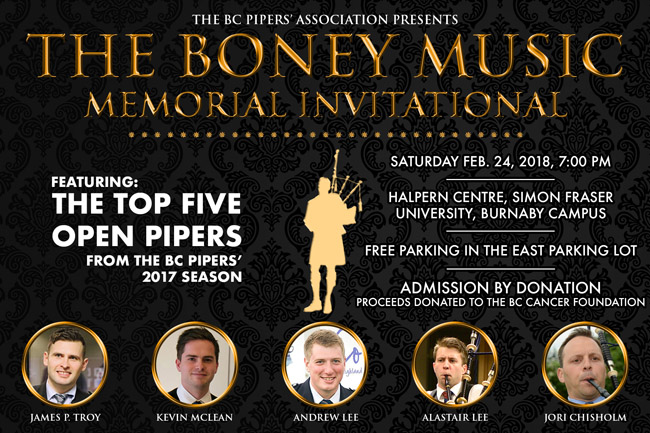 Competitors at the Boney Music Memorial Invitational Piping Competition & Recital have to play a medley with at least one tune composed by Bonar at the start of their performance, the ground of a piobaireachd, at least two two-part strathspeys, at least one four-part 4/4 march, and at least one tune in 9/8 time. Performances, including tuning, can be no longer than 20 minutes.
Last year's winner of the Boney Invitational was Andrew Lee.
+ Boney Invitational goes to Lee
A winner of the Silver Medal for piobaireachd at the Northern Meeting and many other prizes, Andrew Bonar died last year after a long battle with a rare form of brain cancer. After his diagnosis and throughout his treatment, he set about raising funds for research while consistently supporting his local piping and drumming community. He was made a Life Member of the BCPA in 2015.
+ Bonar made BCPA Life Member at BC Games
"His goal was to create an event that engaged and captivated the audience and most importantly to direct the piping world toward a mission of using their music to support charitable causes – and in the past two years, this contest certainly has achieved those aims," BCPA President Robert MacNeil said in a statement. "Boney's idea was to create unique and fun tune requirements so competitors can play music that is not often heard in solo piping contests. In turn, he hoped these performances would inspire the audience to contribute to the ultimate goal of conquering brain cancer."
Admission to the event is by donation, and a dinner from 5-7 pm is planned before the contest.