Top solo pipers converge on Oban
About 80 of the world's best competitive solo pipers converge on the seaside town of Oban, Scotland, this week for the annual Argyllshire Gathering, one of the most important events on the solo piping calendar.
The piobaireachd and Silver Star MSR events take place on Wednesday, August 26th, at indoor venues across the town centre of Oban, and on the following day the remaining light music contests will be held at the Argyllshire Gathering Park with the traditional march to the games, pipers leading the Oban gentry on a two kilometre hike and the previous day's winner of the Highland Society of London Gold Medal in the pipe-major position.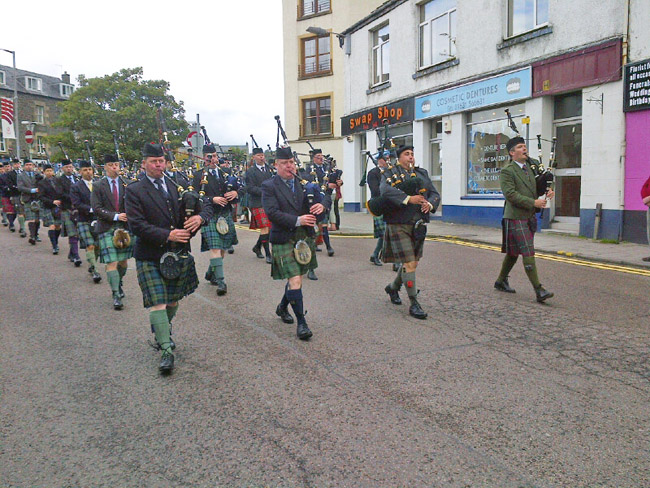 Of note, Jack Lee of Surrey, British Columbia, Canada, returns to solo competition after some time away and, at the opposite end of the spectrum, Craig Sutherland, Crieff, Scotland, competes for the first time in the Silver Star after winning both the A-Grade March and Strathspey & Reel at last year's Argyllshire Gathering.
In the Gold Medal, approximately a third of entrants are not residents of the UK, and in the Silver Medal eight of the 28 who were accepted into the contest are non-UK.
Following are the draws for each senior event. Stay tuned to pipes|drums for results from the 2015 Argyllshire Gathering as they are announced.
Senior Piobaireachd
1 Jack Lee
2 Callum Beaumont, Linlithgow, Scotland
3 Willie McCallum, Bearsden, Scotland
4 Faye Henderson, Kirriemuir, Scotland
5 Iain Speirs, Edinburgh
6 Chris Armstrong, Airth, Scotland
7 Bruce Gandy, Dartmouth, Nova Scotia, Canada
8 Douglas Murray, Cardenden, Scotland
9 Donald MacPhee, Alexandria, Scotland
10 Finlay Johnston, Glasgow
11 Angus MacColl, Benderloch, Scotland
12 Gordon Walker, Galston, Scotland
13 Andrew Hayes, Ottawa
14 Roddy MacLeod, Glasgow
15 Greg Wilson, Canterbury, New Zealand
16 Stuart Liddell, Inveraray, Scotland
17 Niall Matheson, Invergordon, Scotland
18 Fred Morrison, Bishopton, Scotland
19 Euan MacCrimmon, Inverness, Scotland
20 Glenn Brown, Glasgow
Silver Star MSR
1 Allan Russell, Kelty, Scotland
2 Cameron Drummond, Edinburgh
3 Douglas Murray
4 John Patrick, Denny, Scotland
5 Alastair Dunn, Glasgow
6 Niall Stewart, Kyle of Lochalsh, Scotland
7 Gordon Walker
8 Niall Matheson
9 Willie McCallum
10 Chris Armstrong
11 Stuart Liddell
12 Neil Walker, Perth, Australia
13 Gordon McCready, Paisley, Scotland
14 Andrew Carlisle, Pittsburgh
15 Alastair Lee, Coquitlam, British Columbia, Canada
16 Iain Speirs
17 Finlay Johnston
18 Roddy Macleod
19 Glenn Brown
20 James Murray, Perth, Australia
21 Bruce Gandy
22 Jack Lee
23 Jori Chishom, Seattle
24 Donald MacPhee
25 Angus MacColl
26 Craig Sutherland
Highland Society of London Gold Medal
1 Alastair Lee
2 William Geddes, Dumfries, Scotland
3 Decker Forrest, Isle Ornsay, Scotland
4 Jonathan Greenlees, Lisburn Northern Ireland
5 Andrew Carlisle
6 Derek Midgley, New Jersey, USA
7 Gordon McCready
8 Jenny Hazzard, Edinburgh
9 Cameron Drummond
10 Craig Sutherland
11 Alasdair Henderson, Dunoon, Scotland
12 Glenn Brown
13 Alan Russell
14 Jori Chisholm
15 Donald MacPhee
16 Andrew Lee
17 Fiona Manson, Melbourne
18 Andrea Boyd, Ottawa
19 James MacHattie, Summerside, Prince Edward Island, Canada
20 John Angus Smith, London
21 Angus J. MacColl, Benderloch, Scotland
22 James Troy, Victoria, British Columbia, Canada
23 Chris Armstrong
24 Peter McCallister, Dunblane, Scotland
25 John Mulhearn, Glasgow
26 Jamie Forrester, Isle of Mull, Scotland
27 Andrew Hayes
28 Innes Smith, Stirling, Scotland
Silver Medal
1 Sarah Muir, Campbeltown, Scotland
2 Edward McIlwaine, Vancouver
3 Colin Campbell, Inverness, Scotland
4 Greig Canning, Edinburgh
5 Jacob Dicker, Ottawa
6 Steven Gray, Lockerbie, Scotland
7 Eric Ouellette, Syracuse, New York, USA
8 George Stewart, Perth, Scotland
9 Matt Pantaleoni, St Louis
10 Nick Hudson, Pittsburgh
11 Michael Fitzhenry, Paisley, Scotland
12 Michael Elder, Auchtermuchty, Scotland
13 Gordon Barclay, Inverness, Scotland
14 Matt Fraser, Glasgow
15 Cameron MacDougall, Nigg, Scotland
16 Ed Bush, Cardinal, Ontario, Canada
17 David Shedden, Glasgow
18 Steven Leask, Irvine, Scotland
19 Ben McClamrock, Baltimore
20 Mael Sicard–Cras, Glasgow
21 Ben Duncan, Edinburgh
22 Ashley McMichael, Antrim, Northern Ireland
23 Connor Sinclair, Crieff, Scotland
24 Graham Drummond, Bathgate, Scotland
25 Ursa Beckford, Maine, USA
26 Sandy Cameron, Roy Bridge, Scotland
27 Sean McKeown, Bowmanville, Ontario, Canada
28 Darach Urquhart, Kyle of Lochalsh, Scotland
A-Grade Light Music (March and Strathspey & Reel)
1 Calum Beaumont
2 Jenny Hazzard
3 Alastair Lee
4 John Mulhearn
5 Gordon McCready
6 Euan MacCrimmon
7 Alastair Dunn
8 Glenn Brown
9 Greg Wilson
10 Jamie Forrester
11 Alasdair Henderson
12 Jori Chisholm
13 John-Angus Smith
14 Colin Campbell
15 Fred Morrison
16 Andrew Hayes
17 Ben McClamrock
18 James Troy
19 Graham Drummond
20 Craig Muirhead
21 Derek Midgley
22 Richard Hawke
23 Eric Ouellette
24 Darach Urquhart
25 Finlay Johnston
26 Iain Speirs
27 John Lee
28 Jonathan Greenlees
29 Andrew Carlisle
30 Neil Walker
31 Andrea Boyd
32 Peter Hunt, Stevenston, Scotland
32 Ashley McMichael
33 Sean McKeon
34 Michael Fitzhenry
35 Innes Smith
36 Steven Gray
37 Gordon Bruce
38 William Geddes
B-Grade Light Music
1 Ross Miller, Linlithgow, Scotland
2 Fiona Manson, Melbourne
3 Faye Henderson
4 George Stewart, Perth, Scotland
5 Ursa Beckford
6 Michael Elder
7 Andrew Wilson, Dromore, Northern Ireland
8 Connor Sinclair
9 Angus J. Maccoll
10 Cameron MacDougall
11 Donald Macleod, Glasgow
12 Calum Watson, Lasswade, Scotland
13 Nick Hudson
14 David Shedden
15 Greig Canning
16 Euan Dewar, Oban, Scotland
17 Ben Duncan
18 Liam Kernaghan, Dunedin, New Zealand
19 Andrew Hall, London
20 Dan Lyden, Timonium, Maryland, USA
21 Matt Pantaleoni
22 Callum Moffat
23 Sandy Cameron
24 Steven Leask
25 Sarah Muir
26 Andrew Lee
27 Greig Wilson, Cardenden, Scotland
28 Matt Wilson, Dollar, Scotland
29 James MacHattie
30 Keith Bowes, Inchinnan, Scotland
31 David Wilton, Glasgow
32 Decker Forrest
33 Alan Clark, Aberdeen, Scotland
34 William Rowe, Napier, New Zealand
35 Kristopher Coyle, Carrickfergus, Northern Ireland