Triumphant and Victorious – 1979 a historic World's, 40 years later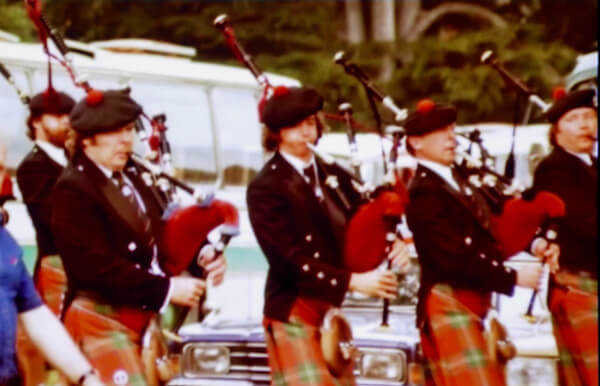 After two years of heretical challenges by the band from Fife, it was time to get back to more familiar territory. As with almost everything in pipe band history, every two bold steps forward eventually result in at least one step, usually one-and-a-half or two, back.
But in 1979, the appetite for change still existed, and two bands from Canada seized on the remaining hunger. If the pipe band establishment would allow Dysart & Dundonald to win successive World Championships, perhaps it would also permit worthy non-UK bands to finally get a fair (or at least fairer) shake from the judges and the association.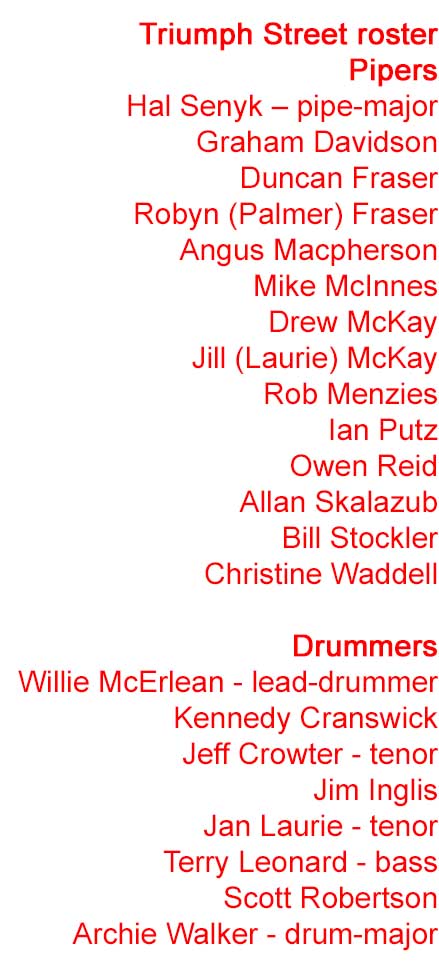 The Strathclyde Police had won the World's in 1976 and it was time for them to resume power. After their two astonishing World's victories, Dysart & Dundonald would never win again, and "The Polis" would go on to take a staggering 11 out of the next 13 World titles. With one great exception, the 1987 78th Fraser Highlanders, 1979 marked the start of a 12-year return to tradition: mainly familiar tunes and formats, with dogged adherence to conservative playing on precision-matched instruments.
The Toronto area traditionally was seen as the hottest bed of pipe banding in Canada. The aforementioned Clan MacFarlane, City of Toronto/Caber Feidh and the emergent City of Guelph had pricked up ears, but thousands of miles west in British Columbia two bands were setting their own world standards.
City of Victoria and Triumph Street were carving a niche, carefully modelling their sounds and styles after the best that Scotland had to offer, not Dysart & Dundonald's chanters-first style, but the Strathclyde Police, Shotts & Dykehead and Muirhead & Sons' close attention to musical detail, heavy embellishments and rich drone sound.
Interestingly, the 1979 World Championships were the last to be held outside of Scotland. Nottingham, England, had won the rights to the event, which would return to Aberdeen once before settling into its apparently permanent home in Scotland's largest city.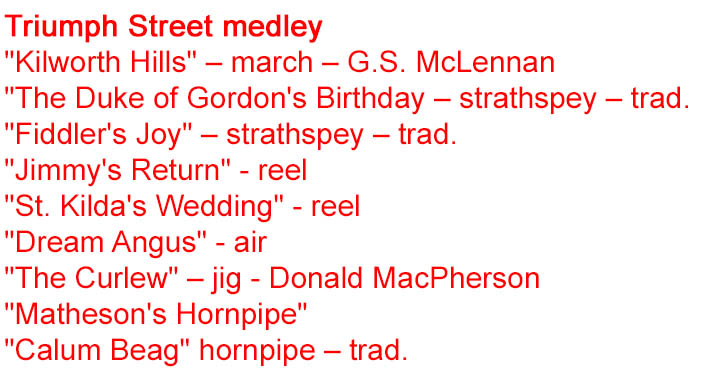 Perhaps similar to hometown competitors often receiving a subconscious bump up from adjudicators, non-Scottish bands competing at a World's not in Scotland might well have contributed to judges' decisions. We can't know for sure, but we can say with confidence that it didn't hurt.
Touchdown
The bands arrived in Scotland ready for action. Triumph Street had competed there in 1977, taking a fourth at the European Championships. City of Victoria were experiencing competition abroad for the first time.
"We flew from Vancouver on Thursday, August 9, to London and from there by bus to Nottingham," says Triumph Street piper Allan Skalazub. "We arrived in Nottingham about 7 pm Friday night. Our accommodation . . . cost the princely sum of four pounds per night. Admission for spectators to the World's was 80 pence. Our four buses in Scotland cost £380."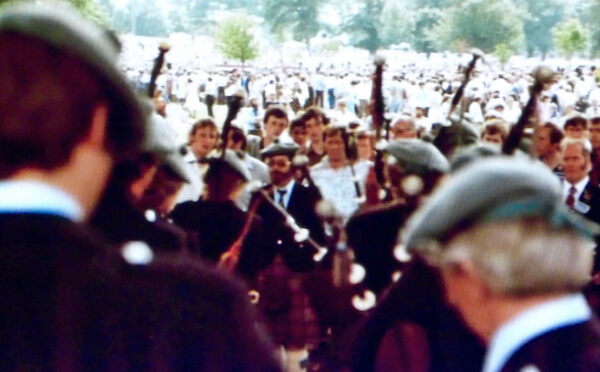 There was definitely a buzz in the air, two Canadian bands grabbing the attention of the greatest groups in the world, making it much more of an actual World Championship.
In an article from the Western Pipe Band Association's journal, Strathclyde Police Pipe-Sergeant Angus J. MacLellan wrote: "In the practice field all the enthusiasts were going around listening to the various bands and asking the same questions. Would Dysart and Dundonald hold onto the title? Would the Shotts & Dykehead come back with a bang? Or was it the year for one of the two police bands? What about the challenge from overseas? In the first grade it was obvious that the two Canadian bands were a big threat. Everyone was impressed by them and when they played in the competition there were thoughts that the World Championship could leave Scotland for the first time."
There were 17 bands entered in Grade 1 – two more than this year – and the English weather was hot and dry, probably putting all bands at the same disadvantage. The British Columbia groups were just as accustomed to wet and mild conditions as the Scots.
"The weather at the World's that day was hot and dry – not the usual weather that we have come to expect over the years," says Peter Aumonier, a piper with City of Victoria at the time who's still competing now as a member of the Grade 1 78th Fraser Highlanders. "There was very little shade or trees in the park, but we found a spot where there was a gas-powered generator blasting away. As we were tuning up, I have a very vivid memory of [Shotts pipe-major] Tom McAllister, [Strathclyde Police pipe-major] Ian McLellan, [Lothian & Borders Police pipe-major] Iain McLeod and Bob Sheppard all walking by and stopping to listen to the band."