World associations in suspense over bans
such as this has never arisen in our association, we do not have a policy in place regarding the recognition of the suspension of an individual by another association. The suspensions would not necessarily be automatic per our lack of policy."
The EUSPBA discussed the topic at its executive meeting in Philadelphia on December 3rd and, according to Cole, decided that a hard-and-fast policy to honour suspensions wasn't the way to go, but that each circumstance would be reviewed independently.
"While we are in full support of the decision of Pipe Bands Australia and the Royal Scottish Pipe Band Association, many on the committee were reluctant to create a policy that would automatically prohibit individuals that have been suspended from other associations from competing with our bands. At the moment, we are not impacted as none of the named individual have attempted to register with any of our bands at this point. We will continue to monitor the situation and will take this on a day-to-day basis."
When asked about whether a suspension of a member from another organization would be respected by the Midwest Pipe Band Association, MWPBA President Jim Sim said, "This of course would be something that would go through our board. We do have a rule that all bands must be members of a recognized association, though. So, unless they are members of an association, they could not enter a contest."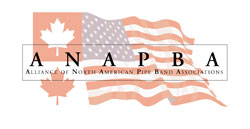 "The PPBSO doesn't have a specific policy regarding honouring suspensions from other associations, so we would have to evaluate any such requests on a case-by-case basis," said Chris Buchanan, president of the Pipers & Pipe Band Society of Ontario. "I wouldn't want to speculate on any particular situation in advance of it occurring. I'm not aware of a general reciprocity agreement between associations to honour member suspensions, although I'm sure that there are cases where such an agreement exists between specific associations."
It's worth noting that the most recent substantial suspensions were triggered by activity on social media, each time allegedly criticizing an adjudicator. Cultural leniency toward what constitutes fair and free speech varies from country to country and, for that matter, from association to association. Iit could be that what is unacceptable in Australia might be deemed permissible in another country.
A four-year suspension of a member of an accredited piping and drumming association is unprecedented. That the suspension is of the pipe-major of two past accomplished Grade 1 bands is even more remarkable. Accomplished and driven pipers and drummers are not given to sit idly by, and one can reasonably expect an intention to compete again before July 2020, when his 48-month sentence is complete.
Stay tuned for more on this landmark situation that is sure to have a lasting impact on the piping and drumming world.