A happy Mother's Day tradition from 12 Wing Pipes & Drums
Pipe bands are often considered a family that is deeply rooted in tradition and history. The tradition of playing pipes or drums is often passed on from family member to family member. 12 Wing Pipes & Drums is no exception to that tradition. This Mother's Day the band is highlighted by the mothers in the band who have passed the strong family tradition to their own children.
Based in Shearwater, Nova Scotia, the 12 Wing unit of the Royal Canadian Air Force provides maritime helicopter support to the Royal Canadian Navy with Helicopter Air Detachments for missions at home and around the world. It has always boasted a competitive pipe band, celebrating its 100th anniversary in 2018.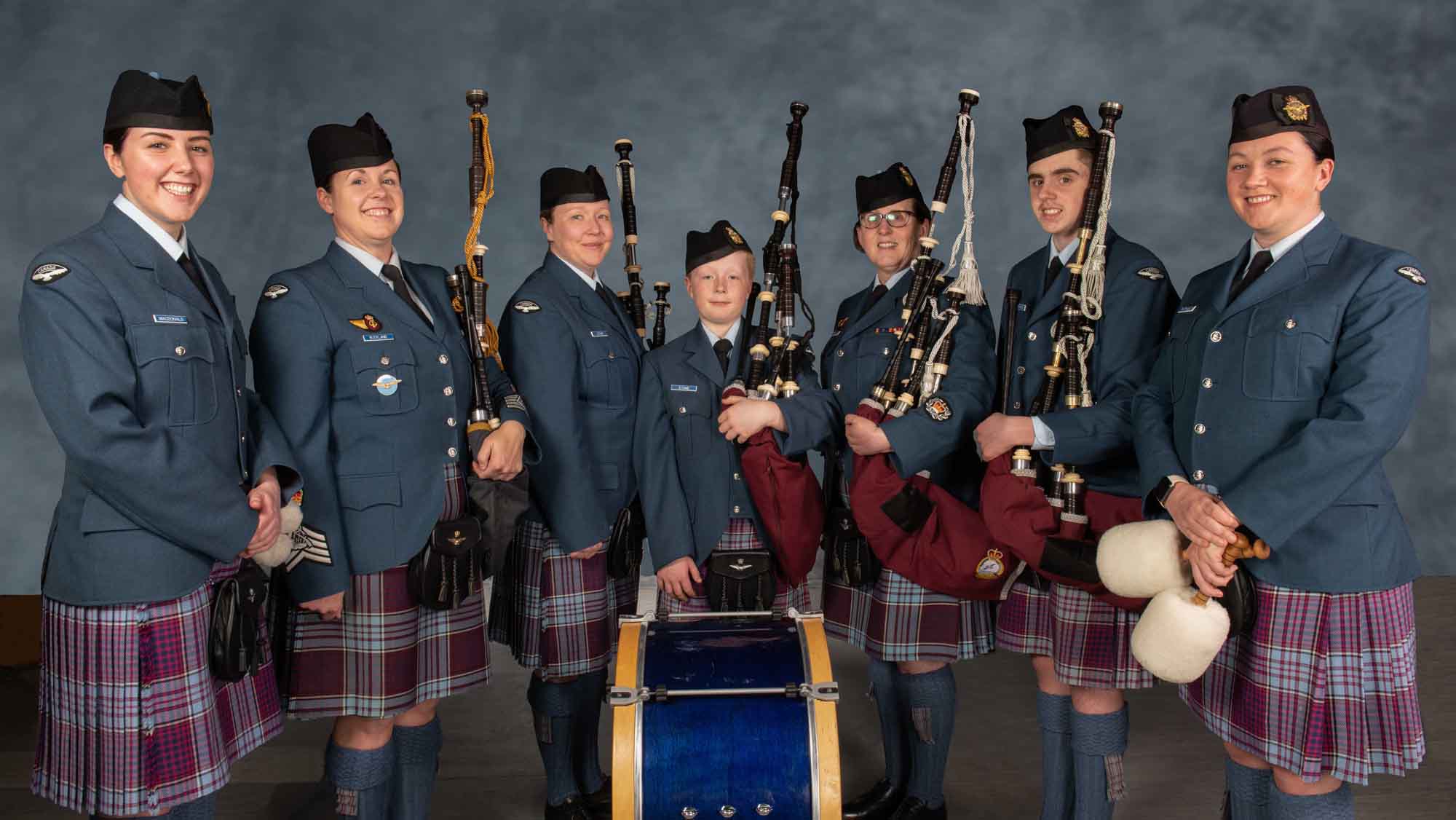 Master Warrant Officer Karen MacLean began piping after seeing a recruiting ad for MacDougall Girls Pipe Band in Cape Breton, Nova Scotia. She began her journey of bagpiping and has then passed this on to her daughter and the band's pipe-major, Katie Buckland. "This was not something I was interested in, but my mom registered me anyway," said Buckland. When Calum, MacLean's son, was nine she took the same approach and started him in private lessons. Calum MacLean said, "Mom strongly suggested I began piping regardless of what I thought".
Corporal Bhreagh MacDonald is the band's bass drummer, but she began her musical journey as a fiddler, travelling to the World Pipe Band Championships with the Gaelic College Pipe Band as a member of their Celtic folk group. She fell in love with pipe bands and wanted to get involved. MacDonald started drumming with Dartmouth & District and soon after joined the reserves as a musician.
MacDonald's daughter, Ainsley, saw the fun her mother was having in pipe bands and wanted to become a part of the team, beginning tenor drumming with Dartmouth & District a few years ago and this past year joined the 12 Wing mid-section.
Buckland added, "We seem to have interesting stories leading us to learning these instruments." Heather Stone started in Highland dancing, but always wondered what the pipers were up to in the "Piper's Glen" competitive arena at the Antigonish Highland Games in Cape Breton. She eventually put down her dancing shoes and picked up the pipes. Her son, Alex, asked her one day if he could learn the pipes, and has now been playing for three years. At age 11 he is the youngest member of 12 Wing, taking piping very seriously, something he learned from his grandmother.
12 Wing Pipes & Drums will be travelling to the World's this summer to compete in Grade 4A.
"We are extremely excited for this opportunity," Buckland said "Only seven band members have competed at this prestigious contest. Our band is celebrating its 25th year and for the first time in our history, we will be crossing the pond to celebrate."
She added, "If this photoshoot was any indication of the fun we will have this summer, we are in for a lot of good music and laughs. With all the moms in the band, I will need to reiterate who is the boss."
She invited any and all to follow the band this summer on the Ontario competition circuit as they prepare for their journey to Scotland.
---
Related articles

Piping history's greatest mother
May 14, 2017
---

pipes|drums honours women pipers and drummers
March 8, 2019
---

A rare image of a rare piping legend
November 23, 2018
---

NZ Silver Chanter weekend to have all-female judging panel
August 3, 2018