Aberdeen's Jake Robertson takes Heat 1 of Pipe Idol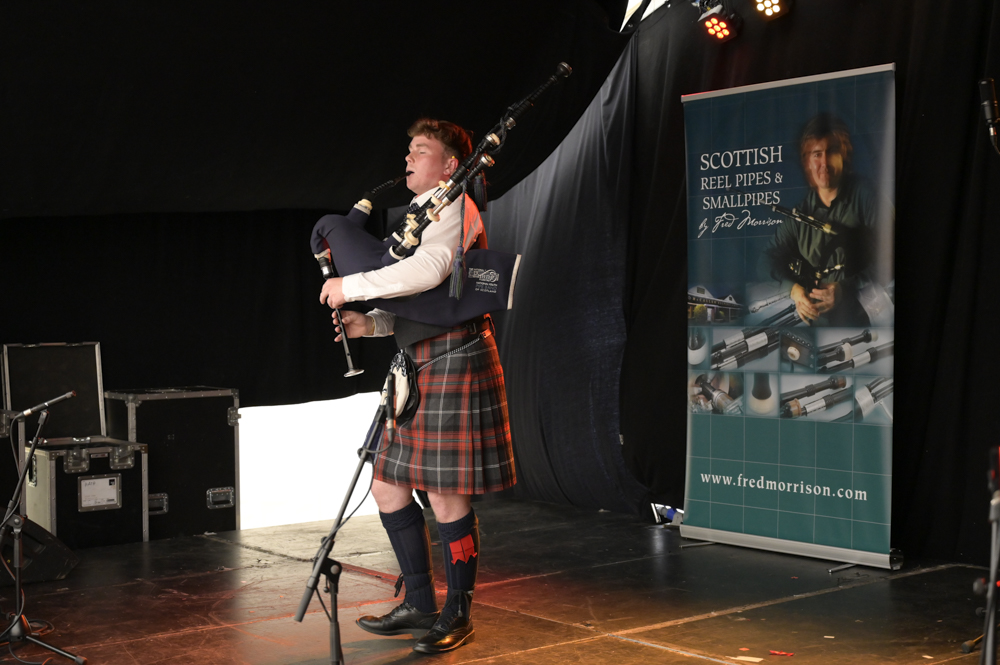 Glasgow – August 14, 2023 – Fergus Muirhead has been working Piping Live! events for the entire life of the festival, and he's still doing an excellent job informing and entertaining at a variety of events. He spoke about the obvious success of teaching young people bagpipes in various parts of the world, as evidenced by both the number of pipers interested in playing in the Under 21 event and the obvious quality of those interested. This year, the heats each day feature six pipers, up two from all previous events.
The pipers came on stage in quick order, each performing a trio of sets: a hornpipe and jig, an MSR, and then an own-choice medley. All the pipers arrived onstage with great-sounding instruments, and there was very little tuning overall. The standard of playing and sound was high, and ultimately the anonymous audience judges chose Scottish piper Jake Robertson to go through to the final. When announcing the result, Muirhead pointed out that the judges had indicated they found the standard overall to be excellent and also took into account the stage presence and entertainment factor with each piper.
Looking ahead at the contestants for the week, it's clear that there is a gender imbalance.
Canada was well-represented by Jean-Sébastien Gamache, Ottawa, and Liam Forrest, Mission, British Columbia, and so was Scotland with Jamie Brownlie, Carstairs Village; Andrew Pattison, Troon; and Rory Robson, Invergordon, in addition to Jake Robertson.
The finalist from each day will perform in an early evening event on Thursday to determine the overall winner. The event is sponsored by Fred Morrison Bagpipes.
Looking ahead at the contestants for the week, it's clear that there is a gender imbalance. It would be great to see stronger representation from the many talented young women pipers capable of this level.
The winners of the four heats get to compete in the Grand Final later in the afternoon of Thursday, August 17th, for a chance to become Pipe Idol 2023.
–  Report by Iain MacDonald, Regina