Alastair Lee, Cameron Bonar, Greighlan Crossing come in hot at Skagit Valley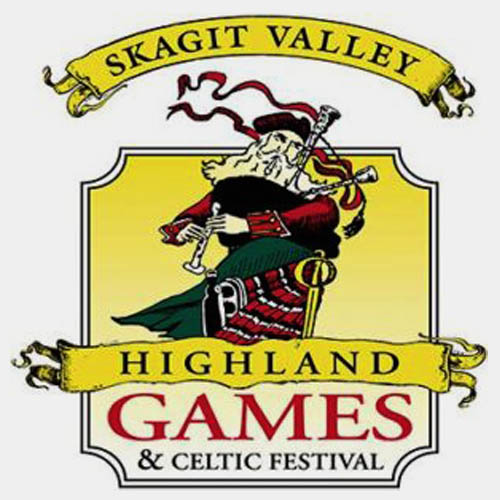 Mount Vernon, Washington – July 8-9, 2023 – Alastair Lee of Surrey, British Columbia, won every Open event and Cameron Bonar, also from Surrey, swept the Grade 1 amateur solo piping at the 27th Skagit Valley Highland Games & Celtic Festival at Edgewater Park. The top prize in a contested band category went to Greighlan Crossing in Grade 3. Cascadia was the only  entry in Grade 2and played again in mix-matched kilts as they continue to raise funds to help kit out the first-year band.
The event was held in honour of Skye Richendrfer, a great mover and shaker for the Scottish arts in the Pacific Northwest. Several teachers in the area for the adjacent Celtic Arts Foundation summer school judged and performed at the festival, which regularly attracts more than 10,000 people. The weather was spectacularly sunny and warm.
[Does your association send in results to pipes|drums so that its members' success can be seen all over the world? The British Columbia Pipers Association does, and we appreciate it.]
Bands
Grade 2
Medley
1st Cascadia
Judges: Finlay MacDonald, Willie McCallum (piping); Scott Robertson (drumming); Graham Davidson (ensemble)
MSR
1st Cascadia
Judges: Finlay MacDonald, Willie McCallum (piping); Scott Robertson (drumming); Graham Davidson (ensemble)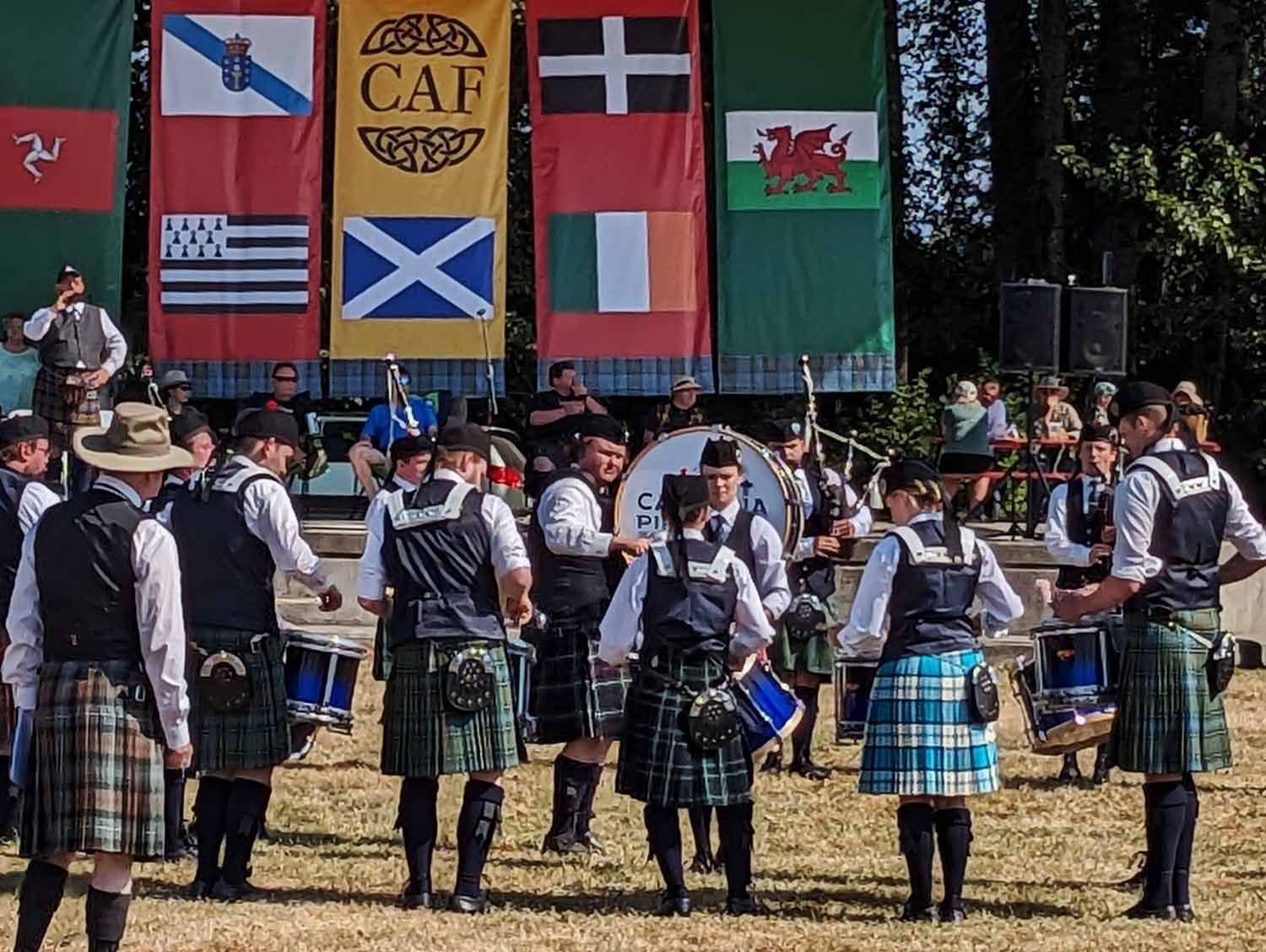 Grade 3
Medley
1st Greighlan Crossing (1,1,1,1)
2nd Keith Highlanders 3 (2,2,2,2)
Judges: René Cusson, Willie McCallum (piping); Scott Robertson (drumming); Graham Davidson (ensemble)
MSR
1st Greighlan Crossing (1,1,1,1)
2nd Keith Highlanders 3 (2,2,2,2)
Judges: Finlay MacDonald, Willie McCallum (piping); Scott Robertson (drumming); Graham Davidson (ensemble)
Grade 4
Medley
1st Kenmore & District (1,1,2,1)
2nd Northwest Junior (2,2,1,2)
3rd Keith Highlanders (Gr5) (3,3,3,3)
4th Elliot Bay (4,4,4,4)
Judges: René Cusson, Willie McCallum (piping); Scott Robertson (drumming); Graham Davidson (ensemble)
MSR
1st Northwest Junior (1,2,1,1)
2nd Kenmore & District (2,1,2,2)
3rd Elliot Bay (3,3,3,3)
Judges: Finlay MacDonald, Sandy Reid (piping); Scott Robertson (drumming); Graham Davidson (ensemble)
Grade 5 (quick marches set)
1st Keith Highlanders (Gr5) (1,1,1,2)
2nd Portland Metro Youth (Gr5) (2,2,2,1)
Judges: Finlay MacDonald, Sandy Reid (piping); Scott Robertson (drumming); Graham Davidson (ensemble)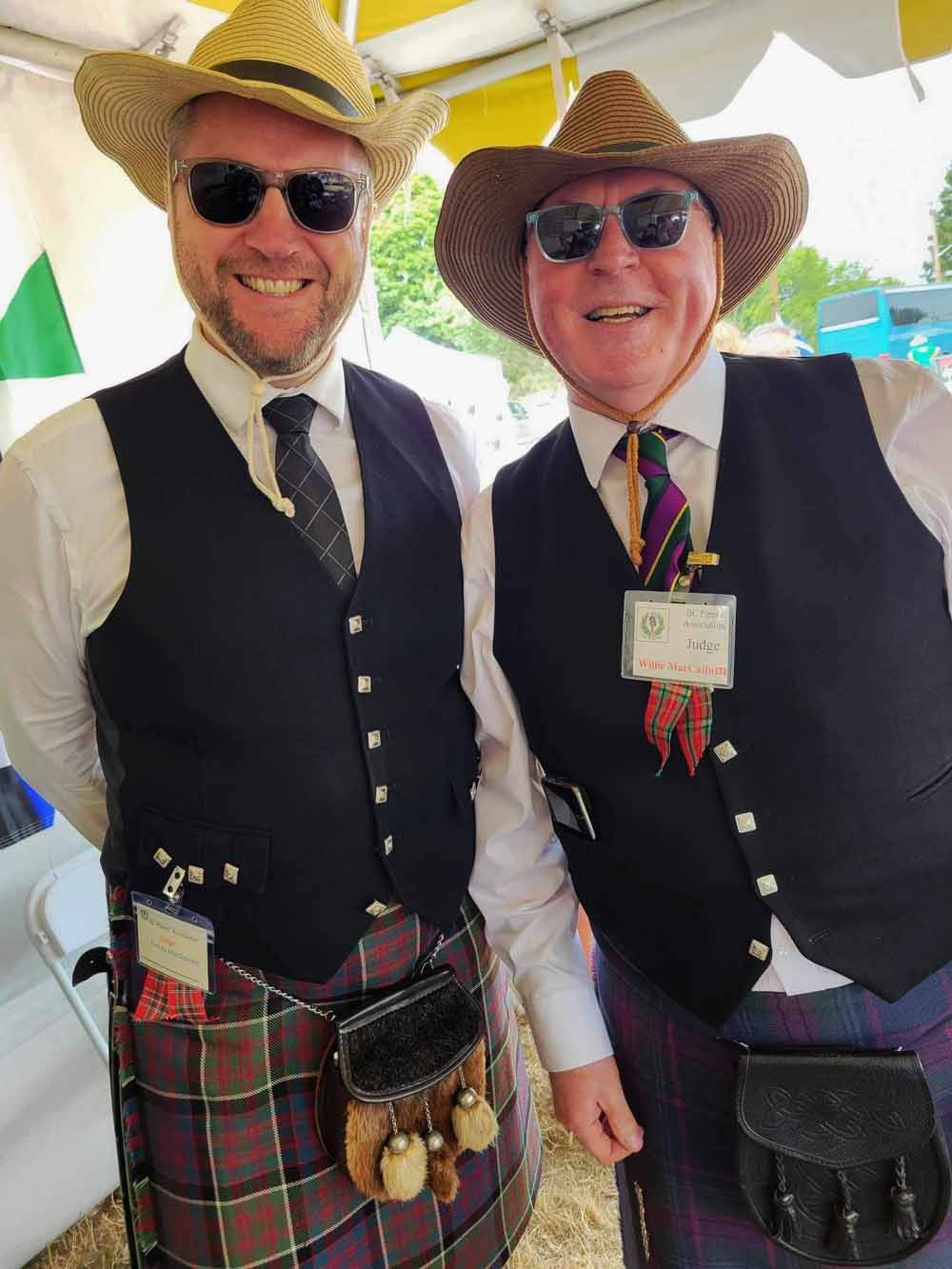 Solo Piping
Open
Piobaireachd
1st Alastair Lee, "Lament for the Only Son"
2nd Zephan Knichel, Surry, British Columbia, "Fair Honey"
Judge: Willie McCallum
MSR
1st Alastair Lee
2nd Zephan Knichel
3rd Darran Forrest, Mission, British Columbia
Judge: Graham Davidson
Hornpipe & Jig
1st Alastair Lee
2nd Darran Forrest
3rd Zephan Knichel
Judge: Finlay MacDonald
Medley
1st Alastair Lee
2nd Zephan Knichel
Judge: Finlay MacDonald
Grade 1
Piobaireachd
1st Cameron Bonar
2nd Colin Forrest
3rd Aiden Fowler
4th Jeff Rowell
5th Aaron Malcomb
6th Malachi Wonder
Judge: Finlay MacDonald
MSR
1st Cameron Bonar
2nd Liam Forrest
3rd Colin Forrest
4th Drew Burky
5th Malachi Wonder
6th Aaron Malcomb
Judge: Ian Coletti
Hornpipe & Jig
1st Cameron Bonar
2nd Malachi Wonder
3rd Aiden Fowler
4th Liam Forrest
5th Colin Forrest
6th Aaron Malcomb
Judge: René Cusson
Grade 2
Piobaireachd
1st Jack Martin
2nd Marcus Range
3rd Ian MacPhail
4th Brittany Crooks
5th Paul Mackay
Judge: Graham Davidson
MSR
1st Jack Martin
2nd Paul Mackay
3rd Ian MacPhail
4th Brittany Crooks
5th Liam Boyle
Judge: René Cusson
Hornpipe & Jig
1st Paul Mackay
2nd Jack Martin
3rd Liam Boyle
4th Ian MacPhail
5th Brittany Crooks
Judge: Sandy Reid
Grade 3
Piobaireachd
1st Grace Barnes
2nd Laurie Gardner
3rd Tyler Coleman
4th Tim Riddle
5th Eric Spears
6th Tobin Beard
Judge: Sandy Reid
2/4 March
1st Tyler Coleman
2nd Grace Barnes
3rd Laurie Gardner
4th Adi Moss-Sheth
5th Tobin Beard
6th Peter Rolstad
Judge: Kevin McLean
Strathspey & Reel
1st Grace Barnes
2nd Oliver Perry
3rd Laurie Gardner
4th Adi Moss-Sheth
5th Peter Rolstad
6th Tyler Coleman
Judge: Ian Coletti

Grade 4
Piobaireachd
1st Kevin Maloney
2nd Truin Tomasetti
3rd Duncan MacLeod
4th Jayne Ferlitsch
5th John Buchanan
Judge: Kevin McLean
2/4 March
1st Gavin Patterson
2nd Kevin Maloney
3rd Truin Tomasetti
4th Jayne Ferlitsch
5th John Buchanan
6th Duncan MacLeod
Judge: Ian Coletti
6/8 March
1st Truin Tomasetti
2nd Kevin Maloney
3rd Jayne Ferlitsch
4th Gavin Calder
5th Gavin Patterson
6th John Buchanan
Judge: Sandy Reid
Grade 5
2/4 March
1st Sean Underwood
2nd Logan Gillespie
3rd Gavin Syme
4th Evan Markus
5th Adelynn Williams
6th Keira Maloney
Judge: Kevin McLean
Slow Air
1st Logan Gillespie
2nd Gavin Syme
3rd Joe Williamson
4th Sean Underwood
5th Adelynn Williams
6th Evan Markus
Judge: Willie McCallum
Adult
Piobaireachd
1st Steve Barnes
2nd Doug Gardner
3rd Sean Maloney
4th John MacCallum
5th Barry Kirk
6th Erin Anderson
Judge: Willie McCallum
6/8 March
1st Doug Gardner
2nd Erin Anderson
3rd Steve Barnes
4th John MacCallum
5th Sean Maloney
6th Barry Kirk
Judge: Kevin McLean
Slow Air
1st Doug Gardner
2nd Erin Anderson
3rd Sean Maloney
4th Steve Barnes
5th John MacCallum
6th Dixie Mize
Judge: René Cusson
Adult Prep
Slow Air
1st Michael Hensley
Judge: Graham Davidson
Solo Drumming
Snare
Grade 2
MSR
1st Malcolm Fuller
Judge: Scott Robertson
Hornpipe & Jig
1st Malcolm Fuller
Judge: Scott Robertson
Grade 3
2/4 March
1st Hope Barnes
Judge: Scott Robertson
6/8 March
1st Hope Barnes
Judge: Scott Robertson
Grade 4
2/4 March
1st Max Fenwick
2nd Taylor Roy
3rd Samuel Lawler
4th Eric Wallace
Judge: Scott Robertson
6/8 March
1st Max Fenwick
Judge: Scott Robertson
Beginner
2/4 March
1st Toby Roy
Judge: Scott Robertson
6/8 March
1st Toby Roy
Judge: Scott Robertson
Tenor
Intermediate
MSR
1st Lindsay MacGregor
Judge: Scott Robertson
6/8 March
1st Lindsay MacGregor
Judge: Scott Robertson