Cascadia, Alastair Lee, Blair Brown: top winners at ScotFest / BC Highland Games
Coquitlam, British Columbia – June 16-18, 2023 – Seattle's Cascadia Pipe Band won both Grade 2 events, Alastair Lee and Blair Brown took the aggregate Open piping and snare drumming awards, respectively, and Cameron Bonar won all three Grade 1 amateur piping events at the annual BC Highland Games – "ScotFest" – at Centre Park. A total of 16 bands and 127 solo pipers and drummers competed.
Our thanks to the British Columbia Pipers Association for sending us the results and a photo of the massed bands.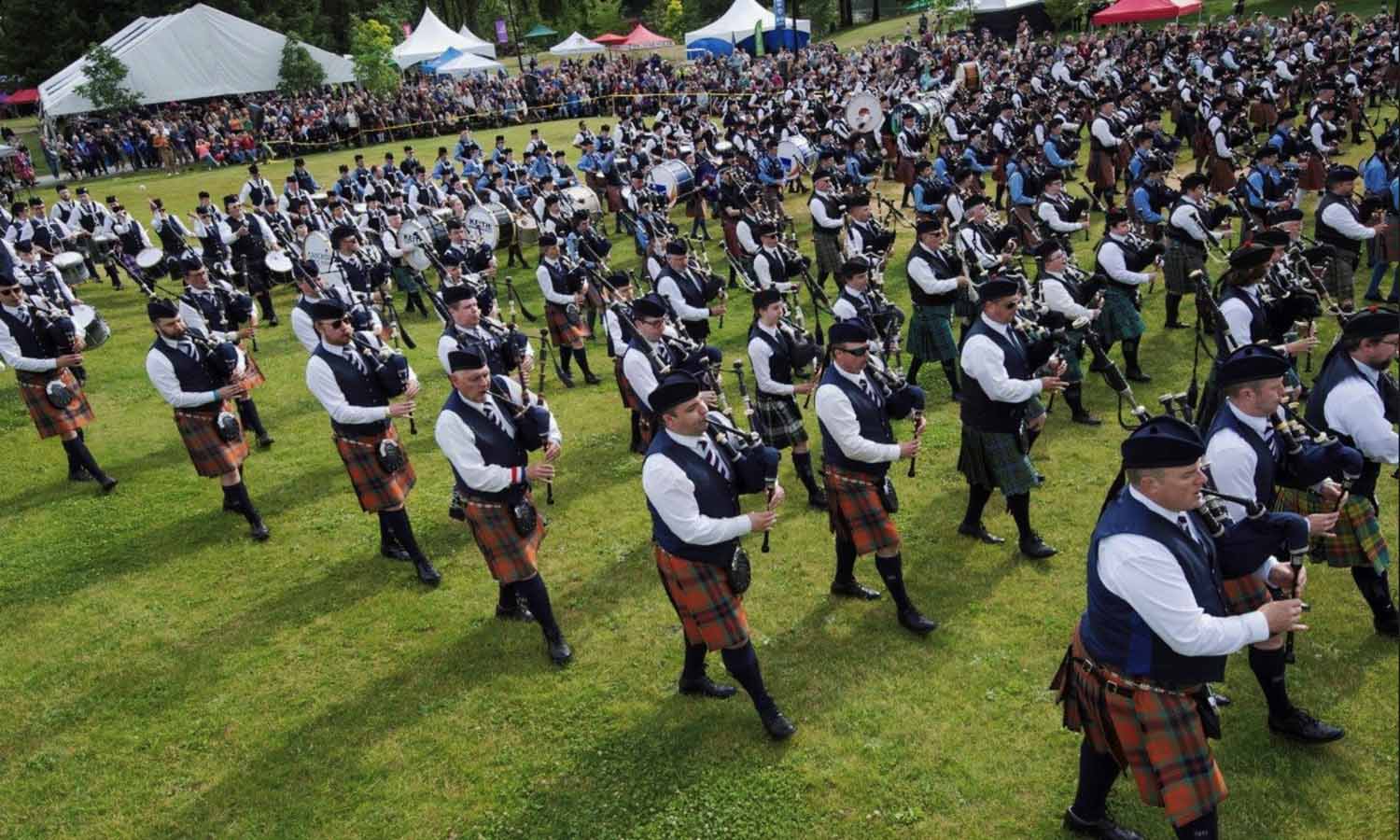 Bands
Grade 1 (one played)
Medley
1st Simon Fraser University (1,1,1,1,)
Judges: Angus MacPherson, Lorne Cousin (piping); Tim Boan (drumming); John Fisher (ensemble)
MSR
1st Simon Fraser University (1,1,1,1,)
Judges: Robert Menzies, Lorne Cousin (piping); John Fisher (drumming); Angus MacPherson (ensemble)
Grade 2 (two competed)
Medley
1st Cascadia (1,1,2,1)
2nd Portland Metro (2,2,1,2)
Judges: Angus MacPherson, Lorne Cousin (piping); Tim Boan (drumming); John Fisher (ensemble)
MSR
1st Cascadia (2,1,2,1)
2nd Portland Metro (1,2,1,2)
Judges: Robert Menzies, Lorne Cousin (piping); John Fisher (drumming); Angus MacPherson (ensemble)
Grade 3 (four competed)
Medley
1st Robert Malcolm Memorial Gr.3 (1,1,1,1)
2nd Greighlan Crossing (2,2,2,2)
3rd Vale United (3,3,3,3)
4th Keith Highlanders Gr.3 (4,4,4,4)
Judges: Robert Menzies, Lorne Cousin (piping); Tim Boan (drumming); John Fisher (ensemble)
MSR
1st Robert Malcolm Memorial Gr.3 (1,1,1,1)
2nd Greighlan Crossing (2,2,2,2)
3rd Vale United (3,3,3,3)
4th Keith Highlanders Gr.3 (4,4,4,4)
Judges: Robert Menzies, Lorne Cousin (piping); Tim Boan (drumming); Angus MacPherson (ensemble)
Grade 4 (six competed)
Medley
1st Edmonton & District (1,2,2,1)
2nd Greater Victoria Police (2,1,1,2)
3rd White Spot (3,3,3,3)
4th Northwest Junior (4,4,4,4)
5th Robert Malcolm Memorial (Gr4) (5,5,5,5)
6th Kamloops Society (6,6,6,6)
Judges: John Sutherland, Blair Cooper (piping); John Fisher (drumming); Terry Lee (ensemble)
MSR
1st Greater Victoria Police (2,1,1,1)
2nd Edmonton & District (1,3,2,2)
3rd White Spot (4,2,3,3)
4th Northwest Junior (5,4,4,5)
5th Robert Malcolm Memorial (Gr4) (6,5,5,4)
6th Kamloops Society (3,6,6,6)
Judges: Robert Menzies, Lorne Cousin (piping); Tim Boan (drumming); Angus MacPherson (ensemble)
Grade 5
Quick Marches (three competed)
1st Keith Highlanders Gr.5 (1,1,3,1)
2nd Portland Metro Youth Gr.5 (2,2,1,2)
3rd Robert Malcolm Memorial Gr.5 (3,3,2,3)
Judges: John Sutherland, Blair Cooper (piping); John Fisher (drumming); Terry Lee (ensemble)
Solo Piping
Open
Piobaireachd
1st Craig Sutherland, Perth, Scotland, "The End of the Great Bridge" ($1,000)
2nd Seumas Coyne, Los Angeles, "Catherines Lament" ($500)
3rd Edward McIlwaine, Vancouver, "Ronald MacDonald of Morar's Lament" ($250)
4th Alastair Lee, Surrey, British Columbia
5th Alistair Bevan, Abbotsford, British Columbia
6th Ross Barker
Judge: Lorne Cousin
MSR
1st Alastair Lee
2nd Alistair Bevan, Abbotsford, British Columbia
3rd Seumas Coyne
4th Callum Bevan, Abbotsford, British Columbia
5th Tori Killoran
6th Craig Sutherland
Judge: Robert Menzies
Hornpipe & Jig
1st Alastair Lee
2nd Craig Sutherland
3rd Seumas Coyne
4th Zak Read
5th Tori Killoran, Pitt Meadows, British Columbia
6th Alistair Bevan
Judge: Angus MacPherson
Grade 1
Piobaireachd
1st Cameron Bonar Surrey, British Columbia
2nd Jeff Rowell
3rd Colin Forrest
4th Liam Forrest
5th Colin Richdale
6th George Panagiotou
Judge: Graham Davidson
MSR
1st Cameron Bonar
2nd Colin Forrest
3rd Liam Forrest
4th Gavin Guidotti
5th Drew Burky
6th George Panagiotou
Judge: John Sutherland
Hornpipe & Jig
1st Cameron Bonar
2nd Liam Forrest
3rd Colin Forrest
4th Malachi Wonder
5th Colin Richdale
6th George Panagiotou
Judge: Blair Cooper
Grade 2
Piobaireachd
1st Brittany Crooks
2nd Brent Lowrie
3rd Jack Martin
4th Marcus Range
5th Ailsa Wilson
6th Alexandra Lye
Judge: John Lee
MSR
1st Paul Mackay
2nd Liam Boyle
3rd Ailsa Wilson
4th Jack Martin
5th Marcus Range
6th Brittany Crooks
Judge: Kevin McLean
Jig
1st Paul Mackay
2nd Liam Boyle
3rd Alexandra Lye
4th Jon Scott
5th Ailsa Wilson
6th Ian MacPhail
Judge: John Sutherland
Grade 3
2/4th March
1st Connor Lambie
2nd Andrew Moore
3rd Sheldon Birkett
4th Grace Barnes
5th Maxwell Rowley
6th Tyler Coleman
Judge: Blair Cooper
Piobaireachd
1st Grace Barnes
2nd Connor Lambie
3rd Maxwell Rowley
4th Laurie Gardner
5th Sheldon Birkett
6th Tyler Coleman
Judge: Colin McWilliams
Strathspey & Reel
1st Grace Barnes
2nd Maxwell Rowley
3rd Connor Lambie
4th Andrew Moore
5th Tyler Coleman
6th Sheldon Birkett
Judge: Mark Christy
Grade 4
2/4th March
1st Alex Evans
2nd Kevin Maloney
3rd Truin Tomasetti
4th Jacob Robertson
5th Duncan MacLeod
6th Heather Mcfarlane
Judge: Mark Christy
Strathspey & Reel
1st Alex Evans
2nd Truin Tomasetti
3rd Jayne Ferlitsch
4th Tim Riddle
5th Jacob Robertson
6th Elijah Levangie
Judge: Kevin McLean
Grade 5
2/4th March
1st Sean Underwood
2nd Gavin Syme
3rd Austin Watts
4th Keira Maloney
5th Mairi Lister
6th Logan Gillespie
Judge: Colin McWilliams
Slow Air
1st Sean Underwood
2nd Gavin Syme
3rd Lucas Moski
4th Mairi Lister
5th Keira Maloney
6th Adelynn Williams
Judge: Angus MacPherson
Beginner
2/4th March
1st Maeve Ross
2nd Liana Sharifian
Judge: Blair Cooper
Slow Air
1st Maeve Ross
Adult
2/4th March
1st Steve Barnes
2nd Cynthia Byrne
3rd Sean Maloney
4th John MacCallum
5th Doug Gardner
Judge: Mark Christy
Strathspey & Reel
1st Cynthia Byrne
2nd Sean Maloney
3rd Glen Duthie
4th John MacCallum
Judge: Robert Menzies
Solo Drumming
Snare
Open
MSR
1st Blair Brown
2nd Taylor Killoran
3rd Amanda Colwell
Judge: John Fisher
Hornpipe & Jig
1st Blair Brown
2nd Amanda Colwell
3rd Taylor Killoran
Judge: Tim Boan
Grade 1
MSR
1st Cameron Johnston
2nd Sam Linsley
Judge: John Fisher
Hornpipe & Jig
1st Cameron Johnston
2nd Sam Linsley
Judge: Tim Boan
Grade 2
MSR
1st Megan Millar
2nd Malcolm Fuller
3rd Yu-Lun Mackenzie Wang
4th Henry Bautz
5th Christopher Moore
6th Tristan Campeau
Judge: Tim Boan
Hornpipe & Jig
1st Megan Millar
2nd Malcolm Fuller
3rd Yu-Lun Mackenzie Wang
4th Tristan Campeau
5th Christopher Moore
6th Henry Bautz
Judge: Grant Maxwell
Grade 3
2/4th March
1st Hope Barnes
2nd Nathan Affleck
3rd Callum Ross
Judge: Tim Boan
6/8 March
1st Hope Barnes
2nd Callum Ross
3rd Nathan Affleck
Judge: Grant Maxwell
Grade 4
2/4th March
1st Caleb Guidotti
2nd Oscar Knox
3rd Jayce Edetsberger
4th Max Fenwick
5th Taylor Esch
6th Samuel Lawler
Judge: John Fisher
6/8 March
1st Max Fenwick
2nd Caleb Guidotti
3rd Jayce Edetsberger
4th Oscar Knox
5th Chessa Ryan
6th Reilly Svangtun
Judge: Grant Maxwell
Beginner
2/4th March
1st Gabriel Evans
Judge: Tim Boan
6/8 March
1st Emilia Guillemin Orozco
2nd Nolan Baird
Judge: John Fisher
Tenor
Open
MSR
1st Sam Johnson
Judge: Grant Maxwell
Hornpipe & Jig
1st Sam Johnson
Judge: Tim Boan
Intermediate
6/8 March
1st Mitchell Olding
Judge: John Fisher
MSR
1st Mitchell Olding
Judge: Tim Boan
Novice
2/4th March
1st Katharine Wojak
Judge: John Fisher
6/8 March
1st Katharine Wojak
Judge: Grant Maxwell