Argyllshire Gathering at Oban begins series of major solo events in Scotland

The Argyllshire Gathering at Oban, Scotland, was first held in 1871, as a festival of Highland culture and sport run by the region's gentry, and the solo piping competitions continue to be among the most prestigious in the world.
This year's piping contests will take place August 23-24, with all of the first day's events held at indoor venues across the west coast Highland town, and the second day staged outdoors, whatever the weather, at Mossfield Park, with competing pipers voluntarily coming out for the traditional march through the streets, usually ultimately entering the field playing "The Argyllshire Gathering" by the great composer and piper John MacColl. The new Oban Gold Medallist and Silver Medallist typically take the pipe-major and pipe-sergeant's spots.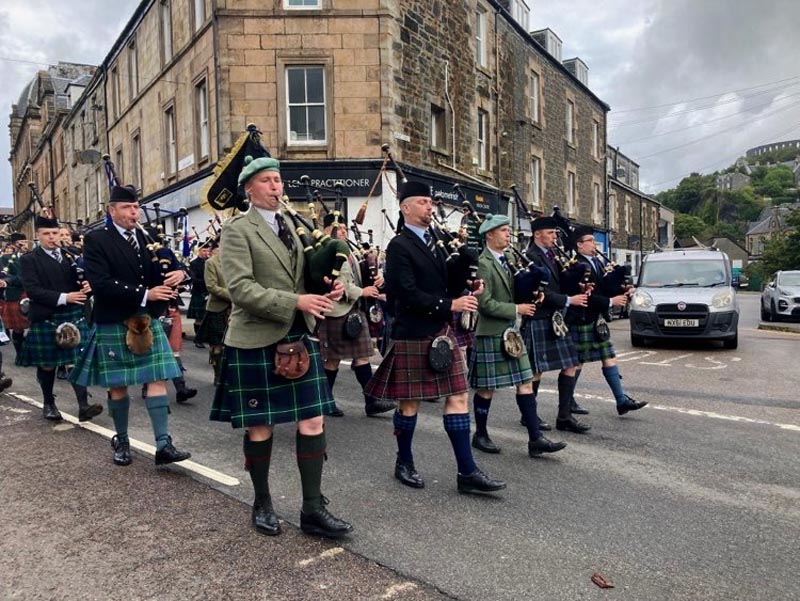 The Highland Society of London Gold Medal for piobaireachd is one of two sister contests, the other held at the Northern Meeting at Inverness, Scotland, (this year August 31st and September 1st). The winner of the event secures their place in history, catapulting them to permanent fame and high status in the solo piping world.
The Senior Piobaireachd, like the Clasp at the Northern Meeting, is reserved for those who have won at least one of the Highland Society of London Gold Medals. Similarly, the Former Winners MSR is for pipers who have won one or both of either the A-Grade March and Strathspey & Reel contests (held outdoors on Thursday) at Oban.
All of the non-former winners events are restricted to a select number who get through a stringent review of their recent competition success. Winning the Silver Medal for piobaireachd is by no means a permanent right to compete in the Gold Medal, though it helps a great deal.
Only two women were accepted to compete in the 26-contestant Gold Medal. There are none in the Senior Piobaireachd. The only woman to win one of the Gold Medals so far is Faye Henderson of Kirriemuir, Scotland. The only female to have won both the A-Grade March and Strathspey & Reel at Oban is Margaret Dunn in 2007 and 2003, respectively. Sarah Muir of East Kilbride, Scotland, is the only woman in the Former Winners MSR, by merit of winning the A-Grade March in 2017. No woman has won the A-Grade MSR at Inverness.
Eighteen of the total 51 contestants – 16% – in the Gold and Silver Medal piobaireachd contests are from outside of Scotland.
In addition to the Argyllshire Gathering, the next few months will see several elite solo events in Scotland, including the Captain John A. MacLellan Medal (August 26th in Edinburgh), the previously mentioned Northern Meeting, the World Solo Drumming Championships (Glasgow, October 21st), and the Glenfiddich Solo Piping Championships (October 28th, Blair Atholl).
Stay tuned to pipes|drums for results from the 2023 Argyllshire Gathering as they are made available.
Here are the orders-of-play for each event:
Wednesday, August 23rd
Highland Society of London Gold Medal
1. Ben Duncan, Edinburgh
2. Derek Midgley, Tinton Falls, New Jersey
3. Connor Sinclair, Crieff, Scotland
4. Alasdair Henderson, Dunoon, Scotland
5. Darach Urquhart, Bishopbriggs, Scotland
6. Cameron Drummond, Edinburgh
7. Ben McClamrock, Washington, DC
8. Alastair Lee, Coquitlam, British Columbia
9. Bill Geddes, Glasgow
10. Willie Rowe, Fielding, Manawatu, New Zealand
11. Glenn Brown, Glasgow
12. Peter McCalister, Dunblane, Scotland
13. Sarah Muir, East Kilbride, Scotland
14. John Mulhearn, Carluke, Scotland
15. Andrea Boyd, Ottawa
16. Cameron MacDougall, Nigg, Scotland
17. Calum Watson, Bathgate, Scotland
18. James Duncan MacKenzie, Back, Isle of Lewis, Scotland
19. Andrew Carlisle, Pittsburgh
20. Sean McKeown, Bowmanville, Ontario
21. Nick Hudson, Houston
22. Steven Leask, East Kilbride, Scotland
23. Alex Gandy, Dartmouth, Nova Scotia
24. Sandy Cameron, Roy Bridge, Scotland
25. Andrew Donlan, Washington, DC
26. Innes Smith, Dunblane, Scotland
Senior Piobaireachd (for previous winners of one or both Gold Medals at either Oban or Inverness)
1. Greg Wilson, Christchurch, New Zealand
2. Craig Sutherland, Perth, Scotland
3. Fred Morrison, Bishopton, Scotland
4. Iain Speirs, Edinburgh
5. Willie McCallum, Glasgow
6. Bruce Gandy, Dartmouth, Nova Scotia, Canada
7. Nick Hudson
8. Finlay Johnston, Glasgow
9. Andrew Hayes, Nepean, Ontario
10. Chris Armstrong, Glasgow
11. Roddy MacLeod, Glasgow
12. Connor Sinclair
13. Jamie Forrester, Haddington, Scotland
14. Donald MacPhee, Alexandria, Scotland
15. Callum Beaumont, Dollar, Scotland
16. Angus D. MacColl, Benderloch, Scotland
17. Ian K. MacDonald, Whitby, Ontario
18. Jack Lee, Surrey, British Columbia
19. Brian Donaldson, Lexington, Virginia
20. Peter McCalister
21. Alasdair Henderson
22. Glenn Brown
23. Alan Bevan, Abbotsford, British Columbia
24. Stuart Easton, Palmerston North, New Zealand
25. Niall Stewart, Kyle of Lochalsh, Scotland
Silver Medal
1. Anna Kummerlöw, Kladrum, Germany
2. Ed McIlwaine, Vancouver
3. Matt Pantaleoni, St. Louis
4. John McDonald, Aberdeen, Scotland
5. Finlay Cameron, Fersit, Scotland
6. Greig Canning, Kirkcaldy, Scotland
7. Calum Brown, Aberdeen, Scotland
8. Angus MacPhee, Inverness, Scotland
9. Bobby Durning, Carrolton, Texas
10. James MacHattie, Summerside, Prince Edward Island
10. Callum Wynd, Dunblane, Scotland
12. Jamie Elder, Auchtermuchty, Scotland
13. Dan Lyden, Timonium, Maryland
14. Brodie Watson-Massey, Edinburgh
15. Steven Gray, Lockerbie, Scotland
16. Cameron May, Lesmahagow, Scotland
17. Edward Gaul, Dundee, Scotland
18. Jacob Dicker, Hammond, Ontario
19. Ruairidh Brown, Dunblane, Scotland
20. Eireann Iannetta-Mackay, Burrelton, Scotland
21. Bradley Parker, Milngavie, Scotland
22. Andrew Ferguson, Dollar, Scotland
23. Zephan Knichel, Port Coquitlam, British Columbia
24. Ben Mulhearn, Troon, Scotland
25. John Dew, Edinburgh

‍Former Winners March, Strathspey & Reel (for previous winners for previous winners of at least one of either the A-Grade March or the A-Grade Strathspey & Reel at the Argyllshire Gathering)
1. Bruce Gandy
2. Fred Morrison
3. Finlay Johnston
4. Willie McCallum
5. Ben Duncan
6. Craig Sutherland
7. Donald MacPhee
8. Jack Lee, Surrey
9. Connor Sinclair
10. Brian Donaldson
11. Angus J. MacColl
12. Niall Stewart
13. Iain K. MacDonald
14. Angus D. MacColl
15. Alastair Lee, Coquitlam, British Columbia
16. Roddy MacLeod
17. Chris Armstrong
18. Alasdair Henderson
19. Andrew Carlisle
20. Cameron Drummond
21. Sarah Muir
22. Alex Gandy
23. Iain Speirs
24. Cameron MacDougall
25. Glenn Brown
MacGregor Memorial piobaireachd (for pipers younger than 22 years old at the time of the event)
Heat 1
1. Logie Johnston, Bunessan, Scotland
2. Emma Hill, Oban, Scotland
3. Ross Conner, Campbeltown, Scotland
4. Colin Forrest, Mission, British Columbia
5. Alistair Bevan, Abbotsford, British Columbia
6. Bobby Allen, Chryston, Scotland
7. Fraser Hamilton, Paisley, Scotland
8. Luke Kennedy, Strathaven, Scotland
9. Liam Forrest, Mission, British Columbia
10. Andrew Pattison, Troon, Scotland
11. Matthew Moir, Conon Bridge, Scotland
12. Hector Finlayson, Kyle of Lochalsh, Scotland
13. Gillian Blaney, Lower Sackville, Nova Scotia
14. Eala Niamh McElhinney, Duntocher, Scotland
15. Liam Nicolson, Albury, Australia
Heat 2
1. Callum Bevan, Abbotsford, British Columbia
2. Gregor Grierson, Dumfries, Scotland
3. Lewis Maxwell, Alva, Scotland
4. Seumas Eade, Hamilton, Waikato, New Zealand
5. Ewan Allen, Livingston, Scotland
6. Calan McGuigan, Oban, Scotland
7. Kayleigh Johnstone, Aurora, Ontario
8. Camron MacPhail, Kilmartin, Scotland
9. Gregor MacDonald, Oban, Scotland
10. Jean-Sébastien Gamache, Orléans, Ontario
11. Hector Munro, London
12. Hazel Whyte, Larkhall, Scotland
13. Kyle Cameron, Fortrose, Scotland
14. David Stulpner, Swanbourne, Australia
15. Cameron Bonar, Surrey, British Columbia

Thursday, August 24th
Intermediate March, Strathspey & Reel
1. Fraser Hamilton
2. Logie Johnston
3. Eala Niamh Mcelhinney
4. Gillian Blaney
5. Gregor MacDonald
6. David Stulpner
7. Luke Kennedy
8. Hector Munro
9. Andrew Pattison
10. Seumas Eade
11. Callum Bevan
12. Liam Forrest
13. Matthew Moir
14. Camron MacPhail
15. Lewis Maxwell
16. Ewan Allen
17. Jean-Sébastien Gamache, Orléans, Ontario
18. Calan McGuigan
19. Colin Forrest
20. Ross Conner
21. Alistair Bevan
22. Gregor Grierson
23. Hazel Whyte
24. Emma Hill
25. Liam Nicolson
26. Cameron Bonar
27. Kayleigh Johnstone
28. Hector Finlayson
29. Kyle Cameron
‍A-Grade March and A-Grade Strathspey & Reel
1. Callum Moffat
2. Nick Hudson
3. Andrea Boyd
4. Liam Kernaghan
5. James Duncan MacKenzie
6. Ian K. MacDonald
7. Iain Speirs
8. Mike Fitzhenry, Paisley, Scotland
9. Willie Rowe
10. Calum Brown
11. Gordon Bruce, Kilwinning, Scotland
12. Cameron MacDougall
13. Steven Gray
14. Sean McKeown
15. Ben McClamrock
16. James MacHattie
17. Jamie Forrester
18. Fred Morrison
19. Sarah Muir
20. Darach Urquhart
21. Steven Leask
22. Andrew Carlisle
23. Connor Sinclair
24. Calum Watson
25. Peter MacGregor, Dunfermline, Scotland
26. Alan Bevan
27. John Mulhearn
28. Brendon Eade
29. Gordon Conn, Vancouver
30. Greg Wilson
31. Ben Duncan
32. Glenn Brown
33. Jenny Hazzard, Edinburgh
34. Callum Beaumont
35. Jonathan Greenlees, Glasgow
36. Derek Midgley
37. Andrew Hayes
38. Innes Smith
39. Greig Canning
40. Bill Geddes
41. Seumas Coyne, Claremont, California
42. Stuart Easton
‍B-Grade March, B-Grade Strathspey & Reel
1. Jack Williamson, Topeka, Kansas
2. Craig Muirhead, Stirling, Scotland
3. Eddie Gaul
4. Bradley Parker
5. Zephan Knichel
6. John McDonald, Aberdeen, Scotland
7. Christopher McLeish, Lanarkshire, Scotland
8. Euan Dewar, Oban, Scotland
9. Matt Pantaleoni
10. Bobby Durning
11. Angus MacPhee
12. Kris Coyle, Carrickfergus, Northern Ireland
13. Bobby Allen
14. Ruairidh Brown
15. Andrew Ferguson
16. Finlay Cameron
17. Dan Lyden
18. Fraser Allison, Balfron, Scotland
19. Jamie Elder
20. Andrew Donlon, Washington, DC
21. John Dew
22. Dan Nevans, Glasgow
23. James McPetrie, Aboyne, Scotland
24. Anna Kummerlöw
25. Alan Clark, Aberdeen, Scotland
26. Cameron May
27. Andrew Hall, Glasgow
28. Jacob Dicker
29. Peter McCalister
30. Brodie Watson-Massey
31. Callum Wynd
32. Eireann Iannetta-Mackay
33. Sandy Cameron