Band tattoo coming to Glasgow in January

The organizers of the successful Belfast Tattoo have decided to launch the first Glasgow Tattoo at the city's SSE Hydro, January 20-21, 2017, with a variety of musical groups on the bill, including the Scottish Fire & Rescue Service, Glasgow Skye Association and Lomond & Clyde pipe bands, all currently in Grade 2.
The event lands in the middle of the well-established Celtic Connections folk music festival held throughout the city, but organizer Colin Wasson said that there are plans to move the 2017 to February so that the Glasgow Tattoo can be seen as a stand-alone destination event.
"We very much think there is an appetite for an indoor event such as ours no matter whether it's January or June," Wasson said. "Northern Ireland and Scotland have had similar problems in that marching bands have attracted bad press because of a few problem bands. We present the bands who appear at the tattoo in a way no one could be offended and we present them in a spectacular manner in order to entertain the public."
"Given the close and historic cultural heart that beats between Belfast and Glasgow, through its strong ship building links, its sporting links and its music and cultural links, we are very proud to be creating an event for Glasgow, which will reflect Glasgow's proud history and reflect it links with the rest of the world," said Colin Wasson, producer of The Glasgow Tattoo in a news release.
Wasson is also behind The Spring Gatherin' in Belfast, which showcases a number of pipe bands and flute bands from Northern Ireland. Launched in 2015, the event originally planned for pipe band competitions with audience judging, but plans were scuttled when the RSPBA allegedly put pressure on bands that had committed to compete not to do so, as the event was not officially sanctioned by the association. The event continued as non-competition performances-only, and was held earlier in April.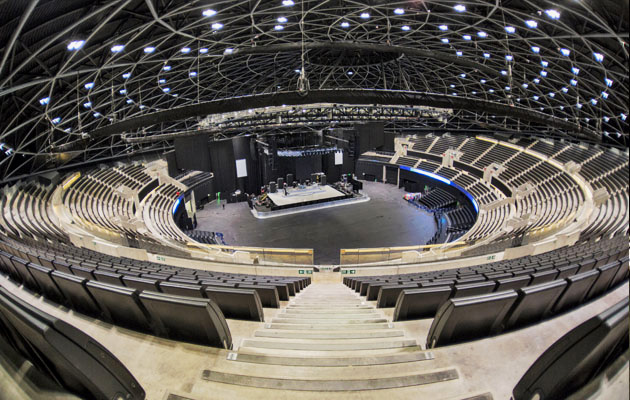 "I actively encourage bands to think outside their normal parameters and encourage them to present themselves in a manner they would not normally think to do so and play music they would not normally consider," Wasson added.
When asked if there are plans to add pipe band competitions to the event, Wasson said, "At present there are no plans to introduce pipe band competitions around the Glasgow Tattoo at present but, as in all things, I would never rule it out if there was seen to be a serious and credible appetite for such."
David Wilton, pipe-major of Lomond & Clyde and a former World Champion Highland Dancer, will be in charge of dance choreography, with performers including the Glasgow Tattoo Highland Dancers and the Innova Irish Dance Troupe, semi-finalists in the Britain's Got Talent TV show in 2014.
Also performing at the Glasgow Tattoo will be the Pride Of Ballinran Flute Band, Blackscull Flute Band, Murley Silver Band, Dungannon Silver Band, Dunloy Accordion Band, Vow Accordion Band, the Artane Band (Dublin), Lume De Biquera Pipe Band (Madrid), Amigo Leiden Band (Holland), and Fascinating Drums (Germany).
The 2015 World Champion Adult Drum-Major, Brian Wilson MBE, also of Lomond & Clyde, will run the performances.
The £45/£40/£35 tickets go on sale starting April 28th. Opened in 2013, the SSE Hydro has a seating capacity of 13,000.