Belted! Steven MacDonald wins first BarRoom Brawl in Florida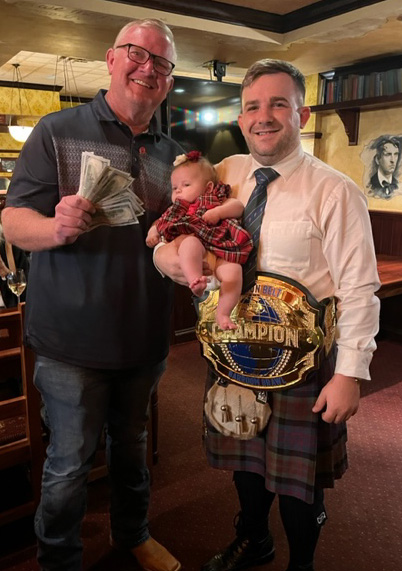 Maitland, Florida – November 10, 2023 – Steven MacDonald of nearby Jacksonville, Florida, was the winner of the first BarRoom Brawl solo piping contest as part of the annual Sun Belt Solo Piping Competition, winning US$1,000 and the coveted and OTT wrestling belt as a trophy.
Contestants could perform whatever they liked, provided it was on Highland pipes, with a fun- and music-loving audience voting for the winner.
Also competing:
Callum Beaumont, St. Andrews, Scotland
Andrew Donlon Washington, DC
Alasdair Henderson, Edinburgh
Angus D. MacColl, Benderloch, Scotland
Connor Sinclair, Crieff, Scotland
Flora Stone, Massachusetts
Magnus Stone, Massachusetts
Alen Tully, Dublin
The Friday BarRoom Brawl is the precursor to the Saturday professional and amateur competitions comprising traditional events.
Stay tuned to pipes|drums for results from the Sun Belt Invitational.