Bill Zadra first-ever winner of inaugural Skye K. Richendrfer Memorial Cup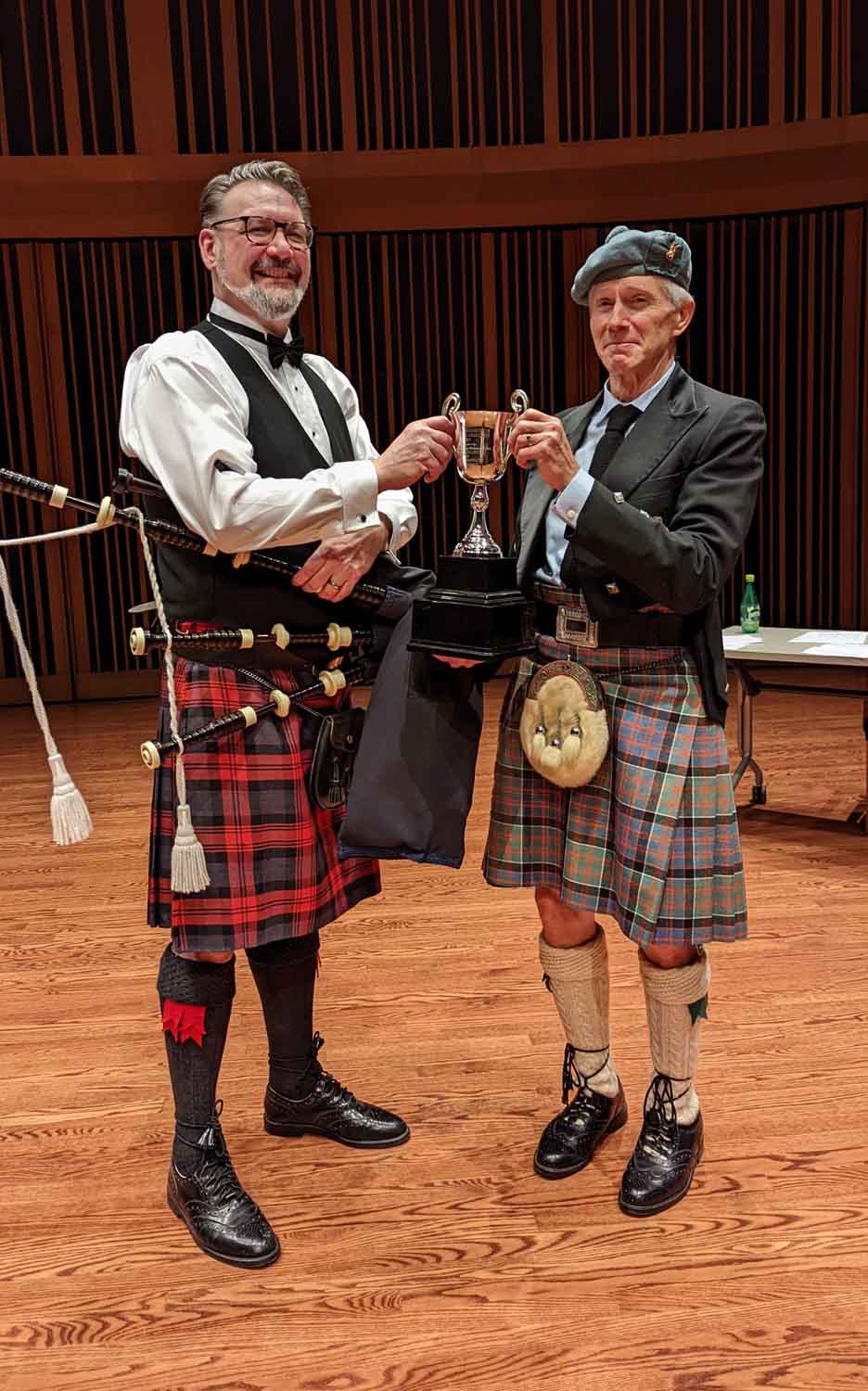 St. Paul, Minnesota – February 4, 2023 – Playing "Corrienessan's Salute," Bill Zadra of Fridley, Minnesota, gained the distinction of winning the Skye K. Richendrfer Memorial Challenge Cup for Grade 4 piobaireachd, an award named for the late piper, teacher, leader and organizer who died in October of last year.
The competition was held at Macalester College, Richendrfer's alma mater, as part of the Minnesota Piobaireachd Society's Winter Warm-Up weekend of competitions and workshops.
The trophy was presented by Dr. Jim Johnson, also a Macalester alum and a good friend of Richendrfer, on behalf of the Minnesota Piobaireachd Society.
Andrew Douglas and Andrew Lewis judged the event.
A native of Bellingham, Washington, Richendrfer was known by most as the Executive Director of the visionary Celtic Arts Foundation in Mount Vernon in his home state of Washington. In 2008, the organization merged with the Mastery of Scottish Arts, also of the Pacific Northwest, to form a much larger registered not-for-profit organization. The Mastery of Scottish Arts held a highly successful concert and piping, drumming and Celtic arts school for many years.
Under his watch and through his expertise in funding projects, the organization built the Littlefield Celtic Center in 2015, a full-time teaching and live music facility in a state-of-the-art dedicated building that he helped to organize funding to build. Richendrfer ran the annual Celtic Arts Foundation workshops and concerts, attracting some of the greatest exponents of the art as instructors.
Richendrfer successfully ran for mayor of Mount Vernon and served in the role for eight years in the 2000s, before committing himself full time to furthering the Celtic arts. For his government and volunteer service, he received the Distinguished Citizen Award from Macalester College in 2015.
After graduating from college, Richendrfer returned to the Pacific Northwest and was a long-serving piper with the Grade 1 Simon Fraser University Pipe Band throughout the 1980s. He had considerable success in open/professional solo competitions on the British Columbia Pipers Association's circuit.