Captain John Memorial Dinner recitalists announced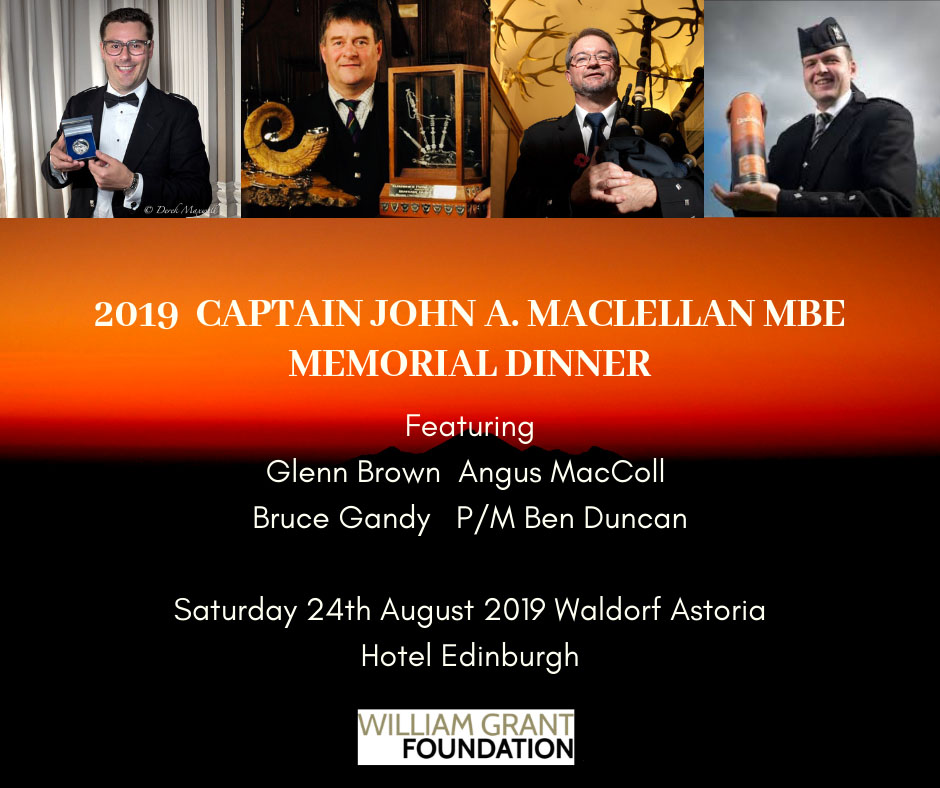 The 2019 Captain John A. MacLellan MBE Memorial Dinner recital competition will be held again at the Waldorf Astoria Hotel in Edinburgh on Saturday, August 24, with four top-flight solo pipers performing music composed by the late great MacLellan:
Glenn Brown, Glasgow, "The Edinburgh Piobaireachd"
Ben Duncan, Edinburgh, "Salute to the Great Pipe"
Bruce Gandy, Dartmouth, Nova Scotia, "For My Lass, Fair Pretty and Highland"
Angus MacColl, Benderloch, Scotland, "The Phantom Piper of Corrieairick"
The awarding of the special silver medal will be the sole decision of judge Tom Speirs.
The event has been scheduled in part to take advantage of international pipers and enthusiasts in Scotland for the Argyllshire Gathering and the World Pipe Band Championships.
"Once again we have a first-class lineup, and the Captain John MacLellan Memorial Trust is delighted to have Tom Speirs as judge," said Colin MacLellan, head of the trust and the son of John MacLellan. "We have moved back to the Saturday slot on August 24, and look forward to welcoming you to one of Scotland's premier piping events."
Last year's winner was Glenn Brown, and previous winners also include Faye Henderson and Iain Speirs.
The event is sponsored in part by the William Grant Foundation, which underwrites several other top piping events, including the Glenfiddich Championship and the Senior Piobaireachd at the Argyyllshire Gathering.
Tickets to the event are a hot commodity, and will be available from the John A. MacLellan Memorial Trust directly.
---
Related coverage

Video: Glenn Brown, "Farewell to the Queen's Ferry"

---

Capt. John MacLellan Memorial Medal goes to Glenn Brown

---