Carlisle, MacIsaac, Graham take the big prizes at 2023 Winter Storm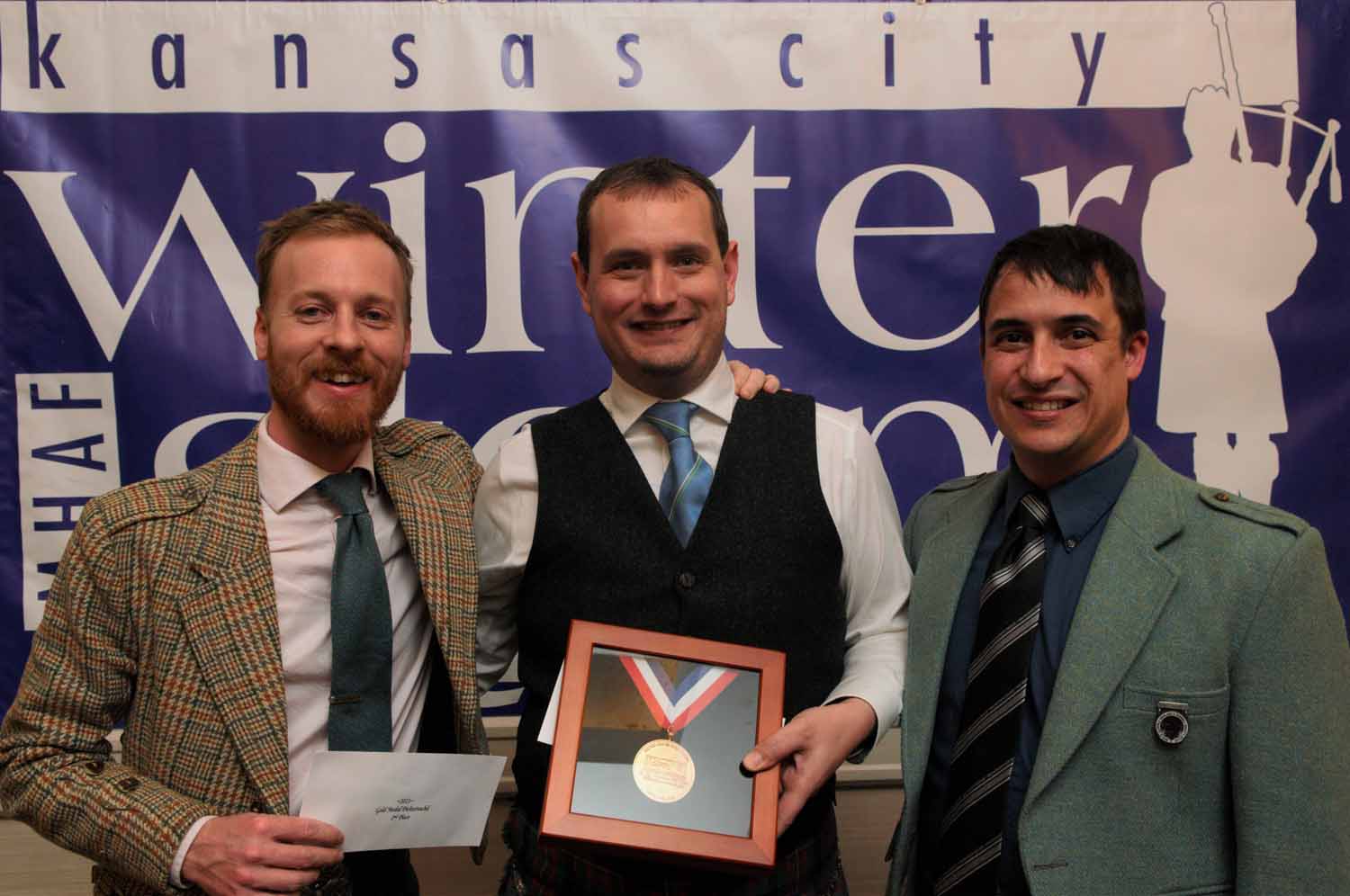 Kansas City, Missouri – January 13, 2023 – Andrew Carlisle of Pittsburgh was the overall winner in the Professional solo piping, while Robert Graham was the top winner of the Professional snare drumming at the annual Winter Storm competitions held at the Kansas City Marriott Country Club Plaza Grand Ballroom, and put together by the Midwest Highland Arts Fund. Carlisle won the United States Gold Medal Piobaireachd and was third in the United States Gold Medal Ceol Beag (light music) championships. He receives up to US$1,500 for travel to Scotland or returning to the Winter Storm competitions in 2024.
The piping and drumming competitions comprise the first day of the Winter Storm three-day weekend that includes workshops with the judges and performances by the judges and contestants. The in-person events returned for the first time in three years, after being cancelled in 2021 and 2022 due to the pandemic. Due to space limitations, restrictions were placed on the number of entries that could be accepted.
Solo Piping
Professional
United States Gold Medal Piobaireachd
1st Andrew Carlisle, Pittsburgh
2nd Nick Hudson, Houston
3rd Andrew Lewis, St. Paul, Minnesota
4th Alastair Lee, Surrey, British Columbia
5th Derek Midgley, Tinton Falls, New Jersey
6th Zephan Knichel, Surrey, British Columbia
Judges: Jack Lee, Fred Morrison
North American Gold Medal Light Music
1st Matt MacIsaac, Aurora, Ontario
2nd Alastair Lee
3rd Andrew Carlisle
4th Nick Hudson
5th Matt Wilson, Scotland
6th Derek Midgley
Judges: Judges: Jack Lee, Richard Parkes, Bob Worrall
United States Silver Medal Piobaireachd
1st Blaise Theriault
2nd Joseph Stewart
3rd Dan Lyden
4th Jack Williamson
5th Joe Biggs
6th Avens Ridgeway
Judges: Callum Beaumont, Roddy MacLeod
North American Silver Medal Light Music
1st Joe Biggs
2nd Zephan Knichel
3rd Dan Lyden
4th Bobby Durning
5th Joseph Stewart
6th Blaise Theriault
Judges: Ken Eller, Willie McCallum
Amateur
Grade 1
Piobaireachd
1st Cameron Bonar
2nd Thomas Cangelosi
3rd Adam Blaine
4th Kayleigh Johnstone
5th Colin Forrest
6th Mason Parsons
Judges: Roddy MacLeod, Bob Worrall
Light Music
1st Cameron Bonar
2nd Colin Forrest
3rd Duncan Winters
4th Thomas Cangelosi
5th Conner Eckert
6th Adam Blaine
Judges: Terry Lee, Richard Parkes
Grade 2
Piobaireachd
1st Abby Long
2nd Paul MacKay
3rd Matthew Launer
4th Allison Jackson
5th Kim Greeley
6th John Bertino
Judges: Jack Lee, Willie McCallum
Light Music
1st Paul MacKay
2nd Jack Martin
3rd Abby Long
4th Calum MacKinnon
5th Colum Faris
6th Matt Davis
Judges: Ken Eller, Willie McCallum
Grade 3
Piobaireachd
1st Melanie Brown
2nd Agustin Arguelles
3rd Ignacio Solis
4th Courtney Schnee
5th Emmitt LaBelle
6th Hunter Nichols
Judge: Jori Chisholm
Light Music
1st Agustin Arguelles
2nd James Douglas
3rd Daelen McCumber
4th Andra Stoller
5th Hunter Nichols
6th Orin Weiss
Judge: Fred Morrison

Solo Drumming
Snare
Gold Medal Professional
1st Robert Graham
2nd Grant Maxwell
3rd Derek Cooper
4th Eric McNeill
5th Shane Stapleton
6th Alexander Kuldell
Judges: Hugh Cameron, Stephen Creighton, Jake Jørgensen, Jim Sim
Grade 1
1st Sloan Pierce
2nd Oli Burbury
3rd Brian Turner
4th Nicholas Moore
5th George Irvine
6th Sophia McConnell
Judges: Hugh Cameron, Stephen Creighton
Grade 2
1st Tony Todero
2nd Ken Decker
Judges: Jake Jorgensen, Reid Maxwell
Grade 3
1st Eric Legere
2nd Jessica Frye
3rd Christian Hirschey
4th Jeremy Downs
Judge: Jim Sim
Bass
Gold Medal
1st Andrew Elliott
2nd Danielle Hamilton Cooper
3rd Ben Elkins
4th Johnny Rowe
5th Alexander Kuldell
6th Allison North
Judges: Christina Henry, Simon Hodgett
Amateur
1st Eric Legere
2nd Mary Thrasher
Judges: Christina Henry, Simon Hodgett
Tenor
Gold Medal Professional
1st Danielle Hamilton Cooper
2nd Andrew Elliott
3rd Brianna McDonald
4th Louise Augaitis
5th Shanna McDonald
6th Kathryn Byzewski
Judges: Christina Henry, Simon Hodgett
Amateur
1st Anna Irvine
2nd Alexander Kuldell
3rd Mitchell Olding
4th Seton Helwig
5th Lindsay MacGregor
6th Leslie Young
Judges: Christina Henry, Simon Hodgett