City of Regina takes both days under great weather over Calgary and Canmore weekend
Calgary, Alberta – September 2, 2023 – It was a warm 28°C with mostly sunny skies for the Calgary Highland Games, held at the Calgary Rugby Union. A good crowd was on hand for the day, and the only glitch was the public address system was not working for massed bands, and members of the bands and public could not hear many of the results announced.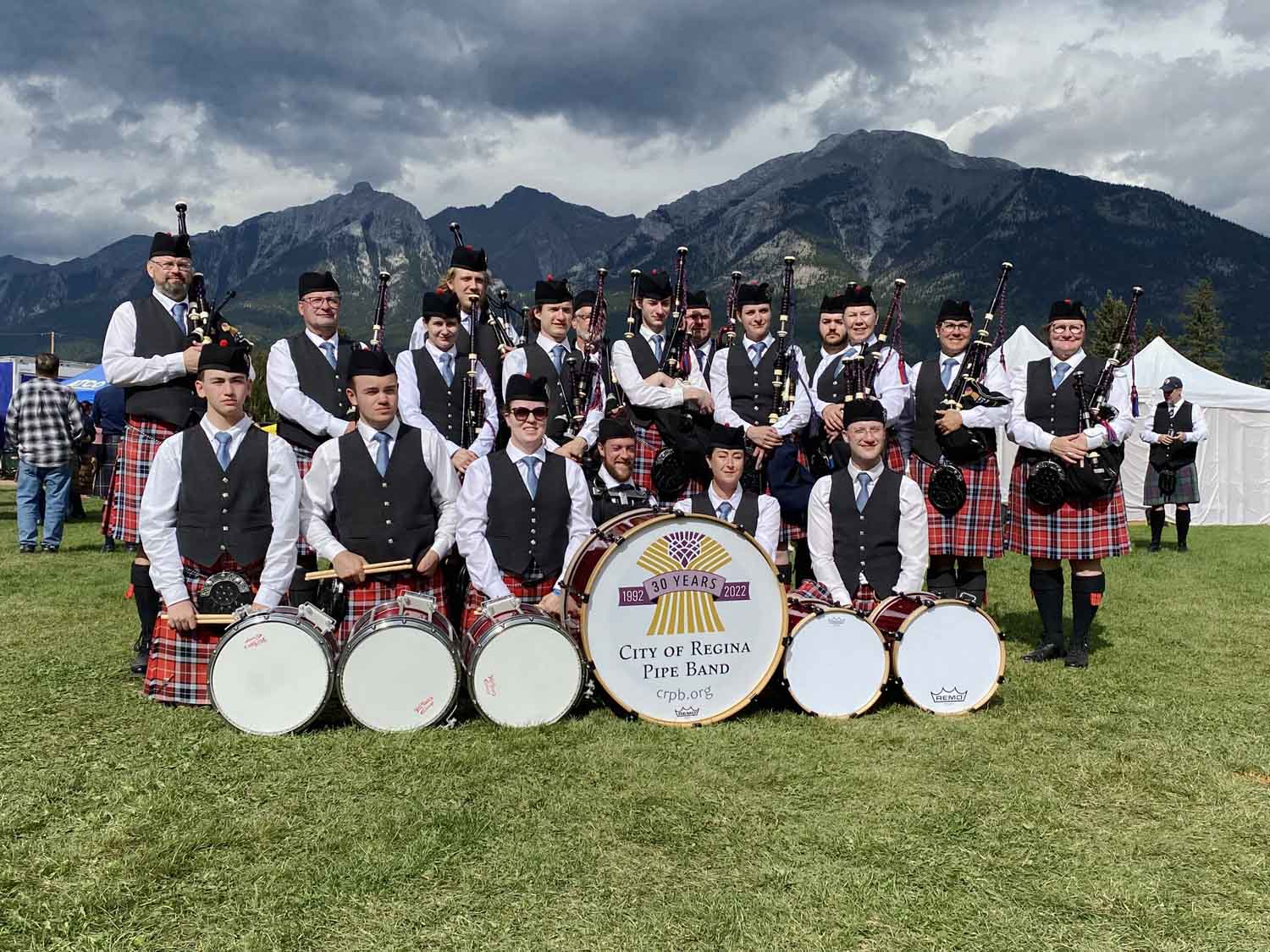 Grade 2 (MSR)
1st City of Regina (1,1,1,1)
2nd Rocky Mountain (2,2,2,2)
Grade 4 (Medley)
1st Edmonton & District
2nd​ Kamloops Pipe Band Society
Grade 5 (March Medley)
1st Foothills Caledonian Youth, Calgary
2nd Grande Prairie & District
3rd Edmonton Youth
4th ​Edmonton Transit
Judges: Dave Hicks, Pat Napper (piping); Peter Hendrickson (drumming); John Fisher (ensemble)
Solo Aggregate Winners
Piping
Professional: Iain MacDonald, Regina
Grade 1: Ethan DesChamps, Calgary
Grade 2: Kyle Barrie, Sylvan Lake, AB
Grade 3: Jonathan Kalyn
Grade 4: Colton Benusic
Grade 5: Frank Wallace
Beginner Chanter: Jocelyn Kozub
Amateur Piper of the Day​​: Ethan DesChamps
Drumming
Snare
Grade 1: ​​​​​Cyrus Felstrom-Stenka​, Regina
Grade 2: Erin Allen, Calgary
Grade 3: ​​​​​Keiran Stephan
Grade 4​: ​Taylor Esch
Grade 5: Micha Schiller
Amateur Drummer of the Day​​: Cyrus Felstrom-Stenka​
Tenor
Beginner: ​​​​Teagan MacMillan
Bass
Junior: ​​​​Isaac Taralson​
Senior: ​​​Ryan Hansen

Canmore, Alberta – September 3, 2023 – At Canmore, solos started at 8 am in the damp and cold mountain air, but the afternoon was mostly moderate with 19°C temperatures and a mix of sun and cloud. The games were crowded with enthusiastic spectators who cheered on the band performances. Unfortunately, neither competing bands nor spectators could hear the results announcements. The public address system was muffled, and the speaker mumbled quickly through the results, leaving many in doubt as to what the outcomes were. Fortunately, Alberta Society of Pipers & Drummers officials had clearly tabulated results ready for pickup at the end, but it was unfortunate for all present that announcements and presentations were so unclear. Winners were not called forward, so at the end, pipers and drummers were asking each other, "What happened?" as they marched off in massed bands.
Grade 2 (Medley)​
1st City of Regina (2,2,1,1)
2nd​ Rocky Mountain (1,1,2,2)
Judges: Pat Napper, Dave Hicks (piping); John Fisher (drumming); Peter Hendrickson (ensemble)
Grade 4 (March Medley)
1st ​​​Edmonton & District (EP)
2nd Calgary Highlanders
3rd ​​​Kamloops Pipe Band Society
4th ​​​Regina Police
Judges: Pat Napper, Dave Hicks (piping); John Fisher (drumming); Peter Hendrickson (ensemble)
Grade 5 (March Medley)
1st Foothills Caledonian Youth
2nd ​​​Edmonton Youth
3rd Grande Prairie & District
4th Edmonton Transit
Judges: Pat Napper, Dave Hicks (piping); John Fisher (drumming); Peter Hendrickson (ensemble)
Solo Aggregate Winners
Piping
Professional: ​​​​Iain MacDonald
Grade 1​​​​​: Ethan DesChamps
Grade 2​​​​​: Glen-mary Christopher, Swift Current, SK
Grade 3​​​​​: Jonathan Kalyn
Grade 4​​​​​: Karen Widmeyer
Grade 5​​​​​: Frank Wallace
Beginner Chanter​: Sevastian Morozow
Amateur Piper of the Day​​: Ethan DesChamps
Drumming
Snare
Grade 1: ​​​​​Cyrus Felstrom-Stenka​
Grade 2​​​​​: John Paul Cormier
Grade 3​​​​​: Keiran Stephan
Grade 4​ ​​​: Greer Britton
Grade 5: ​​​​​Micha Schiller
Amateur Drummer of the Day​​: Cyrus Felstrom-Stenka​
Tenor
Intermediate​​​: Allyssa Mossesta
Beginner​​​​: Teagan MacMillan
Bass
Junior: ​​​​Maximus St. Peter
Senior: ​​​Ryan Hansen