College of Piping collapses Grade 2 band into Grade 3 operation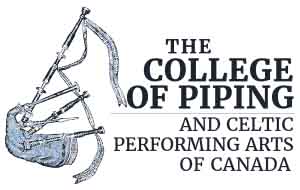 The Grade 2 band of the College of Piping & Celtic Performing Arts in Summerside, Prince, Edward Island, has collapsed, with all remaining members being folded into the organization's Grade 3 band.
James MacHattie will become pipe-major of the amalgamated band, after leading the Grade 2 operation, and Chris Coleman will continue as lead-drummer. MacHattie is also Director of Education with the College. Kylie MacHattie, who had been pipe-mjaor of the Grade 3 band, is pipe-sergeant going forward.
"It's more about organizational stability," MacHattie said. "We're a teaching organization, so it's not about getting one band to the highest level – it's about having appropriate grade levels to accommodate (and still push) our students and other members who want to come learn. Many come from off-island to play. Lots of them are starting families, etc, or work difficult shifts, and so our Grade 2 practices were small and sparse. Grade 3 band members, we thought, could improve with more experienced players around them, even if they aren't able to come across for every weekend practice."
MacHattie added that they lost only one piper from the Grade 2 band, "which means that they're in the band organization for the right reasons. The only one we lost is because his youth band is taking off in Cape Breton and his time needs to be spent developing those kids, and he has a young family of his own."
"It seems to be the right decision, because morale is high at practices and so is motivation," MacHattie said. "So, to me, it's good for the organization and for the membership."
The band was elevated to Grade 3 after winning Grade 4B at the 2018 World Championships.
The Grade 2 College of Piping band competed in 2018, including at the North American Championships at Maxville, Ontario, where they finished tenth in a 10-band competition. In 2017, the band finished tenth overall in the 12-band Grade 2 Final at the World Championships.
With the College of Piping Grade 2 band folding into its Grade 3 outfit, and the Hamilton Police electing to dissolve its Grade 2 operation, the number of Grade 2 bands in Canada shrinks to seven.
+ Grade 2 Hamilton Police dissolves after Elliott departs
After the possible demise of the Atlanta Pipe Band, the United States currently would have 13 Grade 2 bands, but it is anticipated that both City of Dunedin of Florida and St. Thomas Alumni of Houston will be promoted to Grade 1 by the Eastern United States Pipe Band Association.
+ Viability of Grade 2 Atlanta in question
The College of Piping also carries a highly successful Grade 5 teaching band.
Below is a video of the College of Piping band competing in the Grade 2 MSR at Maxville last August.