Corkin signs on as Triumph Street L-D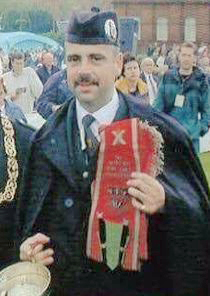 The Grade 1 Dowco Triumph Street of Vancouver has announced that former World Pipe Band Drumming winner Gary Corkin of Northern Ireland has been appointed lead-drummer, effective immediately, with Corkin remaining in the UK, working with Pipe-Corporal Gary Nimmo and the band's team of players in Great Britain.
Corkin was formerly lead-drummer of the Grade 1 Royal Ulster Constabulary Pipe Band, which he led to a World Drumming title in 2000, and a total of 17 Grade 1 drum corps championships over his career with the band.
According to the band, Corkin will make regular trips to Vancouver and Pipe-Major David Hilder will continue to travel frequently to Scotland for practices. He said that the trans-Atlantic travel is subsidized mostly through fundraising initiatives.
The band announced late last year that it was implementing a system whereby a team of UK-based pipers and drummers would be recruited and maintain practices abroad, the whole band meeting for competitions. Dowco Triumph Street this year competed mainly at competitions in the Pacific Northwest, opting out of the 2016 World Championships, choosing instead to compete at the UK Championships at Belfast, where it finished tenth out of 13 in Grade 1.
The band earlier announced plans for 2017, which include a concert in May in Aberdeen and competing at the British and World championships.
Dowco Triumph Street added that drummer Robert Holland, who played with Corkin at the RUC, will assist in Vancouver, and that previous L-D Cameron Reid has been "asked to stay on the leadership team along with all current members of the drum corps to guide the upcoming concert material."
A source close to the Vancouver pipe band scene alleged that Reid has already left the band, and Cameron Reid later confirmed that he had resigned.
Reid replaced took over from L-D Peter Hendrickson in 2015 after Hendrickson's brief time as lead-drummer with the band, following his appointment to the position to replace long-time section leader Andre Tessier. Hendrickson departed due to work commitments.
"After winning 17 Grade 1 major drumming titles and the World Championships with the RUC drummers, I am hoping with hard work and dedication to add to that achievement," Corkin said in a statement.
The band also said that former St. Laurence O'Toole snare drummer Stephen Paynter plans to immigrate to Vancouver from Northern Ireland to join Dowco Triumph Street.