Doctor of letters: Richard Parkes, BSc, MSc, DLitt, DLitt, WPBC, FMM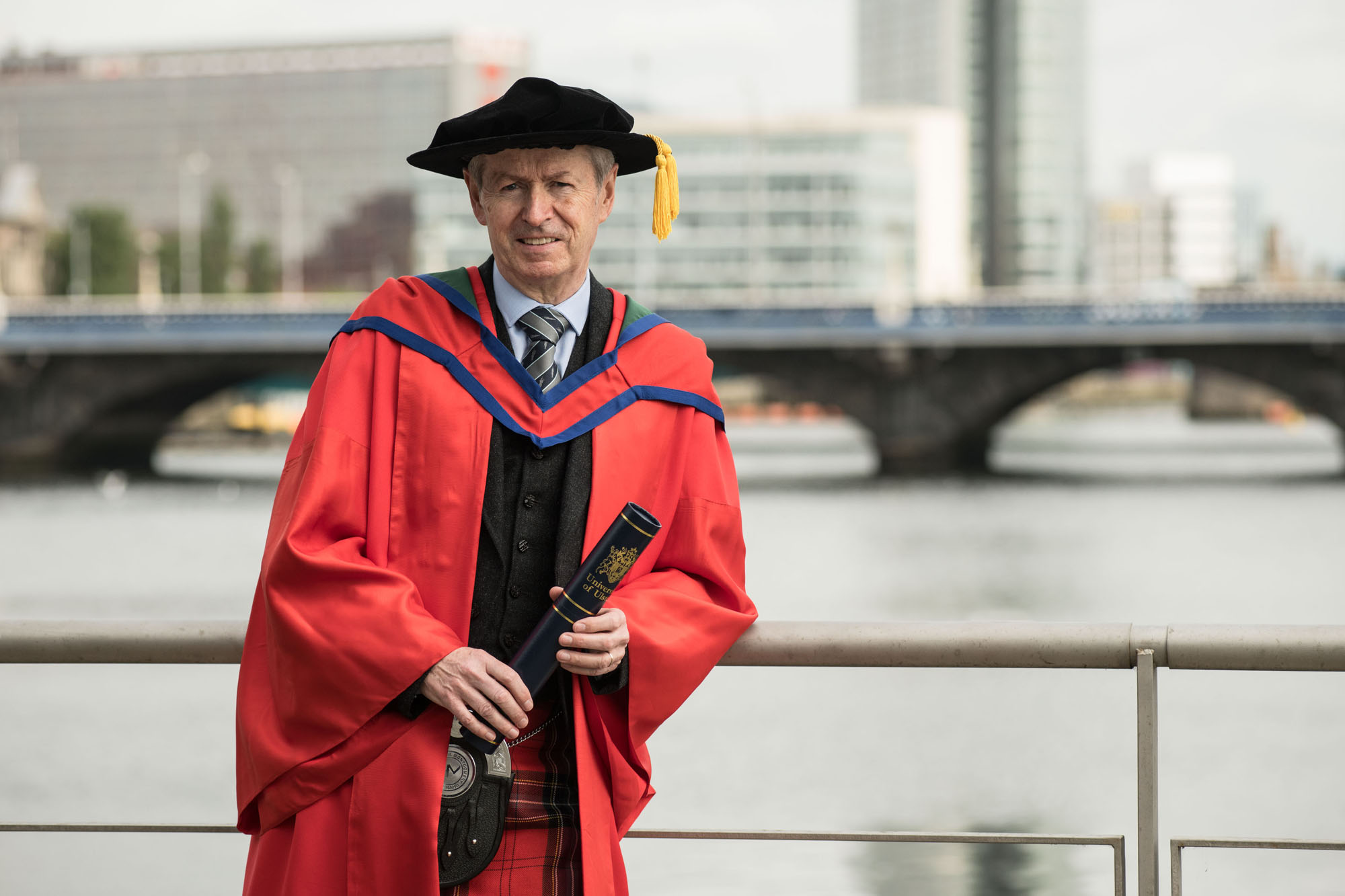 In a week chock-a-block with service awards, Field Marshal Montgomery Pipe-Major Richard Parkes picked up his second honorary doctorate on July 4 at a ceremony at Ulster University. Officially, the accolade is Doctor of Letters (DLitt) for services to pipe band music nationally and internationally.
The PhD for services to piping and drumming follows the presentation of an equivalent honorary doctorate from Queen's University Belfast, making Parkes the most academically accomplished pipe-major in Grade 1 band history.
He also holds a Masters in Engineering from Ulster University and works in polymer research when he's not running Field Marshal Montgomery.
Parkes has led the band to 12 World Championship titles, three "Grand Slam" Champion of Champion victories (winning all five major events in one year), and a staggering 67 major championship wins overall. He needs one more World Championship victory to break a tie with Ian McLellan, pipe-major of the Glasgow/Strathclyde Police during the band's glory years in the 1970s and '80s.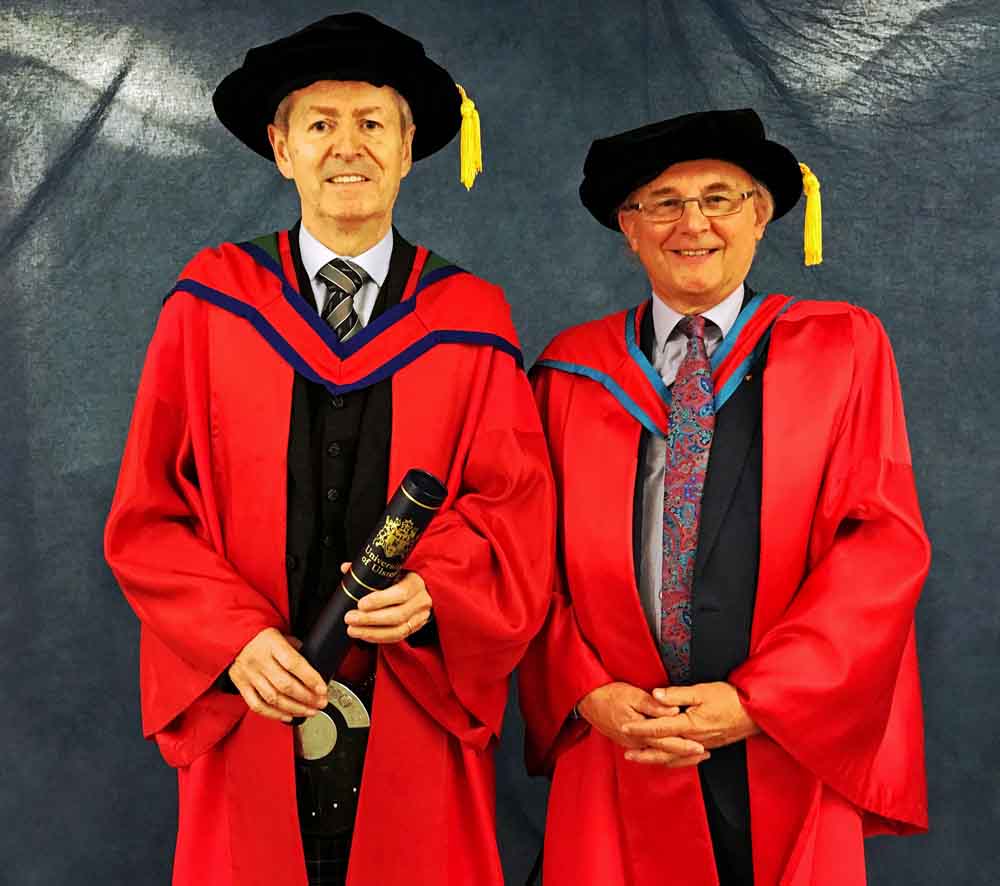 In addition to pipe band competition success, Parkes has achieved excellence as a solo competitor, winning seven All-Ireland Senior Solo Championships, eight Northern Ireland Piper of the Year titles, nine Ulster Senior Championships, the Strachan Cup MSR at London, and the the Open Jig in at the Northern Meeting at Inverness, to name a few.
As part of the acceptance ceremony, Richard Parkes made a speech to the convocation gathered to receive their own degrees from Ulster University. In it he provided advice to students based on his own experience, including a section on never being able to do anything alone: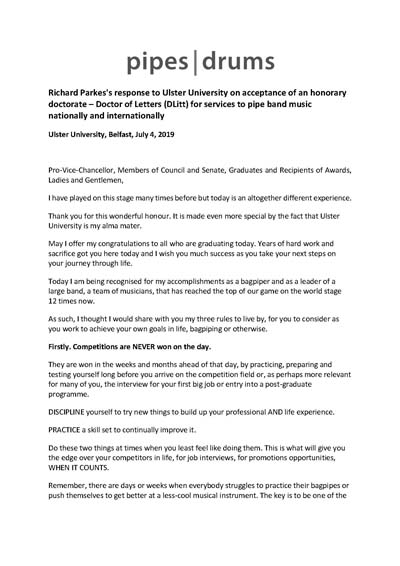 "As a leader of a World Champion pipe band for almost 40 years now, I have always made sure to surround myself with a team of people that have the time, skills and motivation to ensure we are all marching to the same beat.
"Just like I depend on certain members of my band to make our pipes play in harmony, you should turn to a trusted friend or family member to help fine tune your CV, to practice your interview skills, or to help decide on the sharpest clothes to wear when meeting a possible future employer."
pipes|drums readers can find the whole text of Richard Parkes' commencement speech here.
Parkes was nominated for the honorary doctorate by Sir Nigel Hamilton, KCB, DL, Patron of the RSPBA's Northern Ireland branch and himself a graduate of Ulster University.
Interestingly, Archbishop Desmond Tutu is the only other luminary to be award two doctorates in Northern Ireland in a single week.
On July 3, Mervyn Herron accepted his Member of the British Empire medal from Queen Elizabeth II at a ceremony at Holyrood Palace in Edinburgh for his more than 30 years of service to piping and drumming.
Also on July 4, five pipers graduated with a Bachelor of Arts degree in Scottish Music (BMus) from the Royal Conservatoire of Scotland, a program overseen by the National Piping Centre.
---
Related articles

Parkes makes it a 2019 doctorate double with Ulster Uni accolade
July 1, 2019
---

Dr. Richard Parkes, as Queen's bestows honourary PhD on legendary pipe-major
March 23, 2019
---

Mervyn Herron accepts MBE from Queen for services to pipe bands
July 3, 2019
---

Mervyn Herron awarded MBE, Gillean McNab OBE, for services to the pipe band community
December 28, 2018