Mervyn Herron accepts MBE from Queen for services to pipe bands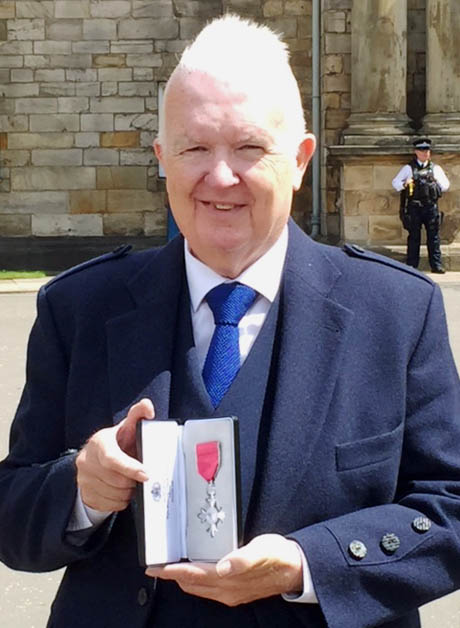 Dr. Richard Parkes MBE isn't the only pipe band luminary to receive official accolades for his service to piping and drumming this week. On July 2, Mervyn Herron of Belfast travelled to Holyrood Palace in Edinburgh to accept his own Member of the British Empire (MBE) medal from Queen Elizabeth II in a ceremony with other accomplished Northern Irish and Scottish nationals.
Herron served with the RSPBA Northern Ireland branch for more than 30 years as on the organization's national council and as a director. He was a staple presence at competitions, and well regarded as a friendly and charismatic steward.
The presentation took place in the elegant Long Gallery of Holyroodhouse and Herron was joined by friends and family.
"It was truly magical, firstly to be nominated and then to speak with the Monarch who was very interested in the association and my involvement in it," Herron said. "Nothing comes close to this audience for me."
He abruptly resigned from the organization in 2016 under acrimonious circumstances, feeling he was being unjustly pushed out for his involvement with the Spring Gatherin' project, which ran afoul of the RSPBA's interests to control all pipe band competition in the UK. The Spring Gatherin' was subsequently cancelled, after more resignations from the association.
Herron said that he has received hundreds of messages of congratulations, but added that no one from the association has extended any congratulations or thanks.
He went on to say about the ceremony: "It is vindication, if that is needed, that what I did for piping and drumming was my choice in life and I would not change that. The whole ceremony was magical. The branch officials who I grew up with let themselves down my ignoring my moment of celebration. But that is to their shame."
This year, Field Marshal Montgomery Pipe-Major Richard Parkes, who received his own MBE in 2004, was awarded honorary doctorate degrees from Queen's University Belfast and Ulster University.
---
Related articles

Mervyn Herron awarded MBE, Gillean McNab OBE, for services to the pipe band community
December 28, 2018
---

Herron resigns from RSPBA after 30 years' service
April 5, 2016
---

Spring Gatherin' 2017 abruptly cancelled
February 25, 2017
---

Spring Gatherin' back in Belfast
February 26, 2016
---

RSPBA loses Northern Ireland executive to Spring Gatherin'
March 31, 2015
---

Spring Gatherin' nixes contests under alleged RSPBA pressure
March 19, 2015