Police Scotland Fife bolster the ranks with Greig Canning as pipe-sergeant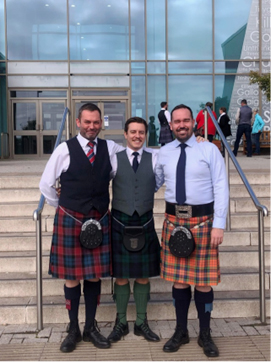 Grade 1 Police Scotland Fife have added top solo piper and reedmaker Greig Canning to their front rank as the band's new pipe-sergeant.
Canning takes over the front-left flank position from Bryan Spears, who held the spot for the last six years. Spears leaves on completely amicable terms, going on to lead up a youth development program with Burntisland & District, also from the Kingdom of Fife.
Canning is probably now most known as a competitive solo piper, winning numerous awards at major gatherings and around the games over the last 20 years. His pipe band experience is extensive, too, playing with Grade 1 Inveraray & District for more than a decade and, before that, pipe-major from 2010 to 2014 of the now-defunct Grade 1 Dysart & Dundonald.
Born, raised and resident in Fife, Canning has been a reedmaker with G1 Reeds, also in Fife, and launched his own reedmaking business a few years ago.
"I am absolutely delighted to welcome Greig into the band as pipe-sergeant," Police Scotland Fife Pipe-Major David Wilton said in a statement. "Greig and I have always had a great relationship centred around piping, having been taught by the same tutor, Walter Drysdale, and travelling the country together to compete in solos. Somehow, we have never played in the same band, so to be leading this great organisation together, alongside Lead-Drummer Mick O'Neill is a dream come true. I have to say a massive thank you, and good luck, to my friend Bryan who has been a rock for Police Scotland Fife over the years and an absolutely fantastic pipe-sergeant. I know he will make a huge success of Burntisland & District Pipe Band."
O'Neill chimed in, saying, "I would like to take this opportunity to thank Bryan for the colossal contribution that he has made to Police Scotland Fife Pipe Band over the last 16 years. We hope to see you back into the ranks again when the time is right. A very warm welcome to Greig, whom I've known for a very long time, as a friend and fellow teacher. I am very much looking forward to working with the Pipey and Greig, along with our great team at Fife, to bring much more success to the band."
After Wilton became pipe-major of Police Scotland Fife in July 2021 when the piping and drumming world was pretty much shut down due to the global pandemic. The band emerged in 2022 as a prize-winner at four major championships and carried that trend forward with a good 2023 season.