Hamilton Police makes more changes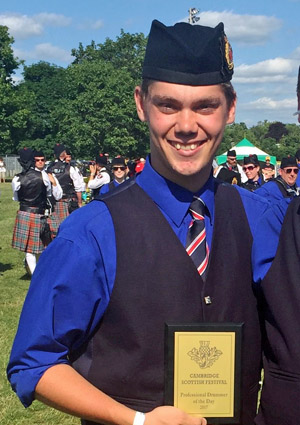 The Grade 3 Hamilton Police Pipe Band of Hamilton, Ontario, recently appointed former North American Championship-winning Grade 1 leader John Elliott as its pipe-major, and now the band is putting its faith in a younger lead-drummer, with Cameron McKail taking over the corps.
+ Elliott takes over Hamilton Police
McKail is the son of previous lead-drummer Sandy McKail, who had led the back end of the band for 12 years.
"It's the right time for me to step aside and allow my son to take over lead of the Hamilton Police," the older McKail said. "I believe in promoting young leadership. Cameron started in Hamilton, and now it has come full circle where he will lead the drum corps, giving back to his home organization. Both Graham Kirkwood and I are excited to mentor and help Cameron in any way we can to help him succeed as a future leader in the Ontario pipe band circuit."
Kirkwood joined the band last year after serving as lead-drummer with the Grade 1 Peel Regional Police for several years. His wife, Patricia, was pipe-major of the band before handing it to Elliott. Both Kirkwoods and Sandy McKail will remain with the group.
+ Kirkwood resigns as Peel Police L-D
Cameron McKail has played in Grade 1 with the 78th Fraser Highlanders and Peel Regional Police, before joining Hamilton in 2017.
Hamilton Police also has appointed Ryan Robertson as its lead-tenor and mid-section instructor, taking over from Stacey McKail. Robertson returns to the band after being with the 78th Fraser Highlanders, where he led that band's tenor section for a few years.
The Hamilton Police competed in Grade 3A at the 2017 World Championships, where it finished eighth in its qualifying round, with a fourth in drumming. The organization also operates a Grade 5 band.