Inveraray & District captures 2019 European Championship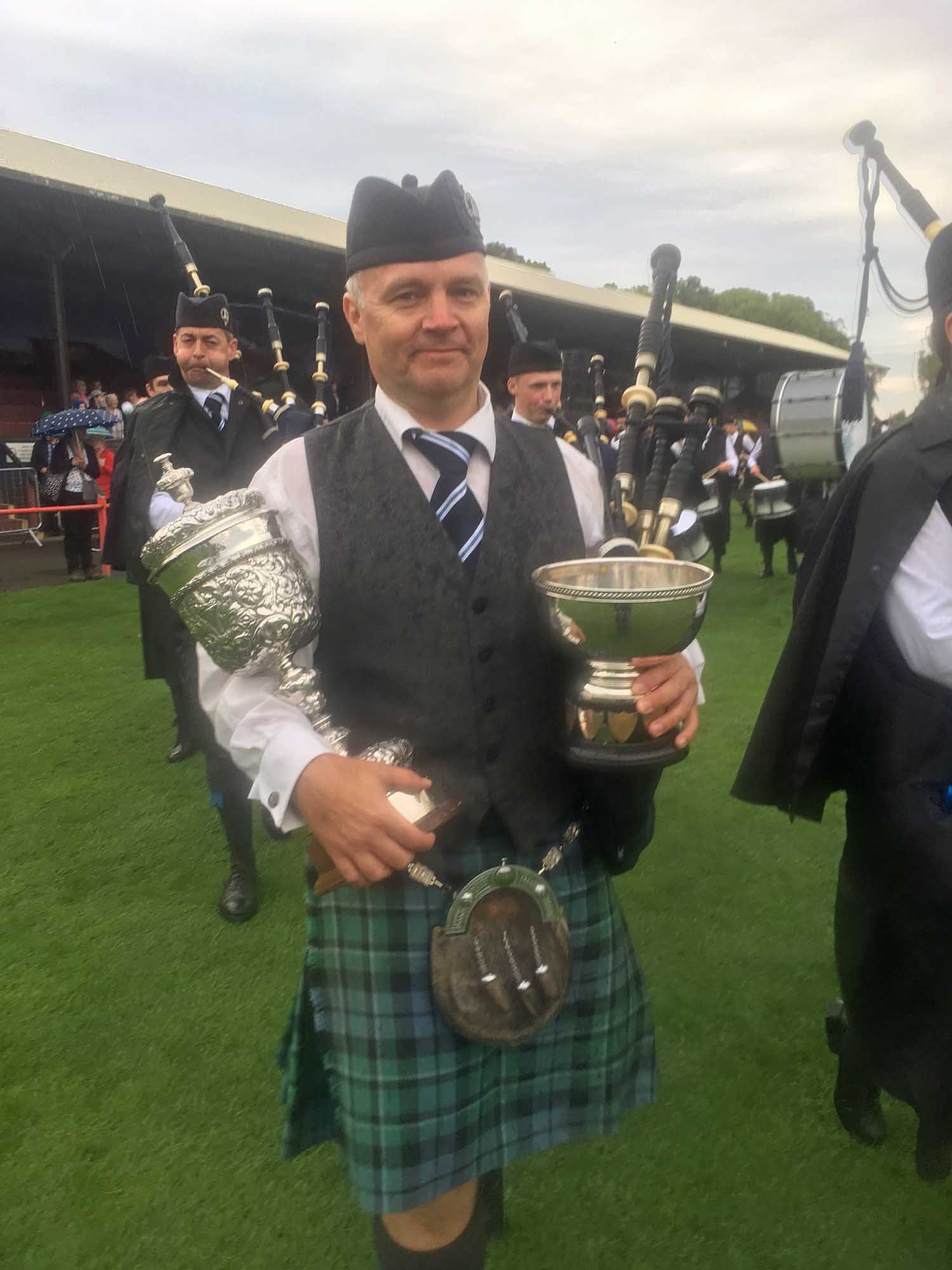 Inverness, Scotland – June 29, 2019 – Inveraray & District won the 2019 European Championship against a field of 11 other bands, capturing the third major competition of the RSPBA season. It was the band's first championship win since they took the 2018 European.
St. Laurence O'Toole, winners of the previous two championships, settled for fifth, while Peoples Ford Boghall & Bathgate Caledonia zoomed up the charts with a second prize, the band's highest finish in several years, and Shotts & Dykehead Caledonia caught a sixth, their first prize in a major under first-year pipe-major Emmett Conway.
Despite a second in ensemble and two firsts in piping, Field Marshal Montgomery received an eleventh in drumming from judge Stuart Coils, essentially making it impossible for the band to win, and the band placed third.
In Grade 2, Portlethen & District was victorious. The band was only upgraded this year, marking a rare feat for any band new to a higher grade. The newly-formed Highland Granite also made the list, another accomplishment for any band. Closkelt, winners of Grade 2 at the first two major championships, did not attend.
The event returned to Bught Park in Inverness after several years at the popular Grant Park in nearby Forres.
Conditions were very warm, but strong rain hit around 2:45. The 23ºC high temperature was in stark contrast to the wet and cold UK Championships two weeks earlier at Lurgan, Northern Ireland.
Terry Lee and Bob Worrall made their own way over to Scotland from Canada to judge.
Event organizers invested in an ambitious "Piping Inverness" marketing campaign over the last year in an attempt to create interest to draw a larger crowd.
Grade 1 (MSR, 12 competed)
1st Inveraray & District (2,3,1,1)
2nd Peoples Ford Boghall & Bathgate Celedonina (3,2,2,5)
3rd Field Marshal Montgomery (1,1,11,2)
4th ScottishPower (4,4,5,3)
5th St. Laurence O'Toole (5,5,3,6)
6th Shotts & Dykehead Caledonia (6,6,4,7)
Drumming: Inveraray & District
Judges: Donald MacPhee, Tony Sloane (piping); Stuart Coils (drumming); Jennifer Hutcheon (ensemble)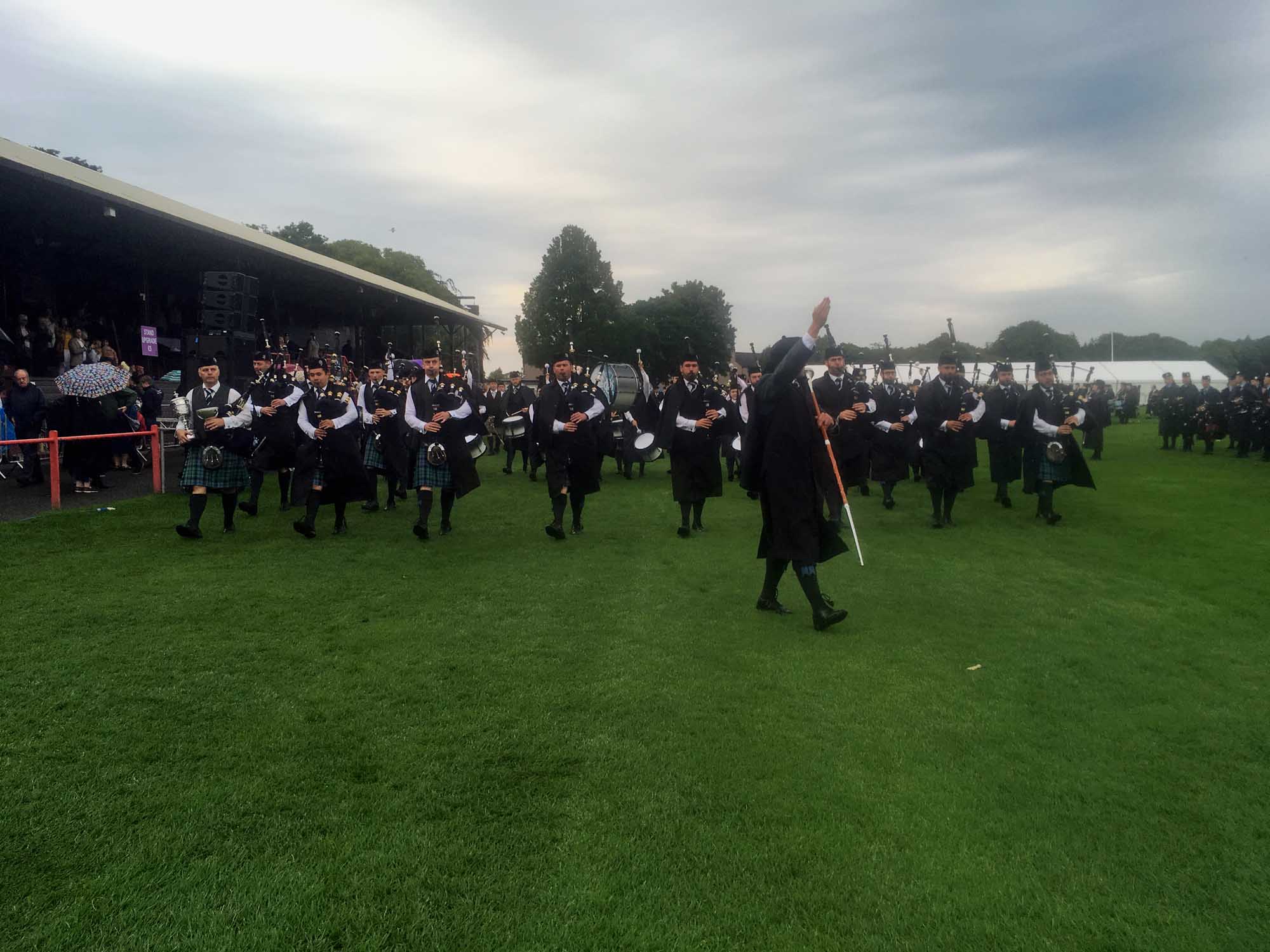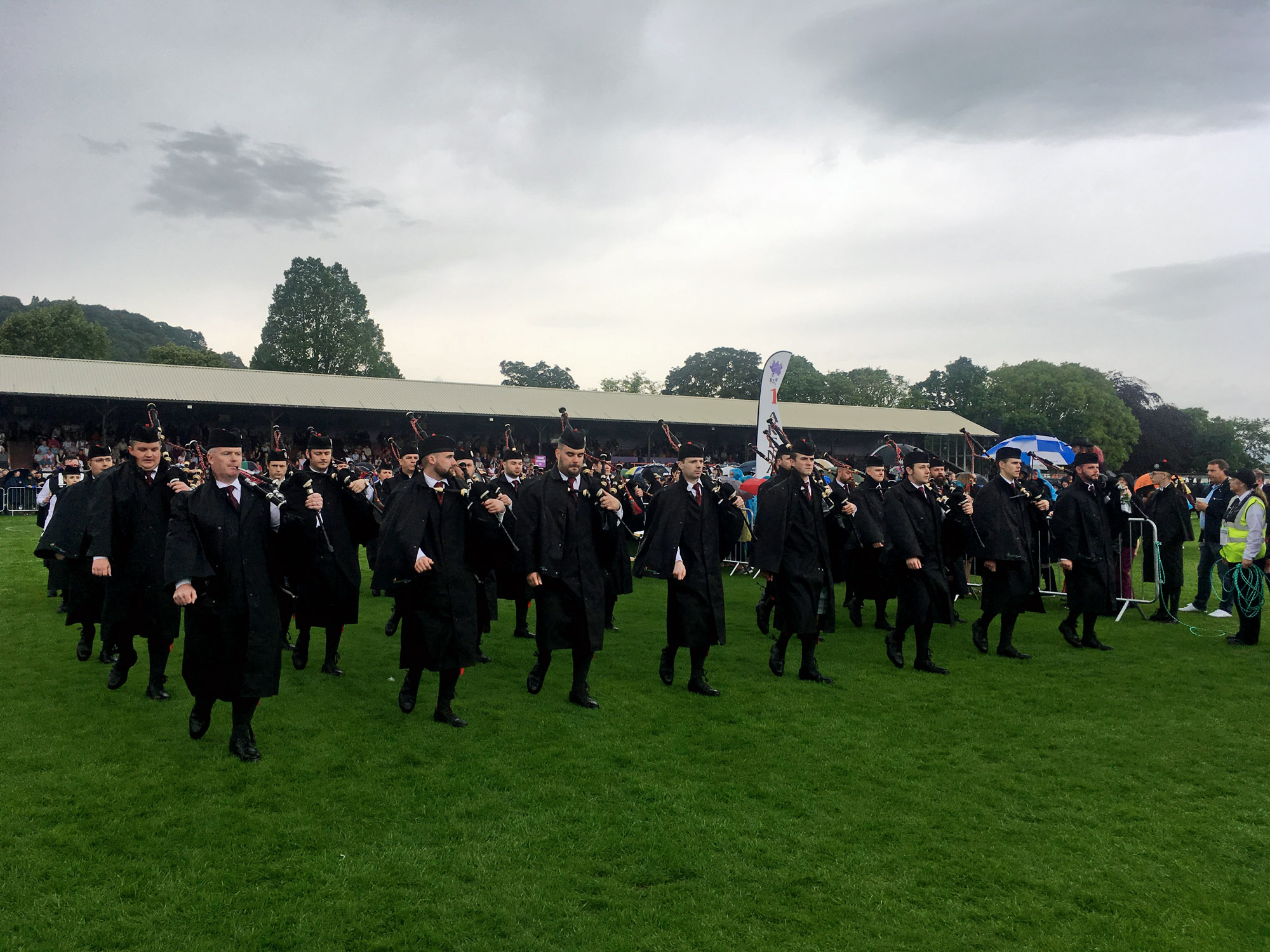 Grade 2 (medley, 13 competed)
1st Portlethen & District (1,1,5,1)
2nd Uddingston Strathclyde (3,2,9,2)
3rd Royal Burgh of Annan (6,5,4,5)
4th Buchan Peterson (7,7,1,6)
5th MacKenzie Caledonian (8,6,7,3)
6th Highland Granite (5,9,8,4)
Drumming: Buchan Peterson
Judges: George Wilson, Terry Lee (piping); Lee Innes (drumming); Peter Snaddon (ensemble)
Grade 3A (MSR, 12 competed))
1st Deeside Caledonia
2nd City of Inverness
3rd The Highlanders (4 Scots)
4th MacKenzie Caledonian (Gr3)
5th Stockbridge
6th Ross & Cromarty
Drumming: City of Inverness
Judges: Bob Worrall, Robert Mathieson (piping); Paul Brown (drumming); Gordon Lawrie (ensemble)
Grade 3B (MSR, 13 competed)
1st Oban High School
2nd Turrif & District
3rd Kilmarnock
4th Dunbar Royal British Legion
5th Arbroath
6th Larnark & District
Drumming: Dunbar Royal British Legion
Judges: Barry Donaldson, John Wilson (piping); Brian Martin (drumming); Paul Turner (ensemble)
Juvenile (five competed)
1st Dollar Academy
2nd George Watson's College
3rd George Herriot's School
4th Peoples Ford Boghall & Bathgate Caledonia
5th Preston Lodge High School
Drumming: George Herriot's School
Judges: Donald MacPhee, Tony Sloane (piping); Stuart Coils (drumming); Jennifer Hutcheon (ensemble)
Grade 4A (17 competed)
1st Mid-Argyll
2nd Methil & District
3rd Lower Clyde
4th Glenrothes & District 2010
5th Rothesay & District
6th Elgin & District
Drumming: Glenrothes & District 2010
Judges: Bob Worrall, Robert Mathieson (piping); Paul Brown (drumming); Gordon Lawrie (ensemble)
Grade 4B (20 competed)
1st Edradour Pitlochry & Blair Atholl
2nd Camelon & District
3rd Strathendrick
4th Culter & District
5th Vale of Atholl
6th Ullapool & District
Drumming: Edradour Pitlochry & Blair Atholl
Judges: Jim Semple, Alvis Kerr (pipig); David Brown (drumming); Jim Campbell (ensemble)
Novice Juvenile A (nine competed)
1st North Lanarkshire Schools
2nd Lochalsh Junior
3rd Dollar Academy
4th George Watson's School
5th Scotch College Melbourne
6th Stirling & District
Drumming: North Lanarkshire Schools
Judges: Jim Semple, Alvis Kerr (pipig); David Brown (drumming); Jim Campbell (ensemble)
Novice Juvenile B (18 competed)
1st Scotch College Melbourne
2nd North Lanarkshire Schools
3rd Lochgelly High School
4th Skye Youth
5th Renfrewshire Schools
6th City of Inverness Youth
Drumming: Lochgelly High School
Judges: George Wilson, Terry Lee (piping); Lee Innes (drumming); Peter Snaddon (ensemble)
---
Related

Inveraray & District: 2018 European Champions
June 30, 2018
---

Promoters pitching European Championships as "Piping Inverness"
February 12, 2019
---

St. Laurence O'Toole out with a bang at British Championships
May 18, 2019
---

St. Laurence O'Toole: 2019 UK Champions
June 15, 2019