Kilpatrick raises Spirit, lands with all-star band
The Spirit of Scotland Grade 1 band of all-star pipers and drummers that created news in 2008 when it assembled for one week to compete at the World Pipe Band Championships, is the new home for Leading-Drummer Jim Kilpatrick, after two months of rumours and controversy.
Kilpatrick will join the band for the entire 2016 season of RSPBA major championships, culminating with the World's, where it is thought that he will retire formally from an illustrious career, that has included 16 World Solo Championships and dozens of major championship drumming titles.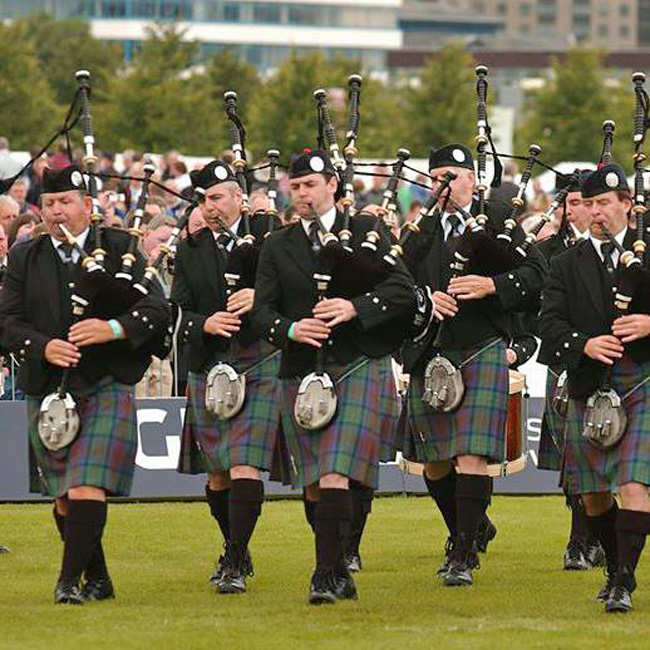 As with the 2008 Spirit of Scotland, the band will be led by Pipe-Major Roddy MacLeod, and Kilpatrick will bring with him a team of drummers, many of whom played with him in the Grade 1 Shotts & Dykehead Caledonia Pipe Band, which he departed under controversial circumstances in October.
Snare drummers in the band will include Dougie Brown, John Fisher, Steven Graham, Davey Henderson, Carl Lenny, Simon Lipp, Steven Nelson, David Proudfoot, David Ross and Barry Wilson, and a bass section of Ashleigh Byers, Scott Currie, Tyler Fry, David MacDonald, Seonaid McIntosh, Marteen Nicoll and Fiona Wilson.
Of particular note, four-time World Solo Drumming winner and former L-D of ScottishPower, Barry Wilson, comes out of retirement to play with the band. Wilson played for many years under Kilpatrick at Shotts & Dykehead before joining ScottishPower.
And another notable move is that John Fisher, who was the leading-drummer for Spirit of Scotland, will play in Kilpatrick's corps, reuniting the two drumming legends for the first time in a band since they played in Shotts & Dykehead in the 1970s under then Leading-Drummer Alex Duthart.
Confirmed pipers include most of the members of the 2008 Spirit of Scotland, comprising numerous Clasp (*), Gold Medal (**) and Silver Medal (***) winners: Callum Beaumont,* Andrew Berthoff,*** Wilson Brown,** Gordon Bruce,*** Robert Crozier, Brian Donaldson,** Willie Evans, Jenny Hazzard,*** Peter Hunt, Finlay Johnston,** Angus MacColl,* Euan MacCrimmon,** Finlay MacDonald, Matt MacIsaac,*** Colin MacLellan,** Simon Marshall,*** Niall Matheson,** Willie McCallum,** Simon McKerrell, John Patrick,** Stuart Samson,** Stuart Shedden,** Innes Smith,*** Iain Speirs,* Niall Stewart,** Darach Urquhart and Gordon Walker.**
In a statement, MacLeod said, "Competing in 2016 for the entire season was not really on our radar although we have been tempted to try and reform the Spirit of Scotland Pipe Band at some point for the right kind of new challenge. The availability of Jim . . . and the exceptional drum corps that he has assembled is a fantastic opportunity for us all to collaborate musically and so we are very excited by the prospect of working together for this season. We are welcoming back many of the original Spirit of Scotland Pipe Band that competed in 2008 as well as a number of new faces to the ranks. Jim Kilpatrick and I are both particularly pleased that we are able to retain the expertise of John Fisher, who led the drum corps in 2008."
The move to resurrect Spirit of Scotland with a new Kilpatrick-led drum corps comes after many rumours and speculation as to where Kilpatrick would end up. Before reports of a Spirit of Scotland emerged, it was widely speculated that the great drummer would land with the Grade 1 Vale of Atholl, but pipes|drums confirmed and reported that that "news" was false.
Spirit of Scotland qualified for the Grade 1 Final at the 2008 World Pipe Band Championships, and ultimately finished eleventh overall. Members of the group reformed for concert and quartet performances a few times since 2008.
pipes|drums originally reported the strong rumour of the Spirit of Scotland arrangement in the magazine's Trailing Drones chatter and satire feature of December 12th, along with the fact that 2008 Spirit of Scotland member Jim McGillivray has joined Inveraray & District for 2016.
Stay tuned to pipes|drums for more on this story as it develops.
[Full disclosure: the editor of pipes|drums is a member of Spirit of Scotland.]